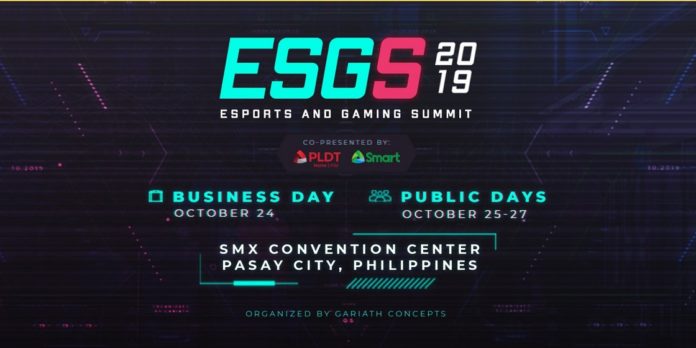 The mecca for all Filipino gamers, Electronic Sports and Gaming Summit better known as ESGS, is back for their 6th consecutive year! Co-presented by PLDT Home Fibr and Smart Telecom and organized by Gariath Concepts, this year's event will definitely be awesome and more epic than ever before and we are excited to announce that the pre-purchase for tickets is now open!
ESGS 2019 will happen on October 25-27, 2019 at the SMX Convention Center in Pasay City, but you can already buy your tickets starting June 1 to get huge discounts! You can buy tickets at any SM Ticket outlets nationwide or at the SM Ticket website. The prices for the ESGS 2019 tickets are as follows:
Alpha Access Rate: P170 (June 1 – July 31, 2019)
Beta Access Rate: P200 (August 1 – September 30, 2019)
Standard Access Rate: P230 (October 1 – 27, 2019)
The One-Day-Pass mechanic for ESGS 2019 will be the same as last year where you can use it once on any specific day you wish to attend. And just like last year, gamers will be treated to a huge variety of activities, from live tournaments, cosplay competitions, game first-looks, hobby and souvenir shops, gaming products, and cool events from gaming companies from all around the world! Famous influencers and gaming personalities will be in attendance as well!
If you're a gaming enthusiast, love electronic gadgets, cosplays, or just wanna have a great time with friends, buy your tickets now to reserve your slot for the biggest gaming event in the country!