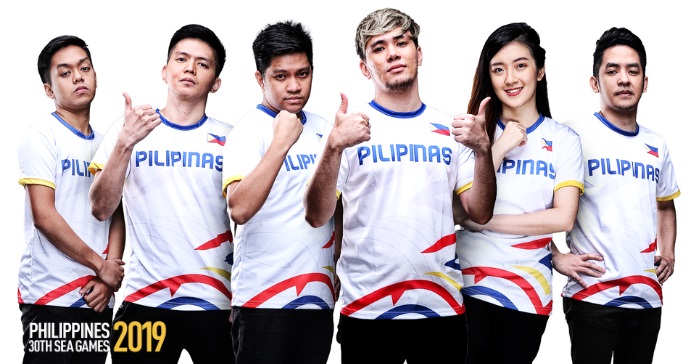 The first time's a charm it seems for the Philippine esports team Sibol, who went off at the inaugural esports competition at this year's SEA Games. With the entire country cheering for them, Sibol bagged three gold medals – the most of any country – making history in what has already been a historical year for esports.   
Mobile Legends: Bang Bang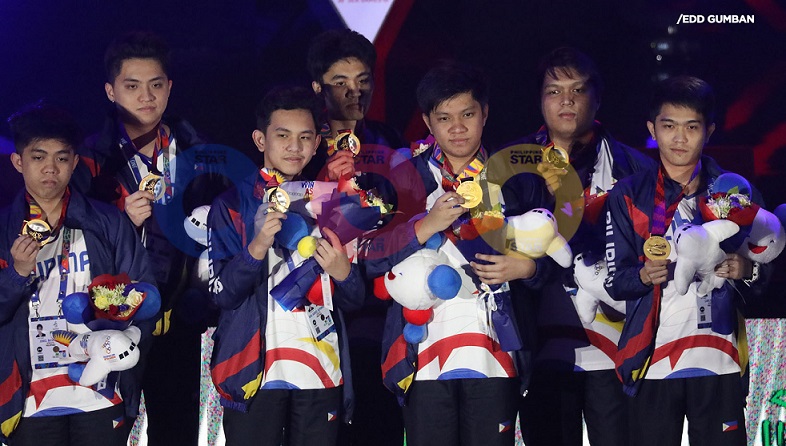 The immensely popular Mobile Legends franchise was what gave the Philippines its first esports gold medal, with Sibol pulling off a spectacular comeback in their final match with world champion Indonesia. Composed of Kenneth Jiane "Kenji" Villa, Karl Gabriel "KarlTzy" Nepomuceno, Carlito "Ribo" Ribo, Jeniel "Haze" Bata-anon, Angelo Kyle "Pheww" Arcangel, Allan Sancio "Lusty" Castromayor, and Jason Rafael "Jay" Torculas, the Philippine team grabbed the first win in the race-to-three, but faltered in the next two matches . With the gold medal seemingly slipping from their grasp, the team banded together to complete the miraculous comeback by taking the last two games to secure the victory.
Medal standing:
Gold – Philippines
Silver – Indonesia
Bronze – Malaysia
---
DOTA 2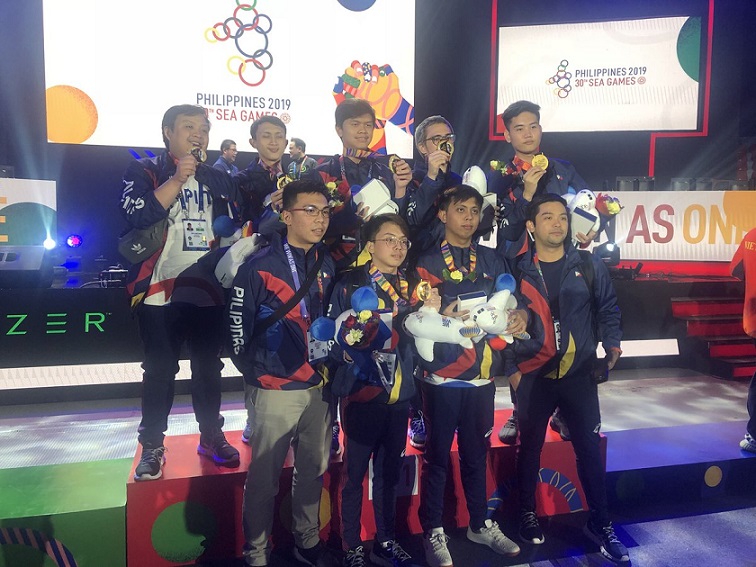 The Philippines got its second gold in another uber-popular game DOTA 2, thanks to the Sibol team composed of Mc Nicholson "Mc" Villanueva, John Anthony "Natsumi" Vargas, Jun "Bok" Kanehara, Marvin Salvador "Boomy" Rushton, Bryle Jacob "CML" Alvizo, Van Jerico "Van" Manalaysay and James Erice "Erice" Guerra. In the finals, Sibol again grabbed the first win but just like in Mobile Legends, the opposing team from Thailand came back with a heart-pounding 2-1 lead. But Sibol managed to win the next game to force a tiebreaker, and in the deathmatch, the Philippines pulled away midway through the game to bag the gold.
Medal standing:
Gold – Philippines
Silver – Thailand
Bronze – Vietnam
---
StarCraft II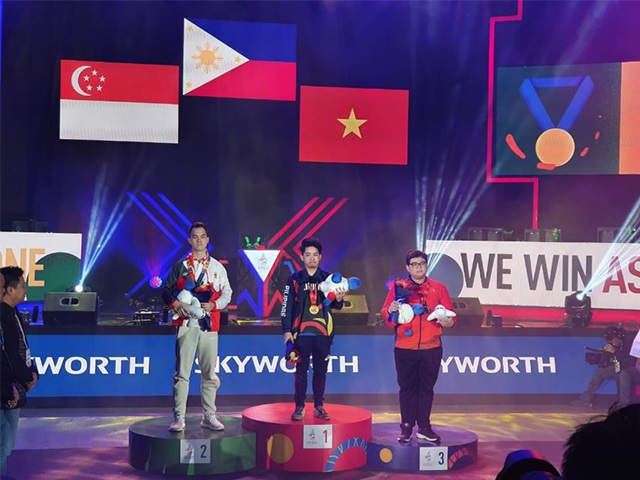 The final gold was delivered by Sibol's Caviar "EnDerr" Acampado, who dominated in the finals in StarCraft II against Singapore's Thomas "Blysk" Kopankiewicz. Unlike in Mobile Legends and DOTA 2, Acampado left little doubt as to who will come out on top, racing to two-game lead at the start. Kopankiewicz wasn't a pushover, however, and showed signs of life by registering a win on the third game, by Acampado quickly took back control with two more wins, completing the trifecta of golds for the Philippines.
Medal standing:
Gold – Philippines
Silver – Singapore
Bronze – Vietnam
---
Tekken 7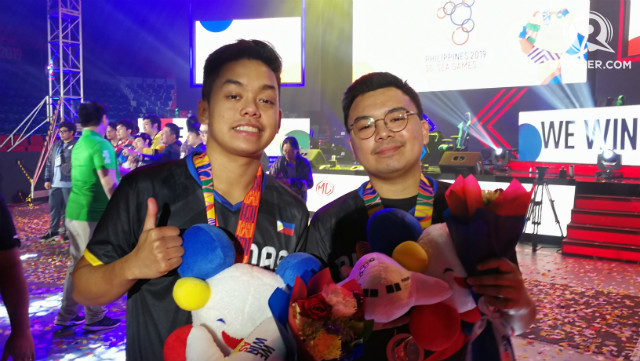 It wasn't gold-or-nothing for The Philippines, as Sibol also registered podium finishes in Tekken 7, the only arcade fighting video game category. Alexandre "AK" Laverez lost to Thailand's Nopparut "Book" Hempamorn in the final to take the silver, while Andreij Hosea Albar got the bronze after losing to Laverez in the lower bracket finals.
Medal standing:
Gold – Thailand
Silver – Philippines
Bronze – Philippines
---
Arena of Valor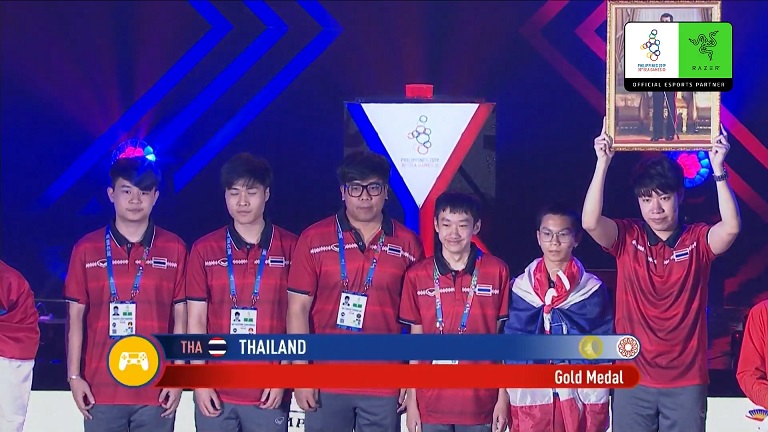 Sibol was also competitive in the other games, but weren't as fortunate to gather medals. The Philippines representative for AOV lucked out after losing in the group qualifiers to Thailand. The team was composed of Liyab Esports' Kevin Kio "Gambit" Dizon, Jeremiah "1717" Camarillo, Jevan Lorenzo "Bents" Delos Santos, Lawrence Anthony "Rubixx" Gatmaitan, Miguel Klarenz "Miggie" Banaag, Bradie Ryan "Yats" Velasquez and Kyle Jepherson "Vindiicated" Padlan. They lost to Vietnam in the Group A Qualifiers but made a comeback against Myanmar. However, Thailand was too much to overcome.
Medal standing:
Gold – Thailand
Silver – Indonesia
Bronze – Vietnam
---
Hearthstone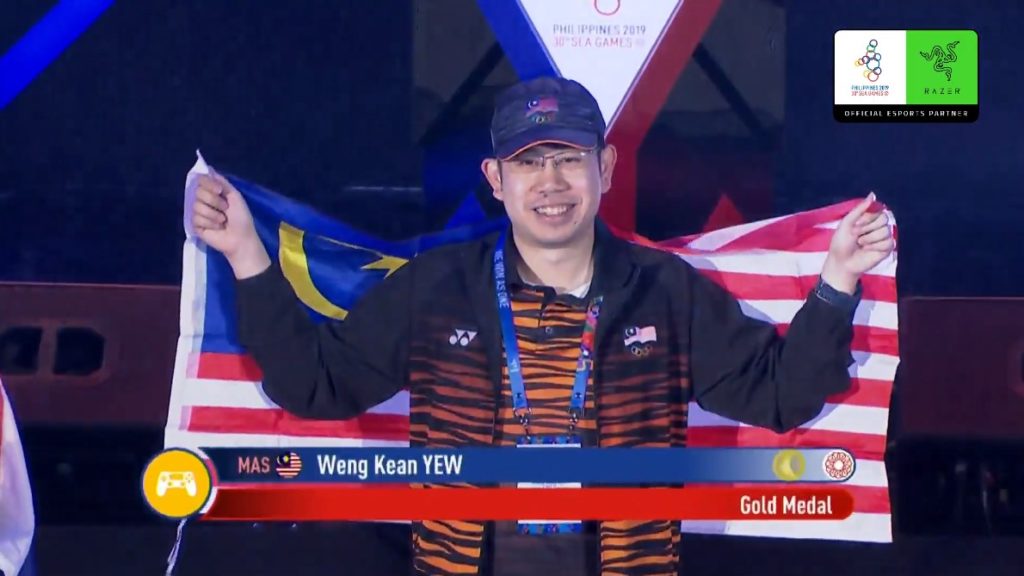 The third PC/mobile esports category, the competitive card game Hearthstone was a struggle for the Philippines. Composed of Team Sibol's only female athlete, Jia Dee, and Dustin Mangulabnan, the two humbly bowed down in the qualification phase. Dee lost to Malaysia's Weng Kean 2 – 1, while Mangulabnan to Thailand's Werit Popan with the same result. Malaysia's Yew Weng Kean got the gold, while Werit Popan and Kai Kiat Chew got the silver and bronze medals respectively.
Medal standing:
Gold – Malaysia
Silver – Thailand
Bronze – Singapore
---
Final medal tally:
Philippines – 3 gold, 1 silver, 1 bronze (5)
Thailand – 2 gold, 2 silver (4)
Malaysia – 1 gold, 1 bronze (2)
Indonesia – 2 silver (2)
Singapore – 1 silver, 1 bronze (2)
Vietnam – 3 bronze (3)
From the entire Enduins gaming community and every Filipino gamer out there, our heartfelt congratulations to the whole team behind Sibol! From the athletes, to the coaches, managers, organizers, and everyone in between, you have our utmost thanks and respect! The 30th Southeast Asian Games legitimized esports as an arena for real athletes, and our wins proved that Philippines is a force to be reckoned with in the esports industry!
And while seeing esports in the Olympics might still be a ways off, Sibol is already here – ready and waiting – to produce the next generation of Filipino athletes that we can all be proud of. We win as one!