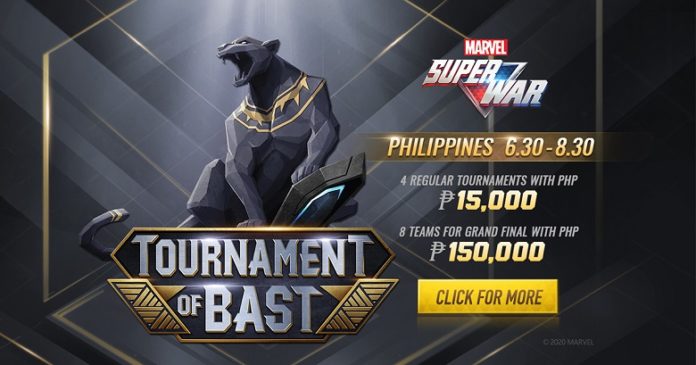 Bast once again descends upon Wakanda, calling all heroes to become her champion of war. After Thailand, the Philippines now has access to do MARVEL Super War's Tournament of Bast! In the next two months, players can enjoy a fun-filled summer with a total of four weekly qualifier tournaments and a grand final. Registration for the first round has already opened on June 30th. All players in the Philippines are welcome to partake in the trial and fight for the glory of Bast! Sign up now at: <http://bit.ly/MSWTournamentOfBast-1>
The first round of registration marks the beginning of a grand combat for players in the Philippines. TOB Philippines will last for two months, with four weekly qualifiers open for players to participate. The top 16 teams of each qualifying round will receive points according to their rankings. The top 4 teams of each week will even share a prize pool of ₱15,000! After the four rounds have concluded, the 8 teams with the highest points will compete in the Grand Final, where they will battle for their share in the ₱150,000 prize pool!
Sign up before July 6th to take part in the first weekly tournament:
<http://bit.ly/MSWTournamentOfBast-1>
There are no prerequisites for signing up. However, only 32 slots are open for each round, and are on a first-come, first-served basis. Register now to secure your place!
Please note that the registration for each qualifier round is separate from the other rounds. All teams are eligible for signing up for multiple rounds to make up for any lackluster performances in the previous rounds. For those who are interested in future rounds, stay tuned to MSW's official pages and keep an eye out for registration announcements. Don't miss out!
Highly anticipated from the very start, Tournament of Bast has received raving receptions and has generated widespread popularity among the players in Thailand. As MARVEL Super War brings the Tournament of Bast in the Philippines, what epic battles will we witness this time? It's up to you players to decide!
Assemble your squad and fight for your share in the ₱150,000 prize pool! Sign up NOW at: <http://bit.ly/MSWTournamentOfBast-1>