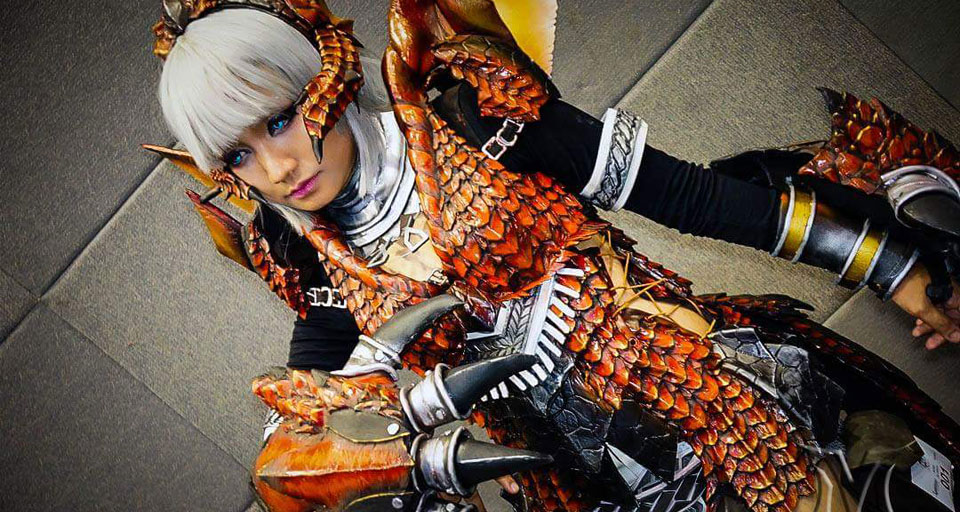 STGCC or Singapore Toy, Game and Comic Convention is one of the biggest annual conventions in Singapore which is similar to Toycon here in the Philippines.
Ae Ri got into the competition through an online application where she got shortlisted and successfully emerged as the grand champion crafter in September 2016.
Where Ae Ri Sets Out to Craft
Ae Ri never imagined that she would end up being a crafter because growing up, she was not so sure what she wanted to be. She felt she could be whoever she wanted to be as long as it is practical and she has the right reasons. Her dreams shuffled between being a doctor, marine biologist, and veterinarian. Everything has changed when she discovered cosplay by accident.
With virtually zero knowledge, the first costume she wore during a game event was fashioned out of paper and masking tape. Since she was actively participating at on-the-spot drawing contests during grade school, she had some basics about painting but that was it.
When she attended her first cosplay convention which was Ozine, she saw a lot of cosplayers wearing armored costumes. That was where inspiration hit her and she promised herself that she will be able to craft her own armored cosplay one day. It took her a lot of research and trial and error in order to learn the basics and processes of crafting costumes and props.
She definitely grew from her first major cosplay, Shana from Legends of Dragoon, to her recent STGCC 2016 tilt.
"The strength to have the courage to face the wall that is blocking your path and the strength to accept flaws and shortcomings are the things I learned that I believed help me a lot. Though I did not win back then, I did not lose either because what I gained in return was what I used to continue to improve my craft", Ae Ri recollected.
The Road to STGCC 2016
Ae Ri's team had to prepare not just the costume but also their travel itinerary, flight booking, and accommodation. She even had to repair some of the mechanisms and parts – especially her costume's aluminum brace – paint most of the parts, and add shading and highlights, which she was not able to do the first time she wore Lich. Competing abroad is super fun but nerve-wracking at the same time!
Post-STGCC, she has no idea yet how much it impacted other people but to her and her family, it is really huge because it was a dream that she shared with them.
Winning gave her the chance not just to further showcase her craft but also to share what kind of crafter she is, what her passions are, and where her heart for cosplay is.
Through that, she hopes she can inspire others to also have the courage to follow their dreams.
Challenges, Misconceptions, and Insider Tips
Ae Ri named a few crafting challenges she encountered. First is translating 2D arts into real life wearable costumes. She knows how important accuracy is, however, you have to modify certain parts sometimes for you to be able to apply it in real life. While doing so, you still need to maintain the image and be true to the integrity of character or else you might end up losing the essence of the character itself which is quite a challenge. This is something not everyone understands.
Second is having limited access to some important materials and resources. It is true that this is where your creativity and resourcefulness are being challenged. However it is not always a heroic deed to just use what is available around you because there are so many other interesting materials out there that would be best used for certain parts. And venturing to other materials isn't a crime.
Third is having a few or zero knowledge on stuff you want to add because the cosplay requires you to. Because of cosplay, Ae Ri have to learn how to deal with electronics, servos, LED, and handle some power tools in order to achieve desired output.
Lastly, the people who love to compare your works and effort with others.
She then shared about the misconceptions directed toward crafting. This includes people accusing you of cheating or being unfair in competitions.  One thing Ae Ri hates reading is about cosplayers ranting about their fellow cosplayers who crafts their own costumes or is into armor and mecha costume. Some of them make you feel as if you are cheating on them just because you are not wearing what they are wearing. For Ae Ri, they have to understand that everyone of them started small.
Another is that a crafter does not only include those who can craft armor, creatures, or oversized cosplay. Those who are into different aspects of sewing and special effects make up are crafters as well, in their respectful rights, and should be treated equally. Each has his own strength. The key is to respect others and acknowledge that you are not the only one who can create beautiful things.
Lastly just because they craft costumes doesn't mean they have a lot of costumes ready for rent especially during Halloween. Ae Ri personally do not rent out her costumes.
Ae Ri only has a few words for insider tips: "Have courage and be kind" (which is also her Facebook Intro). There are no easy way or shortcuts in learning, one has to be patient. She believes that aside from skills, you also need the right attitude.  Having the courage to face the struggles along the way, being kind to others, and staying humble in whatever you do will make the crafting and cosplaying journey worthwhile. Also while learning how to craft, it is also important to learn how to paint properly. One is not more important and relevant than the other. They go hand in hand.
Resources, Creative Processes, and Future Plans
At an average, Ae Ri used to spend around 2 weeks to a month time and with lesser money. Currently she spends 2 to 3 months crafting one full project and with more money because she is using different types of materials and paint now.
She also imports items that are not locally available so the cost is quite higher than before, especially on her last costume, Lich.
"I think my drive to learn and develop is what keeps me going. There are a lot of things in this world that I would love to explore, hence, giving me so many ideas. I am having a hard time sometimes just because there are so many ideas overlapping in my head. And I think as long as there's something new that life can offer me, I will continue creating things," shared Ae Ri.
Ae Ri does not like going out that much if it's not needed. So she gets inspiration by browsing other people's work or random things over the internet. She also watches movies or shows. For her, ideas do sometimes pop out randomly.
Currently her team is back working on commissions for different clients, most of which are Overwatch cosplays.
Her greatest dream is to create something as grand as Hollywood's creature characters and to build her own studio. (And if given the resources and funds, she will pursue one day). She is aware though that she still has a lot to learn and is willing to wait until the time comes.
She is happy and contented just to admire other people's work and have not yet imagined herself collaborating with them. But she really wanted to do something similar with "Super Fan builds" and hopes to find the time and the right people to do it with her.
Ae Ri's expectations on the industry are quite high: "For the first 5 years I had been in the industry, it has grown a lot so I won't be surprise if within the next 5 years, we will be able to build not just simple costumes but more intricate ones and even incorporate animatronics even more. It is a growing and promising industry that I believe will flourish. I do however hope that while gaming tournaments are well-recognized and well celebrated now as an e-sport, hopefully so does cosplay and crafting".