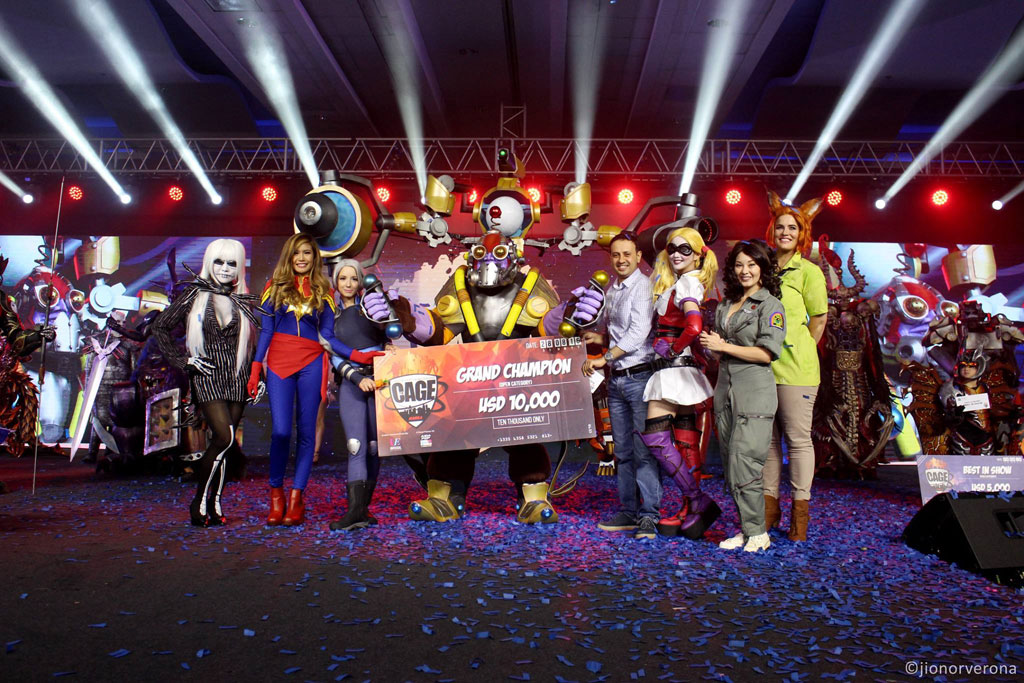 Some people brought new collectibles while some people brought prizes and winning titles home from the recent Asia Pop Comic Con 2016 held at the Mall of Asia SMX Convention Center this August 26-28.
Enduins managed to snatch the event's 10,000 USD richer cosplay champion, Mr. Fred Viñas, for a one-on-one interview. Just this year, Fred also reigned at the Manila Major's cosplay competition during its last leg in the Philippines.
Cosplay competitions can change people's lives because of the price and glory that you can get when you win the grand prize. Let's see what's on the mind of the Tinker cosplayer.  We hope you'll pick a thing or two on how to turn cosplay into a life-changing hobby, the Fred Viñas way!
Enduins: Can you tell us how you got into cosplay?
Fred: I've been a con-goer for a long time now, mainly to buy toys because I'm a toy collector. A couple of my geek friends urged me to try out cosplay and so I did, which was probably one of the most important decisions I've made in my life.
Enduins: Who was the first character you've cosplayed?
Fred: Prior to cosplaying any specific character, I went to conventions dressed up as a generic SWAT officer because I used to play airsoft. But for a specific character, I first cosplayed Tetsu Aira a.k.a. Dekabreak from Tokusou Sentai Dekaranger in his casual police uniform.
Enduins:  Do you have a crafter or do you craft your own props?
Fred:  Partly yes and no. I have a team and we all help each other with our costumes. But mainly, we have a mentor who teaches us how to make our costumes; Sir Veni Testa of Cyback Metafusion Prop Shop. Materials are cheap and easy to come by if you're resourceful enough. If you're going to make a costume, pay more attention to detail. Don't be a "pwede na yan" kind of person, make sure you go the extra mile into making a costume or a prop as accurate as possible.
Enduins: Who is the best character you've cosplayed so far?
Fred: It's honestly kind of hard to decide which because I love all of the characters I've cosplayed and all of them have a very special memory very close to my heart. But if I were to choose one, it has got to be my Captain America cosplay. For two reasons; first I was able to do a lot of charity work and make a lot of children smile with that costume, and second because of that I was able to win a Marvel contest and got to speak with Anthony Mackie, Sebastian Stan, and Chris Evans live. I got all praises from them for nailing the costume so for me it was definitely the best cosplay I have done because being complimented by the actors you are portraying is the best feeling ever!
Plus my Captain America cosplay was even featured in Marvel's website! They gathered 75 Captain America cosplayers from all-over the world and I was one of the lucky few who have been chosen! It's over here at Marvel.com. These are the reasons why cosplaying Captain America definitely left a mark on my life.
Enduins: Besides APCC and Manila Majors, what big events have you competed in?
Fred: I don't really compete solo, I compete with my whole group because having the chance to work with great people is what I love about this hobby. We already competed in TOEI's 25th Anniversary Group Cosplay Competition, GTMACCON 2, and Cosplay Mania last year. For the first two, I was an entry. For the last one, I was the personal assistant to the entry of my teammate. And all of those, we won.
Enduins: How do you feel every time you enter the stage during the competition?
Fred: It's scary actually. I'm afraid to make a mistake on the stage and be embarrassed. But the way I conquer that is to focus on what I have to do, and if I make any errors I make sure that I recover from that because the show must go on. During the Manila Major's, carrying 16 kilograms of weight on top of my shoulders was tiresome work and because of that I was too tired to feel any stage fright so I just concentrated on what I had to do. It actually helped a lot because upon watching my performance on video, I thought that I was able to execute my skit as planned.
Enduins: I know that you still got that hype when you won the APCC cosplay competition, how strong was the hype in you when you've won 10,000 USD pesos?
Fred: When the 2nd and 1st runner ups were announced, I was really afraid that I might've lost. All of the entries in this year's Asia Pop Comic Con CAGE Competition were really great and definitely deserves to win. Our team even had two entries, one of which was the Ultima Weapon from Final Fantasy 8 cosplayed by Izabel Cortez. That for me was a more intricate and complicated costume plus the fact that it was more imposing than mine makes it as deserving as my Tinker. Before the announcers said who won as the Grand Champion, I was praying that at least one of us got the top spot because we both wanted our mentor sir Veni Testa get the recognition that he deserves, plus a win from either of us is a win for the whole team. When they announced that it was me who won, I couldn't help but look up and thank the Lord for giving me the strength to pilot such a humongous costume and even jumped for joy on the stage. Carrying around 16 kilograms on your shoulders is no joke, plus I suffered 2nd degree burns in my elbow after my instant freeze for the smoke effects of Tinker leaked the day before during the competition itself. The hype was too strong that I forgot that I was instructed not to trigger the smoke effect again and got another 1st degree burn in my arm that day. It was all worth it though, and bringing home the grand prize definitely gave me and the whole team peace of mind because we really worked hard to give everyone a great show and we're grateful that everyone loved it.
Enduins: What are your future plans in cosplay?
Fred: I am still not sure. I'll probably work on improving my craft and do something that would make people see how we work as Team Cyback Metafusion Prop Shop.
Enduins: There are lots of cosplayers out there who really want that feeling of being the 1st placer in every competition, how can you inspire them to do their best?
Fred: It's really simple, if you put your mind and heart into something you want to achieve, you can pretty much do anything. You can't really win them all. I for one has had my fair share of losses in the past, but never let it pull you down. If you lose, then take it as a learning experience and use it as a way to improve on your craft and on yourself. Don't ever think that you're the center of the world and that you are entitled to anything, just work for it and make sure you are doing beyond what is expected of you. Cosplay competitions are not as simple as wearing the costume and acting like the character you are cosplaying, you have to impress everyone as well. If there will be a stage performance, make sure to maximize your allotted time on the stage to showcase what your costume can do. With that, you'll probably end up being the overall winner.
Enduins: What advice can you give to those cosplayers out there?
Fred: Stay humble, respectful, and kind to everyone, so that good things will also happen to you. Don't ever compare your cosplay to other people's cosplay and don't ever try to bring down anyone. Why? Because that will make sure that the cosplay community is filled with great people who can turn our cosplay experiences better. Cosplay is for everyone, so let's do our part in making our cosplay world worth living in.
There we have it from the humble person who received a big achievement at the recent APCC Cosplay, Fred Viñas! This is a good example of a person who started from scratch and went big; A person who can inspire other cosplayers to do their best, to have fun, and to receive the greatest achievement on every competition.
Who will be the next cosplayers who will get this huge achievement soon? Hope that it will be you!
Interviewed by: Sergei Gocela