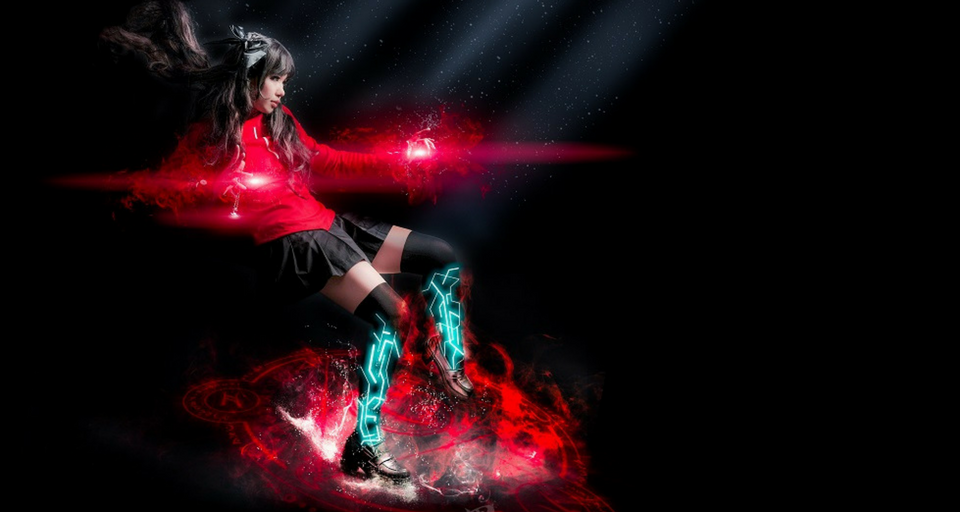 What are we beneath our skin? When we shed our costumes, uniforms, façade, and labels, will this reveal us more to ourselves?
For Lin Ling, it may be the other way around as she discovered not only her passion but herself by taking on different characters and costumes, redefining "sexy" cosplay in the process.
The love affair started with her fondness of anime and friends introducing her to anime conventions.
"I brought my mom four years ago to the 'Best of Anime' convention. She was very supportive accompanying me that time, she was amazed when she saw colorful people but found out that spending an entrance ticket worth Php 300 is ridiculous!", Lin Ling recalls.
When starting a cosplay project, Lin Ling collaborates first with her photographer friends. Next, she develops ideas, sets a date and time, and looks for a location. Once polished, they start to gather materials for costumes, effects, and props. And finally faces what she deems one of the challenges she encounters in cosplaying: creating a costume as detailed as possible and as close to the character she is trying to cosplay.
But do you know what keeps Lin Ling all excited for characters she will cosplay? Getting to choose cosplaying the villains as she loves the spice they add to the story!
Elaborating the sexy
Despite being known for her sexy cosplay projects, she also does other themes and play with things unrelated to cosplay like Lolita and harajuku fashion.
The part she likes about sexy cosplay projects is the confidence boosts she gets when she sees her picture looking great. The part that she finds challenging though is maintaining her figure but she vows that this taught her to love herself and appreciate what she has. It encourages her to take care of her body and accepts that not everyone will like what she does.
"One thing I've learned is I have to invest in myself because not everything can be manipulated through Photoshop or can be covered by makeup. I have to take care of my skin and always watch what I eat. I should always keep myself healthy and fit", she shares.
Setting her mind that what people think of her is none of her business, she firmly stood by her philosophy that she cannot control what other people will think when they see sexy cosplays.
"Some will appreciate it, and others will take it negatively. Maybe I have a different perspective than theirs since I see it at as an art, I can see the beauty in it", she adds.
There is sexiness in finding balance. As Lin Ling explains, being sexy is beautiful, but being sexy while not wearing too revealing outfit is something. She emphasizes the difference, that it's not just showing some skin; its showing how you feel confident with your body regardless of what you wear.
Carrying on with a heart full of love and attitude
People like Lin Ling who find joy in cosplay keep coming back to it more than just a hobby, but as an outlet, a way to relax and find your center. They exude passion despite the expenses and effort they exert, even when they don't get income or freebies for cosplaying.
Lin Ling dreams of creating a portfolio of every cosplay project that she did. She likes it to serve as a memory for her while she is still part of the cosplay community. Lin Ling says that she will always have a soft heart for cosplaying and even if she gets to have children in the future, she will let them into this hobby.
"There's nothing wrong trying out sexy theme, but always remember that people will judge you by how you look, not by who you really are, if you really into it then embrace it, never get affected by what other people will say against you", Lin Ling advises.