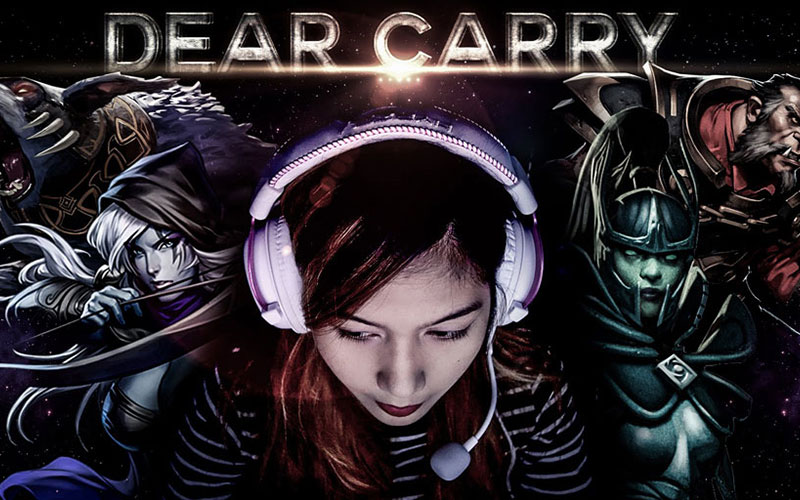 Wake up. Work. Record a Gameplay. Play with friends. Work on a new content for YouTube Channel.
This is what Lorelyn Faith's typical checklist for the day is as a full-time freelance designer and video editor.
Lorelyn has 40K Fan Page followers and 24K YouTube subscribers. "I don't know exactly but last year, when I uploaded a video "Dear Carry", I gained a 20K+ Likes on my Facebook Page – that's why most of my subscribers and followers prefer to see a Dota 2 content on my social media pages – which is completely fine", she said.
Dota 2 : Dear Carry… (Support Story)

Watch the full video with english subtitle : https://youtu.be/LySXgKEhky0

Minsan kahit ginawa mo na lahat, hindi parin naa-appreciate ng Carry mo yung effort mo. Sad. Nangyayari 'to hindi lang sa Dota 2, pati narin sa ibang online games. (TAG mo yung tropa mong mahilig mag Support) 🙂

Just when you think playing as a Support is easy, it's not and here are some roles that I know, so far. Whenever you play with a Support, please, please, stop blaming them and appreciate their efforts.

Thank you for viewing. 😉 (Y)

Headset sponsored by Kingston Technology HyperX

Watch my review here : https://youtu.be/468oKQ551UU

More info about the headset : http://goo.gl/kYmE9X

Thank you @GeeMark for the Harvest Weather. (Y)

Dota ID : 301822171

LIVE STREAM : https://twitch.tv/lorelynf1

My Steam : http://steamcommunity.com/id/superlorelyn

Previous Game Highlights
1. With Alodia & D2N : https://youtu.be/cnm031BaHII
2. Blending with Peenoise : https://youtu.be/28SvQczmgs0
3. With Tobiwan Casting : http://on.fb.me/21Xyu6m
4. Batang Hamog Gaming : http://on.fb.me/1Xswbo5

Connect with me for no reason :
– Youtube : https://youtube.com/user/LorelynF
– FB Page : http://fb.com/LorelynF1
– FB Profile : https://bit.ly/superlorelyn
– Twitter : https://twitter.com/LorelynF1
– Deviant Art : http://lorelynf.deviantart.com/

My Gaming Profiles :
– Steam : http://steamcommunity.com/id/superlorelyn
– Origin : Youtube-LorelynF

My PC : https://youtu.be/qbjyDMEeN7s

Have a question? Ask me here – http://ask.fm/LorelynF1

90% Off Games : http://g2a.com/r/lorelynf1

#Dota2 #Dota #SupportProblems #Dota2Story #Support #SupportGaming #SupportRoles Dota 2 Dota 2 Philippines Pacific Live and Wired Internet #Noob #Carry DotaCinema Dota 2 Movies Xavst Roleplay #OgreMagi #SadStory

Posted by LorelynF on Friday, October 2, 2015
Originally, she started her YouTube Channel as a gaming channel. While she enjoyed reviewing tech stuff, she would always prefer to upload and make more game-related contents. The turning point that made her decide to be a tech reviewer was the view amount, the difference between her tech and gameplay video was 300%, way back 2014.
"I uploaded my first tech review and it gained 20K+ views so I decided to make more and since companies are appreciating my work and sending free stuff, I decided not to close my tech content", added Lorelyn.
Looking back her first review, "It was hilarious and cringy, it is currently private. Haha. What I learned from it? A lot, like improving my cinematography and overall content; I used a cheap mobile and P20 worth of mic to record it. I did not expect people to love it and it gained 20k+ views then, that's the start of my tech reviews content. I might turn it back to public for LOLs. Haha."
Insider Tips, Challenges, and Misconceptions
"It is just really about self-confidence. It doesn't matter if you have expensive equipment – all that matters is that you are having fun and you love what you do", shared Lorelyn.
Skill wise, she advised that, number one, you have to have good English delivery and video presentation. It's always nice to have it prepared than making it impromptu.
Since Lorelyn is a Multimedia Arts graduate, she has a basic knowledge in making a presentable video. She did a lot of research on her first year on YouTube, watched guides on YouTube, and Google for tips.
She warned that it's very time consuming which is why she emphasized having preparation, to have a plan and workflow for you to be able to deliver a good video.
One of the common misconceptions about tech reviewing is the "pera pera lang" mentality; some people think it is just about money and there's no passion involved at all. Most of the tech reviewers put a lot of hard work, time, and effort to deliver a good video and most of the time – they are not even getting paid, it is just pure passion.
On Future Plans
You can tell that Lorelyn is a woman of action and decisiveness just by her creative process alone. She said that what keeps her going is simply by making things simple by always creating a workflow.
She shared that her role models and inspiration in the industry include successful YouTubers Linus Sebastian of "LinusTechTips" and Elric of "TechofTomorrow". Her dream project or dream collab would be a review video with Linus Sebastian.
In the next five years, she expects that the tech review industry would grow larger, especially here in the Philippines and that her fans could expect more gameplay videos from her in the coming years.
She advised people who would like to be a tech reviewer to be passionate about it.
"It is not easy, like I said – it is very time consuming. Most importantly, be yourself, as confident as you can be."