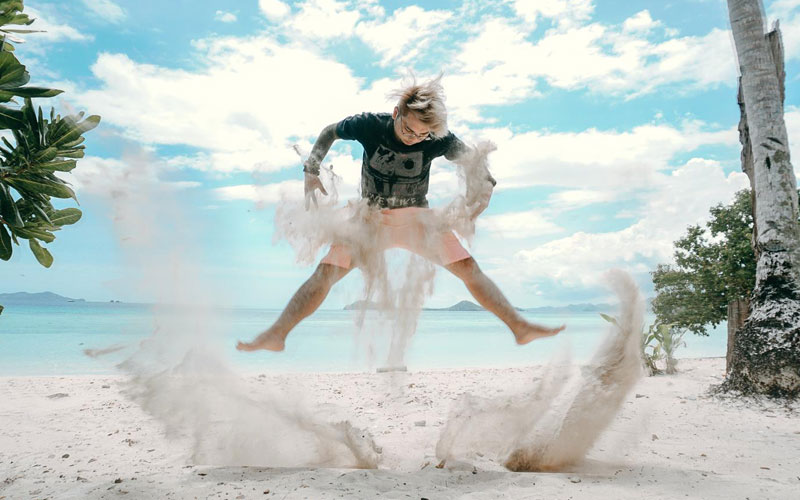 Freelancers are, more often than not, people who got disillusioned by the corporate world and decided to do things on their own after a few years behind a desk. But times are quite different now. We now live in a world where multi-talented, 22-year-olds can skip the process and go straight to full-time freelancing and run their own businesses. Millenials (and past generations) meet artist, photographer, videographer, and businessman Kenneth Surillo.
Bucking the trend
Going to school and applying for work after graduation is the blueprint for most of us, as it was initially for Kenneth. A lover of art early on, he wanted to be a landscape architect. But life happened and he ended up taking Computer Science in college. "Sisihin natin ang pagiging praktikal kung bakit hindi ko nakamit ang pagiging arkitekto na una ko namang piniling kurso. Magastos, malayo ang paaralan at hindi umabot ang qouta ng score ko sa entrance exam," he says.
But instead of sulking, he grabbed the opportunity and decided to be productive. "Naging scholar ako ng Google, Youtube at mga grupo sa Facebook. Naging sideline ko ang panunuod at pagbabasa ng tutorials."
His constant search for knowledge led him to the world of graphic design, and he honed his craft by joining online art contests. There, he got his first taste of what it's like to be a freelancer. "Nakakuha ng mga local clients na hindi papatalo sa kabaratan, mahilig magpa-rush at kabaligtaran naman pagdating sa bayaran. Ipagdidiwang mo nalang ang anibersaryo nung date na nangako siyang magbabayad sila!" he chuckles.
His perseverance paid off when, after graduating, he was finally able to buy his first DSLR camera off his freelance income. This allowed him to fuse design and photography, and with the help of groups like Vector x Vexel Philippines, Doodle Art Enthusiasts and Guhit Pinas, he was able to get more clients.
With his clientele steadily growing, Kenneth began picking up learnings with each project. "Natutunan ko kung paano mag-handle ng iba't-ibang sitwasyon sa freelancing. May mga clients na mababa magbayad pero ang taas mag-demand. Meron naman maganda magbigay at alagang-alaga ka while shooting."
From freelancer to businessman
From photography, he branched out into videography where he met Paolo Gabriel Taligatos. With their constant forays into video production, they unknowingly set the groundwork for a full-fledged digital arts business – Happy Panda Studios.
"We looked like we were playing without knowing that we were already developing our business output," Kenneth reminisces.
Now, Happy Panda handles various projects all over the country, including an event they did in Palawan that Kenneth considers their best so far. "Ang challenge ay maglagay ng nature sa video ng couple. Pagdating naming sa Palawan, humingi agad ako ng tulong sa kaibigan kong writer at binigyan niya ako ng tula na related sa nature and love. Doon nag-base yung ginawa naming video."
Kenneth's mindset when doing projects? There's no such thing as a bad event. "It doesn't matter if the event is well-done, poorly-planned, or dull. It is our job to preserve it through beautiful photos and videos."
Although he has come a long way and they now have a steady stream of clients, Kenneth understands that competition among production companies is also more intense than ever. And that is why he never gets satisfied with his work. He makes it a point to watch videography/film-related tips and tutorials on YouTube and ask people with solid years and experience in the industry. He also follows studios online such as Treehouse, Projectmayo7, Rewindmedia, Sweetflicksfilm, Roadtale, and Phoebentecson, and many others for inspiration.
Be your own critic
While being your own boss, travelling for shoots, and managing your own time might seem like the dream, it requires pure, unadulterated pagbabanat ng buto.  "Hindi gaya ng ordinaryong trabaho, hindi ka ganun agad-agad magkakasahod kung hindi ka magkukusa at mag-exert ng extra effort."
Still, meeting different people and getting inspiration from their stories, as well all the lessons in life he has learned far outweigh the challenges in his chosen field. And for those wanting to follow his steps, Kenneth advises to keep your feet on the ground. "Don't just read and watch tutorials, make sure you apply them. Be open-minded enough to welcome and understand all the critics."
It also helps to be aware of your weaknesses and never think of yourself as a finished product, just as Kenneth does. "Para sakin ay napakarami ko pang dapat at gustong matutunan. Madami talaga akong pangarap, kaya medyo matagal-tagal pa ang biyahe ko."