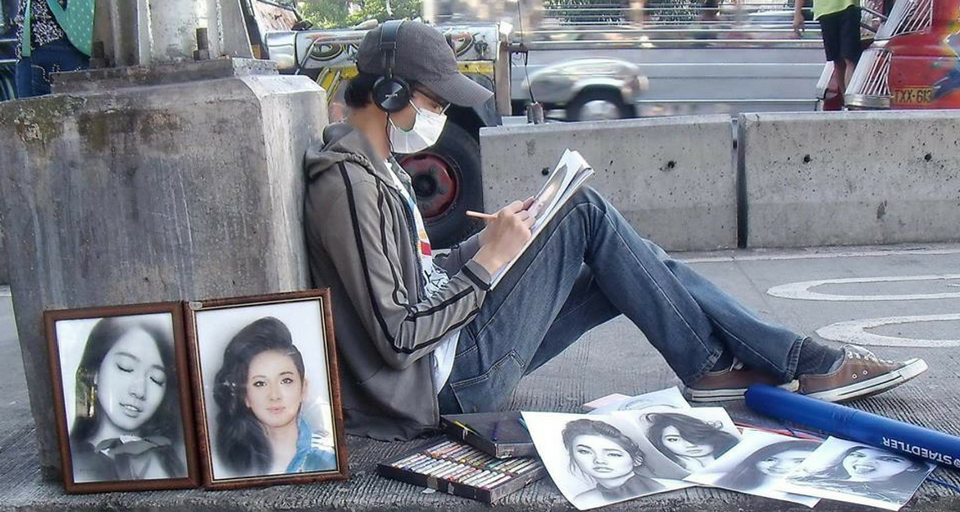 Selfie here, selfie there. Today's generation is so concerned about self-glorification that almost every move we make online is meant to attract attention. That is why we here at Enduins became more than a little curious about a certain digital artist who decided to be known as someone without a, ahem, face. Say hello to Norman de Mesa, better known as Nopeys Man.
Norman derived his unusual moniker from a character in the Anime drama Spirited Away named No Face. But being "unknown" added a mysterious aura to his already unique style and presentation, making his art recognizable to plenty of art practitioners and enthusiasts across the cyberspace.
The man behind the art
Before hitting his stride, Norman was almost forced from his preferred subject. Even when he was a child, Norman has always gravitated toward Anime and Mangas. "I remember when I was only in first grade, I used to draw Dragonball Z characters at the back of my notebook," Norman reminisces. He worked on becoming a Manga artist, but life had other plans. Being a breadwinner, he was compelled to practice portrait drawing in 2016, due to it being a more profitable venture. Even though he wanted something else, he used his grit and determination to land a job as a portraitist for an established company.
After a while, though, Norman felt empty and the yearning to start drawing Anime and Manga soon started to creep back in. That was when, by coincidence, he met one of the industry's better known digital artists.
"At that time, I met someone that influenced me to try Digital Painting. He played a very vital role in my life because if not for him, I am not where I am right now. That person is Wizyakuza. I accidentally met him in a game match of Tekken 6 at our town mall, not knowing that he was already a successful and well-known artist at that time. And so that is how my journey in the digital world of art started", Norman shares.
 A place to shine
With Wizyakuza leading the way, Norman found digital art to be an ideal medium to practice what he loves while at the same time having a source of livelihood. At first, he had to make adjustments. He typically finished a project in one to two weeks but after a while, he got the hang of it, and now he can complete a project in one to three days, depending on the complexity of the client's request.
He also had to learn how to use social media not just for selfies, but also for his art. Most of his works are posted online because aside from its accessibility and mainstream use, he finds it advantageous for attracting potential clients.
"One of the perks of enthusiastically engaging or exposing yourself to various social media groups is that you'll be able to meet amazing artists along the way. The internet is a great source for expanding your ideas and it also keeps you updated on the latest art trends."
Despite these adjustments, Norman stuck to what made his works stand out – pure hard work.
"To be honest, I don't have any specific strategy to lure more clients. But I always ensure the quality of my output. I think it's your credibility and hard work as an artist that will keep you continuously patronized in the industry", he shares.
While digital art and online exposure bring a lot of advantages, Norman also had to deal with the cons of going online. He became a victim of art theft, with other people selling his works without his knowledge. He also deals with hard-headed clients who refuse to pay him correctly for his works. But despite the challenges, Norman enjoys what he is doing and still sees himself as a digital artist going forward.
Inspiring others through art
As of the moment, Norman continues to accept projects and hone his skills so that he'd be known globally for a style that is very much his own. And aside from one day having his own art-related business, Norman says his greatest motivation is to become an inspiration for many aspiring young artists.
"Today's generation is very lucky because there are countless sources that can be found online for your reference. Just don't be afraid to share your output online. Of course, expect that people will criticize your art. The important thing is your reaction. Keep in mind that no one can ever make you feel inferior without your consent. So take those criticisms and turn it into something beautiful." Thanks, Nopeys Man.