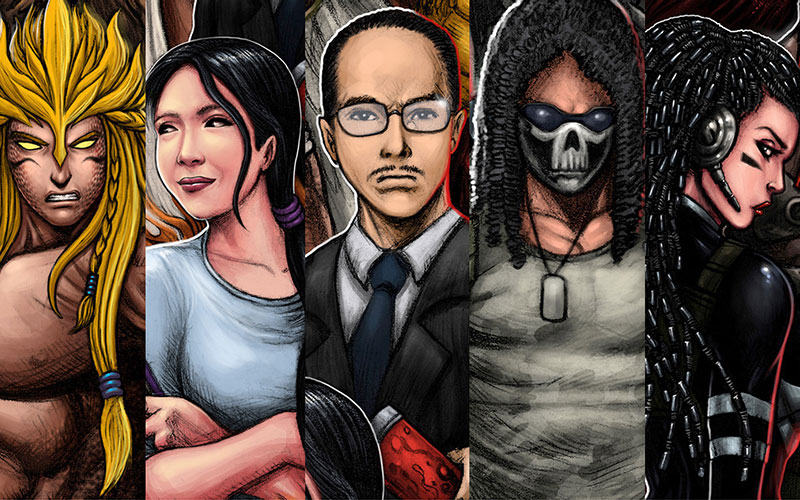 A superhero that gets his power from…paint?
This was the idea that gave birth to the all-Pinoy graphic novel – Pintura. It was created when John Becaro began thinking of a character that an artist like him can relate to. He looked at tools or symbols associated with artists – ink, brush, pencil, pen, and paint. Expectedly, it wasn't easy at first.
"Inkman", "Brusher", "Pencilboy", and "Paintman" were just some of the sillier names he came up with before landing on his prized moniker. It was easy to remember and sounded like Pantera or Metallica. It was cool. It was gold.
With a perfect name, it was time to develop Pintura's story. But an easy task it wasn't, as it took him more than 7 years to finally complete Pintura's original and compelling mythos.
Born with distinct talent in the arts, Juan lived his life revolving around it. Everything changed after a tragic event in a paint factory where he worked as an intern. It was blasted up into chaos and Juan was presumed dead since his body was not found. A few weeks after, Juan reappeared and became the lone witness to the anarchy, unknowingly partaking into a twisted conspiracy.

How do you handle the truth when you are just a shadow of your own past existence?
The Artist and the Storyteller
"I am more of a visual artist than a professional writer.  I had to learn to construct a narrative, which I never did before, for my character Pintura to develop. I had to study how to write a good story and apply it in almost everything I do," related John.
Before immersing himself into the digital world, John was a traditional artist. When he was younger, his preferred career was that of a cartoonist, animator, comic artist, or painter. But he later became a graphic artist, and seeing that he needed better credentials for job orders, he started to devote his time learning digital art.
He didn't forget about his traditional illustrations though, so he also began dabbling in the comics industry, specifically comics coloring. Not only did it enable him to color and finalize his own illustrations, but it also proved invaluable when he finally started Pintura.
On Creative Sparks and Splashes
So, how do you create something like Pintura?
"It begins with an idea and then some sets of questions. If I can't really work out the answers, I will look for them through research inspirations. In most days, I only need to start drawing to begin my creative process," shares John.
John and his team created the entirely new universe of Pintura by merging some of their past creations into one. From there, they expanded the storylines of their new and old characters.  Finally, to spur growth, they created a platform on which comics or characters from other artists could cross over into Pintura's universe. It's huge and ambitious, John admits. But it is also what keeps them moving forward.
What does it take?
Artists are often viewed as "creative-types" who work in a different manner and schedule than that of regular people. But, just like the rest of us, they face normal challenges like corrupted hard disks, software glitches, complex financial management, and old-school hard work. John works 12-14 hours a day, and he doesn't stop promoting his creations through various means despite his success.
"Use the Internet and just post your artworks to every art forum and art website.  If someone pays you for a commission, do it if you have time. Remember the importance of deadlines as well. Things will flow later," says John.
He also emphasizes the value of knowing the right price for your hard work, something some artists recognize way too late. "Be humble but know your worth, don't undersell yourself," quips John. But he also warned against taking on too much, too soon. "If you know you can't do it, don't accept a certain project. Do not negotiate with backend deals unless you trust the client or you have enough savings in the bank."
Mentorship, John explains, is also something that has helped him through ups and downs. "If you want to break in, just trust yourself by showing your artworks to trusted seniors in the field and asking them how they did it. If someone discourages you, just move along and find your right mentor.  What I did is I just pursued my love of drawing and never stopped learning."
On to the Future
Nowadays, despite his busy schedule, John still does work for other companies. He still accepts coloring jobs for different comics projects, but he also constantly works on Pintura. As of this writing, he has finished the entire plot of the sequel. It is now on the art production phase and is expected to be out in 2017. He will have his second untitled art book released soon as well.
"Just persevere, you will make it in due time. Trust yourself but never stop from learning. Just do what you love the most, never settle for less," advises John. "If there are certain hindrances, know what went wrong and keep moving on."