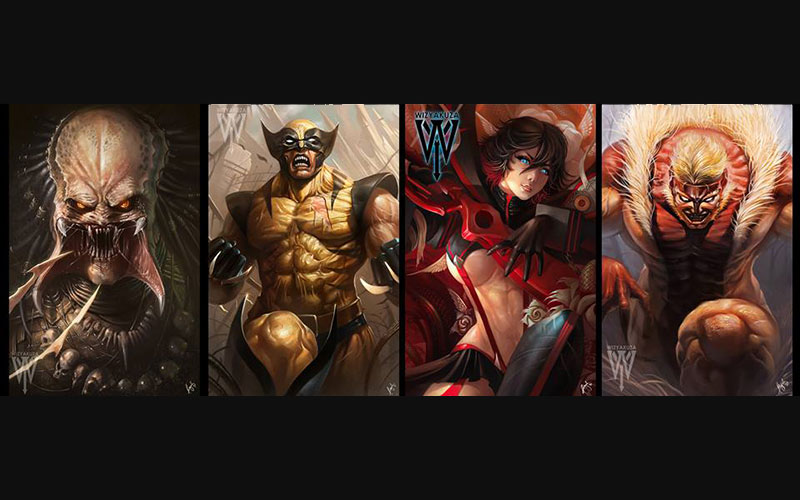 Ceasar Ian Muyuela is a simple guy. He has a pet fish, he builds vape coils, and plays video games just like you and me. He's also an artist, and he just wants to find a way to draw art all day. Ordinary, right? Yeah, except he's really, really good at what he does. Like gets-commissioned-by-Goku-himself good. World, meet Wizyakuza.
Before gaining fame in the art industry and being recognized by the likes of Sean Schemmel, Goku's voice actor from Dragon Ball Z, Ceasar began his career as a humble tattoo artist. Back then, he was known as "Wiz" and specialized in oriental designs, particularly Yakuza tattoos.
In 2012, while trying to find ways to earn a living and support his family, he decided to apply his traditional art background into digital art and posted his works at DevianArt, the largest online gallery for art and illustrations. He became known online as Wizyakuza, combining his former alias and design expertise.
Trying to monetize something that was previously just a hobby is a lot harder than it seems, and according to Ceasar, going self-employed and waiting for orders for his art was really difficult, to say the least. But when he started getting clients, it motivated him to persevere. From there, he built his career,  one illustration at a time.
Now, he's one of the most well-known artists in DevianArt and has a sizeable international following for his art, which are influenced by pop culture and things he loved while growing up. This lead to his deal with Schemmel.
To maintain the high-quality he is known for, Ceasar treats every masterpiece as an experiment and yet another study to improve his next art. He challenges himself consistently to make drawing as effortlessly as breathing by sketching and illustrating as often as possible and keeps on pushing himself out of his comfort zone to develop his digital art skills.
For him, there's a different intensity in being a self-taught artist. His creative process involves drawing a decisive line between work and personal, throwing speed, quality, and passion into the mix to finish an art that is distinctly Wizyakuza.
With his success in DeviantArt, Ceasar was able to get a marketing partner which helps him be flexible with his clients and projects. But he assures his fans he still has his mind (and hands) focused on improving his digital art so he can have more commissioned works. As for others wanting to follow his footsteps, he says having serious interest and passion for art can take you a long way. Who knows, you might just be the next Wizyakuza. (Vegeta might still be available *wink*)
For more incredible art, check out Wizyakuza's website and Facebook account.