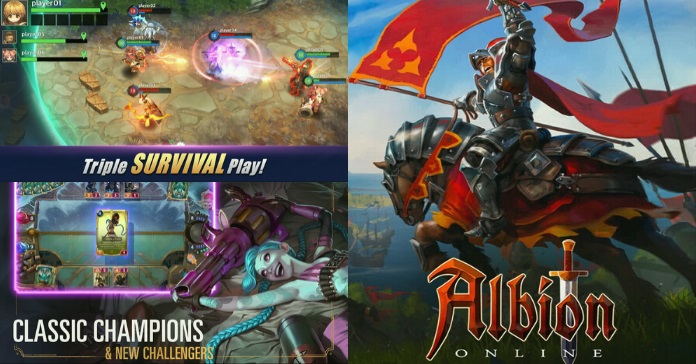 If someone said PC and mobile can play together in one game 10 years ago, some people would probably dismiss it as a still futuristic technology but here we are enjoying what we now call the cross-platform. So what is it?
---
---
In video games with online gaming functionality, cross-platform play, crossplay, or cross-play describes the ability of players using different video game hardware to play with each other simultaneously. This includes consoles, PC, handhelds, and of course mobile. Let's check out the list of games you can play right now with cross-platform support.
Albion Online
Albion Online is a medieval fantasy sandbox MMORPG that features a player-driven economy, classless combat system, and intense PvP battles. Players can craft and combine armor pieces and weapons that suit your playstyle in a unique classless you-are-what-you-wear system. Players can explore the vast open world, take on other adventurers in thrilling battles with friends, conquer different territories, and build your own home. What sets Albion apart is its full player-driven community. Nearly every item in the game is crafted by players, in player-constructed buildings, from resources gathered by players. Buy, sell, and trade with other players at local marketplaces all across the world. Craft rare and powerful items, then sell them to the highest bidder and grow your fortune. Albion Online is possible to play together with your friends on Linux, Mac, Windows PC, Android, and iOS.
---
Hearthstone
Hearthstone by Blizzard Entertainment is a fast-paced strategy card game that's easy to learn but hard to master. You can build your own deck and create different card combos to sling spells, summon creatures, and command the heroes from Warcraft in duels of epic strategy. With powerful prebuilt decks you can test out, and hundreds of additional cards to win, collect, craft, or purchase, your cards and the possible combos it can achieve will be ever-evolving. Challenge other players of all skill levels or hone your skills in practice matches against some of the greatest strategists of Azeroth including Thrall, Uther, Gul'dan, and more. Hearthstone is possible to play together with your friends on Windows PC, Android, iOS, and Mac.
---
Legends of Runeterra
Riot Game's brand new digital card battler game. Legends of Runeterra, is based on the company's global hit title, League of Legends. Set in the same world as LoL, Runeterra expands on the lore and the franchise. Players will not just compete in card battles, but also learn more about the world their favorite champions inhabit and discover new stories, new meta, and ultimately explore the world of Runeterra. The gameplay is very similar to Magic: The Gathering and Hearthstone. Legends of Runeterra is playable with your friends on Windows PC, Android, and iOS, while Mac will be coming soon.
---
Royal Crown
LINE Games has launched Royal Crown in Early Access fairly recently. It's basically an isometric view battle royale mixed with RPG elements where the aesthetics look very similar to Tree of Savior. Just like all BR games, you'll be dropping onto an island and you'll need to defeat other players to become the last player standing, picking up gears and items along the way to help you achieve that goal. There's also crafting, resource gathering, and monster-slaying during each match. You can unlock heroes and change their looks with skins and accessories as well. Royal Crown is playable with your friends on Windows PC, Android, and iOS.
---
Fortnite: Battle Royale
Fortnite is the living, action building game from the developer Epic Games. The game started as a co-op game but has since evolved into a battle royale. You and your friends will participate in a 50 versus 50 match to reclaim and rebuild a homeland that has been left empty by mysterious darkness only known as the Storm. Band together online to build extravagant forts, find insane weapons and traps, and protect your side from the other faction all in real-time. Fortnite: Battle Royale is possible to play together with your friends on Windows PC, Playstation 4, Xbox One, Nintendo Switch, Android, iOS, and Mac.
---
Shadowverse
One of the most successful digital card games currently available, Shadowverse took Japan by storm and then the rest of the world spawning an esports league of its own. From the creators of Rage of Bahamut and RPG sensation Granblue Fantasy, Shadowverse features AAA artwork and unique game mechanics that make it the most visually and tactically rich CCG available in the app stores. There are over 400+ cards, each lavishly illustrated with fantasy art. Players can strategize with innovative mechanics, master seven character classes each with unique playstyles and killer cards, battle real-time opponents from around the world, and enjoy the fully voiced story mode. Shadowverse is playable with your friends on Windows PC, Android, and iOS.
---
Roblox
Roblox is a massively multiplayer online game created and marketed toward children and teenagers aged 8–18. But just like Minecraft, more adults play it more than their intended age target. Players will be able to create their own virtual world, in which they or other members may enter and socialize. Games on Roblox can be scripted using a sandboxed edition of Lua 5.1 to affect events that occur in-game and create different scenarios. Roblox offers a premium currency called Robux, the main virtual money in the game. Players can also buy the Builders Club access, a status that gives virtual benefits to users. Buying any of the premium offers is optional of course, so people can still enjoy the game and have fun. Roblox can be played together with your friends on Windows PC, Xbox One, Android, iOS, and Mac.
---
The Elder Scrolls: Blades
Revealed during the 2018 Bethesda E3 Showcase, The Elder Scrolls: Blades is an all-new stand alone Elder Scrolls game from Bethesda Game Studios. Launched in winter 2019, Blades is a free-to-play action RPG where players take in the role of a Blade soldier who is now retiring but returning to your home town, trouble is what greets you. Thus starts your journey of defeating the entities that threaten your home and at the same time, rebuilding the town you grew up in. The Elder Scrolls: Blades are supporting cross-play across multiple platforms. Currently, it is possible to play together with your friends on Nintendo Switch, Android, and iOS.
---
Minecraft
Minecraft is an open-world game that has no specific goals for the player to accomplish, allowing yourself a large amount of freedom in choosing how to play the game, however, but there is a survival mode you can play in with goals and achievements to accomplish. The gameplay by default is the first-person mode, but players have the option to play in third-person mode. The core gameplay revolves around survival crafting and world-building. Players can gather material blocks and place them elsewhere, thus allowing for various constructions. There are also various enemies to encounter and defeat, giving the game some RPG elements as well. It is possible to play Minecraft together with your friends on Windows PC, Playstation 4, Xbox One, Nintendo Switch, Android, and iOS.
---
Yu Gi Oh: Duel Links
Yu Gi Oh: Duel Links Has been in service for years and it's still highly popular even today. In the game, you can take on global Duelists in real-time and while on the go. Duel Links is peppered with star-studded lineups that include various fan-favorite characters from different Yu Gi Oh series including Yugi, Kaiba, Joey, Mai, and many more. The original voice actors from the anime reprise their roles for the game to heighten the Dueling experience. The CCG seems intimidating to learn but the developers made sure Duel Links is beginner-friendly with intuitive tutorials that help you learn to play Duel Monsters.
---
Levelhead
Levelhead is a brand new level building platformer with a challenging campaign for 1 up to 4 players. Run, jump, and power-up through tons of levels in the handcrafted campaign, then build and publish levels for all the players around the world to play. It's basically like Super Mario Maker. The premise of the game is that you're an employee in the Bureau of Shipping with a bunch of newly formed delivery robots runnin' around, and someone's gotta teach them the ropes. That someone is you. You've got your very own GR-18 machine and you'll need to train the robots, then build and share obstacle courses with the other Levelheads so we can start dispatching the A.I. bots across the galaxy. Levelhead is playable with your friends on Windows PC, Nintendo Switch, Android, and iOS.
The technology really helps us stay connected especially now during the COVID-19 pandemic. There are no gaming platform barriers thanks to cross-platform, even if we're socially distancing with each other. Maybe, it will even break down the gaming stigma of whose the better platform someday. Technology for gaming has gone a long way and it will surely evolve even further than we can ever imagine. What games do you wanna see get the cross-platform treatment? Let us know and don't forget to follow Enduins for more gaming news and information!