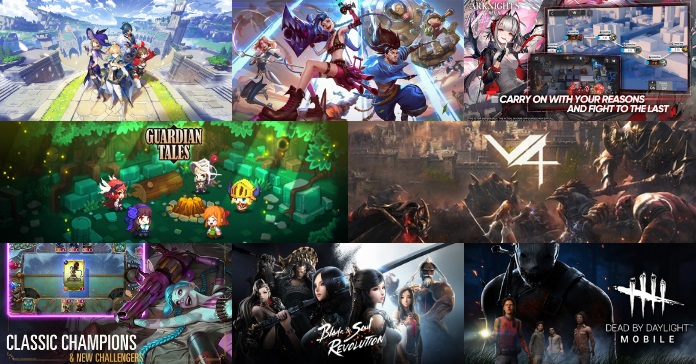 The year 2020 was one hell of a rollercoaster ride that consisted more of plummets and spirals heading towards the abyss that sucked. But despite being the worst year we have lived through (no thanks to COVID-19), the world of gaming still soldiered on and became to many of us, our sanctuary during quarantine. With the gaming scene spiking higher than ever, many titles rose to the occasion and became highly successful during the pandemic mainly due to their popularity, entertainment factor, community, and overall impact. Let's take a look back at 2020 and recap all those games that we got so excited to play and still playing now.
Top iOS & Android Games of 2020
Before we dive into the detail, here are some of the best new mobile games for 2020:
Genshin Impact
League of Legends: Wild Rift
V4 (Victory 4)
Raziel: Dungeon Arena
Guardian Tales
Exos Heroes
Brawhalla
A3: Still Alive
Dragon Raja
Dead by Daylight Mobile
Sky: Children of Light
Blade and Soul Revolution
Legends of Runeterra
Arknights
War of the Visions Final Fantasy
---
Genshin Impact
Probably the biggest entry on this list, Genshin Impact is the massive hit cross-platform game by MiHoYo that took the gaming world by storm! Inspired by Zelda: Breath Of The Wild, Genshin Impact is a fully open-world RPG set in the continent of Teyvat. Players will follow the story of twin siblings Aether and Lumine, world travelers that got separated due to an intervention of a mysterious Goddess. Embark on an epic journey across Teyvat to find your lost sibling with the help of your partner, emergency food, and all-out guide, Paimon, along with characters you'll befriend along the way. Genshin Impact has a gacha system for characters but the game is free to play friendly. The gameplay is amazing as the stories and characters are engaging, even the NPCs you meet in your adventures have their personality. Combat is satisfying as well with element combos between 4 characters in a team. Honestly, it is the game to play right now. Just a warning tho. The game demands a lot of memory space and good specs to run.
League of Legends: Wild Rift
We never thought it would happen, but it did. One of the biggest MOBA titles in gaming history made the jump from PC to mobile. Wild Rift is the mobile adaptation of the original League of Legends MOBA game for PC and is essentially a remake of sorts. The game is basically LOL version 2.0 where the devs have implemented the old and new ideas that they wanted to do for the original PC MOBA but cannot. Samples of these ideas include new character designs, a much simpler and better user interface, and new meta gameplay. It will still be the original LOL you know but everything has been retrofitted for the mobile platform, and considering LOL's history, this became the most-anticipated mobile game for 2020 aside from Genshin Impact. Riot launched several limited Beta tests until it finally launched in Q4 2020. It is everything fans expected although the initial release was plagued by a bad matchmaking system. It has since been fixed, proving that Riot wants to do right with their fans and are listening intently on feedback. Hopefully, an announcement of an esports league is soon to come.
V4 (Victory 4)
Victory for or V4 for short is Nexon's flagship title for 2020. V4 is a cross-platform MMORPG for PC and mobile where players can explore a breathtaking world rendered with Unreal Engine 4. The game offers 6 offensive-focused classes to choose from which are the Warlord, Knight, Magician, Blader, Gunslinger, and Axler, all of which can transform into a demonic form. Since V4 is a PVP focused game, every existing server can take on other servers in a massive server war. There are over 50 comprehensive customization options that can shape and personalize your character the way you want. Gear them up in lustrous weapons and armor that make your hero even stronger, and unleash their true potential. The game also has a pet and mount system that adds to the customization factor.
Raziel: Dungeon Arena
Diablo Immortal was nowhere to be seen and so Raziel: Dungeon Arena swooped in to fill its void for 2020. The game takes inspiration from the Diablo series and Path of Exile. Just like both titles, Raziel is a dungeon crawler taking place in a world overcome by demonic entities and the undead. Players can choose from a roster of unique characters and set forth to quell the evil that has been invading their lands. Additional characters can be unlocked by progressing through the game's story. Raziel's graphics are top-notch, and the gameplay feels smooth and responsive. There are tons of features as well with various game instances although you need to grind for a while to unlock them as they require certain high levels to open. If Diablo Immortal is still yet to launch in 2021, Raziel is a great game to scratch that dungeon crawling itch for a while.
Guardian Tales
This game came out of nowhere and conquered the hearts of many gamers, particularly those who are fond of old-school pixel graphics, and more importantly, the geek and nerd community. Guardian Tales is a Zelda inspired mobile RPG mixed with retro style gameplay and puzzle-solving. Players will be sucked into an epic adventure through different worlds where good versus evil is a common occurrence, but wrapped in hilarious situations. There's also a gacha element involved for characters and weapons. The puzzles in the game range from easy to seriously difficult which, in our book, is a good thing these days where mobile RPG games just let you click one thing and everything plays itself. One particular aspect of the game that players love is the pop culture easter eggs scattered everywhere in the Guardian Tales from classic games like Zelda to TV shows like The Big Bang Theory. If you love classic RPG gaming and puzzle solving with a side of comedy, treat yourself and play this game.
Exos Heroes
One of the most anticipated gacha RPG games of 2020, Exos Heroes by LINE Games blends stunning graphics and animation with a surprising yet welcome return of the traditional turn-based RPG mechanics. A direct sequel to Exos Saga, Exos Heroes will let you follow the story of Zeon, a bounty hunter along and his ragtag group of friends aboard your airship, and set off to retrieve all the relics of the now ancient Dragon Clan and put a stop to an evil force that threatens all the kingdoms of the continent. Unlike other Gacha RPG games, Exos has put an emphasis on aesthetics. Every single character you meet has a unique design and features, skills, and even have their own attitude. The game is well polished and is a definite must-play for turn-based RPG fans.
Brawhalla
Love Super Smash Bros? Well then you'll absolutely wanna try Brawhalla by Ubisoft. It's free to play arcade-style brawler with cross-play support. Players can join casual free-for-alls, queue for ranked matches, or make a custom room with your friends. The game gets frequent updates so that's a huge plus if you're the type of gamer who just wants more and more content. There are over 50 unique characters you can collect and master with more coming with every new update. You can play on 1 on 1 settings up to 4 versus 4. There's also a bunch of game modes to keep you entertained and challenged like Brawlball, Bombsketball, Capture the Flag, and Kung-Foot to name a few. They've recently updated the game with new characters and the new season will start next year! A perfect time to jump into Brawlhalla and start 2021 with a smash.
A3: Still Alive
Touted as Netmarble's flagship games, A3: Still alive is the mobile adaptation of a classic Korean MMORPG that focuses on PVP gameplay. The mobile version expands on the original with new features and game modes wrapped in a dark fantasy-themed open world. A3 has a unique system called soul linker where players can fight alongside a companion throughout their adventures. They have various uses from combat buffs to healing which can be utilized by the right class. There are 5 available classes to choose from namely the wizard, templar, berserker, assassin, and archer. Just like previously mentioned the game focuses more on PVP so most modes in the game will see you fighting alone or with a group in various modes from 1 vs 1 duel to huge 100 versus 100 battle modes. There's even a battle royale mode complete with loots and a shrinking map.
Dragon Raja
Based on a popular novel with the same name, Dragon Raja is a mobile MMORPG made with unreal engine 4 with gorgeous cyberpunk anime aesthetics paired with tons of content to keep you busy for hours on end. The game offers a huge open world to explore where you can travel to a plethora of different biomes designed and inspired by real-life locations, complete with weather and day and night cycle. There's even a built-in selfie mode to capture those beautiful landscapes. Just like other triple-A games, it has an extensive character customization system where you can mold your character to whatever you imagine them to be from face structure to body build. The real-time combat is pretty sleek as well with various traditional and futuristic weapon mastery to choose from. The devs recently added a brand new auto-chess mode in the game where popular NPCs become your chess pieces for dueling other players, so that's another thing to check on your to-do list in Dragon Raja.
Dead by Daylight Mobile
Dead by Daylight is a huge game in the West and thanks to Netease, the SEA region finally got the game as well in 2020. DBDM is a real-time, horror-themed cat and mouse game where four survivors need to work together and escape a map where a sinister killer played by another player will hunt them down one by one. The only way to escape is to fix some generators and go through the gates, or be the last survivor left and find a trap door that leads to safety. There are numerous killers for the players to master as well, each one with a different horrifying theme. Famous pop culture film slashers who are officially licensed are also available to play including Freddy Kreuger, Michael Mayers, and the pig from Saw. Even Pyramid Head from Silent Hill is in the game. If you want some heart-pumping adrenaline-inducing or just really wanna play a scary multiplayer game, check DBD Mobile out.
Sky: Children of Light
Published by ThatGameCompany, Sky is a beautiful social mobile game where you'll explore seven different realms and uncover the mysteries they are hiding. You can customize your avatar and then meet other players, working together to save and return the fallen stars to their constellations. The core of the game is all about co-op and socializing. You can send gifts to your friends, invite them to work together in a realm, meet like-minded individuals, and many more. Sky has been touted as more of an art instead of a mobile game. Accompanied by a beautiful soundtrack, it's not hard to see why. To simply put it, Sky: Children of Light is beautiful. The aesthetics and soundtrack are absolutely mesmerizing, and the gameplay is just a perfect blend of RPG, puzzle-solving, and socializing. ThatGameCompany promised that Sky will have an ever expanding world with new events and realms to come, so that's something to consider if you wanna play this game.
Blade and Soul Revolution
Blade and Soul Revolution is Netmarble's current addition to their "Revolution" game line, being the first Lineage 2 Revo. Based on the Popular PC action MMORPG, Blade and Soul Revolution took everything the PC version gave us and put it on your mobile screens with a bit of tweak here and there. Hyung Tae Kim, the legendary illustrator known for the original PC version and the Magna Carta series returned to the game to create the visuals and aesthetics for the mobile MMO. Just like the original game, players will choose a martial art class and set off to master their chosen profession while following an engaging storyline full of betrayal and vengeance. Flashy martial arts skills, awesome chain combos, and some aerial acrobatics makes the game super fun to play and an eye candy to boot since the graphics are top-notch. There's also a lot of PVP modes to participate in with the massive PVP sieges as the most prominent one.
Legends of Runeterra
In Legends of Runeterra, skill, creativity, and cleverness determine your success. Choose your champions and combine cards from different regions found in the world of League of Legends, each with their own style and strategic value. Your favorite champions from League of Legends and brand new characters from the world of Runeterra will make their debut within the game. You will need to choose from 24 champion cards to include in your deck, each with a unique mechanic inspired by their original League of Legends abilities. Champions enter the battle as powerful cards, and if you play smart, they level up to become even more epic and gain new abilities to crush your enemies. Legends of Runeterra is free to play and has cross-platform support for PC, mobile, and tablets.
Arknights
Coming from the same developers of Azure Lane, Arknights is an anime-style tactical RPG for mobile, set in a distant future where humanity is on the brink of collapse from a huge catastrophe. Mysterious ores called Originium began to appear which released a deadly virus infecting most of the population. Despite its catastrophic effects, people were able to harness the ore, making it a new source of energy as well as giving the infected people special powers dubbed as Originium Arts. Now a huge power struggle between those who want to help humanity battle the virus and those who want to rule this new chaotic world has begun. Players will take on the role of the Doctor, leader of Rhodes Island Pharmaceuticals, one of the many factions that fight the infection in the game. You'll recruit Operators, train them, then assign them to various operations and complete missions tower defense style. The game offers a lot of features and challenges that will test your tactical capabilities. You can also build your own base, decorate dormitories and get to know your Operators. Befriend other players, help each other become better leaders, and become one of the most prominent tacticians in Arknights. The game is available for Android and iOS.
War of the Visions Final Fantasy
War of The Visions: Final Fantasy is set several hundred years ago in Adra, a continent of Lapjd and is the prequel to Final Fantasy Brave Exvius. The story depicts a war between rival nations of Leonis, Hourne, Fennes, Wezzete, and the Crystal Sanctum. Each of them waging war in a world where legends of the Crystals have been passed down since antiquity. The game plays similarly to Final Fantasy Tactics where your troops will move in a tiled field albeit the graphic is now fully in 3D and stunning to boot. Each troop has its own job classes, advantages, and a Limit Burst which is a special move unique to each character that unleashes a powerful skill when activated. War of The Visions offers hundreds of quests, a whole bunch of instances, event quests, and a deep engaging storyline full of the signature Final Fantasy flare complete with betrayal, plot twists, and of course, romance. The game is available for Android and iOS.
At least 2020 didn't sucked that hard thanks to these games. The biggest winners here is of course, Genshin Impact and League of Legends: Wild Rift. Dragon Raja was also a smash hit with its cool cyberpunk anime aesthetics. We also loved Guardian Tales for its retro graphics, gameplay, and those hilarious easter eggs. Almost every game genre got a good title this year. Tower defence? You got Arknights. Strategy? War of The Visions. Heck, even horror fans got theirs with Dead By Daylight. All in all, it was a good year for mobile gaming and gaming in general. What mobile game do you think should also be included on the list? Let us know!