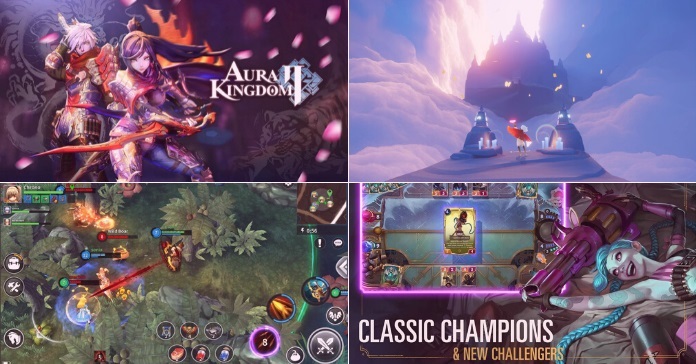 Every month, a lot of new mobile games come out and it's kind of hard to decide which ones are worth trying out and which ones to skip. But don't worry, Enduins is here at your service. We put out lists regularly to help you choose! Not a lot of big titles this April 2020 but it doesn't mean we haven't uncovered some nice gems! Let's check them out!
---
---
New Mobile Games (APRIL 2020)
Before we dive into the detail, here are some of the best new mobile games for April 2020:
Legends of Runeterra
Royal Crown
Sky Children of Light
Disney Miirrorverse
Crisis S
Area F2
Aura Kingdom 2
Rappelz M SEA
Earth Wars: Retake Earth
Game of Thrones: Beyond The Wall
Heroball Z
Epic Odyssey
Legends of Runeterra
Riot Game's brand new digital card battler game. Legends of Runeterra, is based on the company's global hit title, League of Legends. Set in the same world as LoL, Runeterra expands on the lore and the franchise. Players will not just compete in card battles, but also learn more about the world their favorite champions inhabit, and discover new stories, new meta, and ultimately explore the world of Runeterra. The gameplay is very similar to Magic: The Gathering and Hearthstone. If CCG is your thing, check the game. It's out now for Android and PC.
---
Royal Crown
LINE Games has launched Royal Crown in Early Access fairly recently. It's basically an isometric view battle royale mixed with RPG elements where the aesthetics looks very similar to Tree of Savior. Just like all BR games, you'll be dropping onto an island and you'll need to defeat other players to become the last player standing, picking up gears and items along the way to help you achieve that goal. There's also crafting, resource gathering, and monster-slaying during each match. You can unlock heroes and change their looks with skins and accessories as well. If that sounds good to you, Royal Crown is now available for PC and Android.
---
Sky Children of Light
First released for iOS, Sky is a social exploration puzzle game with gorgeous graphics and an amazing story to tell. The game is beautiful and aesthetically pleasing. You'll play the role of one of the children who are trying to help the spirits and the lost stars return to their rightful place. The game focuses heavily on social interaction so there's a lot of puzzles where you'll need to cooperate with others to solve them. If you just wanna take a break and relax with a gorgeous game, check out Sky now, available for Android.
---
Disney Mirrorverse
Imagine all your favorite Disney characters inhabiting one world and you get Disney Mirrorverse. It's like Marvel's multiverse where in an alternate reality, the protagonists and villains of your favorite Disney stories are working together towards defeating a common enemy. The game is your classic RPG. You'll traverse through multiple stages, level up your characters, collect shards to summon new ones, and upgrade them to become more powerful. It's fairly straight forward but it's really aimed for Disney fans so we can't complain. If that sounds interesting to you, head on over to the Google Play Store to try it out.
---
Crisis S
Crisis S is your classic MMORPG. It doesn't have many new things but it's highly entertaining nonetheless. You're basically a rebel who is fighting against the Grovia Empire, a faction that wants to enslave humans. You'll also need to find a cure for your lover who is on the brink of death, which adds a little spice to the game's plot. It has everything an MMO needs in terms of content: character customization, skins, various multiplayer modes, guild system and guild wars, faction wars, and so on. The graphics are pretty good and the gameplay is smooth. Crisis S is out now for Android and iOS.
---
Area F2
Touted as the first Close Quarter Battle (CQB) shooting game for mobile, Area F2 puts you in the shoes of a special operative similar to a SWAT. The gameplay is basically your team switching between the role of an attacker or defender. What sets F2 apart is its ultra realistic take on combat where you can shoot through breakable walls, learn tactics on breaching and defending, and use various tools for recon, assault, and extraction. There are multiple firearms and different skills to master as well. Head on over to the Google Play Store to try Area F2 now.
---
Aura Kingdom 2
The sequel to the first Aura Kingdom Mobile, AK2 brings updated graphics, a bunch of new features, and powerful new Eidolons that will help you throughout your journey. The game offers four unique classes, a huge world to explore, and a dynamic combat system. Just like the previous installment, players will take on the role of a hero that must help defeat an evil threat hellbent on making the world crumble. If you're looking to continue your Aura Kingdom adventures, Aura Kingdom 2 is available for Android and iOS right now.
---
Rappelz M SEA
Rappelz M SEA is the mobile game revival of the classic PC MMORPG. The game is rendered in full 3D with three, fully customizable classes to choose from. There are over 30 dungeons to explore, 60 quests to finish, and multiple PvE and PvP modes. Rappelz has a unique system where any monster found in the game can be tamed and become your pet. Of course, this isn't some walk in the park since some mobs are pretty stubborn and are seriously hard to tame like the high-tier monsters. If you want to dive back into the world of Gaia, Rappelz M SEA is available for Android.
---
Earth Wars: Retake Earth
Earth Wars is set in the year 2035 and when the world has been conquered by aliens called EBE. To reclaim New York, humanity decides to use their last resort. Players will join the A.N.T.I. army for the only chance to be victorious with a large-scale counterattack. The gameplay is a mix of 2.5D graphics and side scrolling hack and slash that focuses on combos to deal major damage. It will also test your reflexes and control skills since dodging and memorizing attack patterns of enemies is a must if you want to survive. Earth Wars is out now for Android and iOS if you wanna check it out.
---
Game of Thrones: Beyond The Wall
The series might've come to a sour end but the games based on George R.R. Martin's books are still kicking. In Beyond the Wall, you'll take command of the Night's Watch in the original Game of Thrones story. Use the power of the weirwood trees to summon your favorite GOT characters. The game is set 48 years before the events of the TV show. In this time, Lord Commander Brynden Rivers, better known as "Bloodraven", has disappeared while traveling beyond the Wall and it's your task to find out why. The gameplay is your classic turn-based and collectible gacha RPG. There's a lot of stuff you can do like scouting missions, upgrading Castle Black, participating in various events and many more. If you still have a Game of Thrones itch, Beyond the Wall is available for Android and iOS.
---
Heroball Z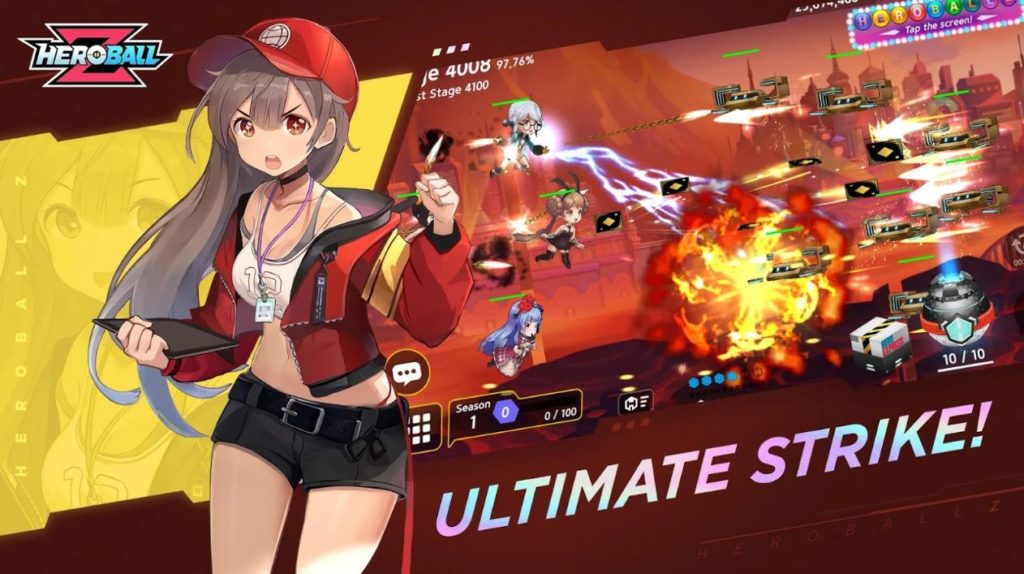 Heroball Z is a side-scrolling, idle RPG shooter that allows you to raise your own heroes and defeat countless enemies. Players will join the Hero Union, a coalition that aims to restore peace on Earth. It's basically a bullet hell game where you can combine heroes to make a higher tier one. You can also train them, equip them with better gears, and master their different skills and abilities. All the characters are chibified anime characters so that's a plus as well. Try it now at the Google Play Store.
---
Epic Odyssey
A classic RPG for mobile, players will explore the vivid wilderness of Epic Odyssey that's full of mythical beings from another realm. Defend the Temple Priestess and hunt down valuable ancient treasures across seven kingdoms. You'll take command of the strongest heroes in the world, each possessing their own unique skill and faction. You can recruit and train them to fight together in fast-paced battles to get the most out of your heroes' attributes, strengths, and weaknesses. There's a massive world to explore and an AFK grinding mode for those busy days. Epic Odyssey is available now for Android.
---
---
There you have it! Granted, there are few more game titles launched this month, but we opted for the ones that you can download right now for free. We didn't include premium titles like Kingdom 2 Crowns since they are paid games. See anything you like on the list? Which games do you want to try out? Let us know and don't forget to follow Enduins for more gaming news and info!