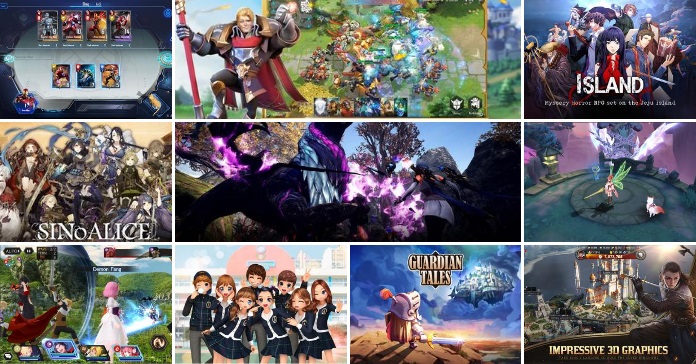 July is packing with a lot of mobile game titles. We've seen some triple-A flagship games launched this month as well as the quaint yet entertaining ones as well. We skimmed through all the mobile games that released this month and compiled a list of games you absolutely need to check out right now. If you're looking for new games to try out and play, you've come to the right place.
---
---
New iOS & Android Games of July 2020
Before we dive into the detail, here are some of the best new mobile games for July 2020:
V4 Global
Club Audition Mobile
Warbound Storm
Marvel Duel
Tales of Crestoria
Game of Thrones: Winter is Coming
SINoAlice
Guardian Tales (Global release)
Island exorcism
Goddess MUA
V4 Global
Touted as the newest flagship title from Nexon, V4 (Victory 4) is a cross-platform open-world MMORPG for mobile and PC. Players will take on the role of a captain who has the ability to transform into a demonic form and choose among 6 playable classes including warlord, slayer, enchantress, gunslinger, boomblade, and knight, all focused on the offensive side of things since the game is PVP oriented. V4 has everything a traditional MMO has like open explorable fields, adjustable camera angles, multiple instances, boss raids, and various PVP modes with the biggest event being the Interserver battles where all existing servers can fight each other in massive PVP raids. The game is aesthetically amazing and the graphics are top-notch. The biggest drawback is that the game demands high specs for it to be able to run smoothly. V4 is available now for Android and iOS.
---
Club Audition Mobile
The popular dance and rhythm game from the early 2000s is back and revived on mobile thanks to Playpark. The game follows the original game's format but with new additions such as the story mode and other game features usually found in other casual mobile games. You can choose your preferred rooms, songs, difficulty levels, and jump into the dance battle. Dance alongside other players, compete for ranks, be the best based on your skills and ability to hit the perfect note, and upgrade your dancing power to score higher points when you hit the Perfect Combos. Players can choose from a wide range of outfits. Step onto the dance floor in your most fashionable outfit. If you have a significant other, you can dance for "love". Fulfill your fantasies of love in Club Audition. Various interactions with your love can deepen your love with your partner. You can also get married in the game. The mobile version also introduces the FAM which is basically the game's version of a guild. If you wanna relive those Audition days, head on over to the Google Play Store.
---
Warbound Storm
Warbound Storm is a real-time strategy mobile game from developer Lemon Games and is currently published by NetEase Games. Players will step into the shoes of a summoner with the power to conjure soldiers and construct buildings at will. The main gameplay consists of raising an army of your own and assembling decks of cards that tailor to your strategic plans. The game implements non-linear gameplay that frees players from the limitation of linear objectives and predetermined paths. Netease's touts that this will give a much richer tactical experience that can be brought about through greater depth of diverse operations in collecting resources, training soldiers, building barracks, and constructing defense towers. The game also allows fast troop recruitment and simultaneous operations. Warbound Storm will provide players an extensive diversity, freedom, and versatility to the genre through comprehensive troop deployment, combat tactics, and deck-building strategy. Warbound Storm is available now for Android.
---
Marvel Duel
In Marvel Duel, the power to save the Marvel universe is in your hands! The game is a fast-paced strategy card game featuring the greatest Super Heroes and Super-Villains from the Marvel comic universe. A mysterious evil force has altered the most iconic events of Marvel history. Your goal is to restore the universe by summoning your favorite characters and outsmarting your opponents with superior strategy. Players will engage in epic card combat with their favorite Super Heroes and Super-Villains, unleashing their ultimate power through amazing cinematic visual effects. Relive well-known events such as Civil War, Infinity War, and more, but with unexpected plots and twists because of the disruption. You'll need your deck along to save the entire Marvel universe. There than 150 characters are available for collection and upgrade. Marvel Duel is available for Android and iOS.
Tales of Crestoria
Takes Of Crestoria is a brand new addition to the Tales franchise for mobile. Players will step into this brand new Tales storyline set in an original series and world featuring all-new characters. You'll follow the quest of Kanata and his allies fighting to survive through the fantasy world of Crestoria while bearing the weight of their past sins. Seen as transgressors by fellow citizens for committing crimes to protect each other, Kanata and Misella set off on an epic role-playing adventure to find respite from a world that wants them erased. The gameplay blends classic turn-based JRPG with the original and a new Tales story Crestoria brings. The game is available now for Android and iOS.
---
Game of Thrones: Winter is Coming
The TV series may be over but the books and games still live on. GOT: Winter Is Coming is an HBO officially licensed mobile game that will take you back to the classic moment of the show. Fight the battle with Jon Snow, Daenerys Targaryen, Tyrion Lannister, Jaime Lannister, and other famous characters from the show. You will develop your very own troops, and rally with your House to fight against the enemies in real-time. During the battle of the Seven Kingdoms, you'll need to come up with your own battle strategies, and take down the enemy forces one by one. With your House, claim the Iron Thrones of King's Landing to become the king of all Westeros. Game of Thrones: Winter is Coming is available now for Android.
---
SINoAlice
SINoAlice is an epic JRPG from the mind of Yoko Taro, the creator of the popular Nier series. It tells the story of classic fairytale characters who are in a desperate fight to revive their authors within a mysterious library. The game gives a dark twist where each character must let go of their moral compass and do anything and destroy anyone standing between them and their author's revival. You'll meet classic characters like Alice from Alice of Wonderland, Snow White, Rapunzel, Pinocchio, and many more, all of them with a deep story that can be unlocked by playing the game. There are over 150 weapons to collect and master, hundreds of intertwining stories to discover, and dozens of classes to unlock. SinoAlice is available now for both Android and iOS.
---
Guardian Tales (Global release)
Guardian Tales has been soft-launched for a while in Southeast Asia, but now the official global release has rolled out. Guardian Tales is an epic retro RPG with pixelated graphics and a classic top-down hack and slash gameplay reminiscent of games like The Legend of Zelda. Players will be able to take control of one of the knights of the kingdom of Kanterbury, a prosperous land suddenly invaded by evil beings. You were able to escape with the princess' younger sister but got separated from your other friends. Now it's up to you to rescue your friends, save the princess, and bring back the glory of Kanterbury, all the while saving the world and helping out those in need along the way. Guardian Tales is a unique game. Not only does it blend RPG with puzzle-solving, but the game also has a ton of easter eggs and pop culture references including The Legend of Zelda, The Big Bang Theory, Kill Bill, and many many more. If you're a fan of nerd culture and retro style aesthetics, definitely check Guardian Tales out, available now for both Android and iOS.
---
Island exorcism
Island Exorcism is a mobile gacha RPG based on the popular Korean horror webtoon. Enter the world of this horror RPG and battle alongside the secretive exorcists. Jejudo, a mysterious island filled with demons from around the world. Players will enter the world of this horror RPG and battle alongside the secretive exorcists. Players will create their own team and battle against a wide variety of monsters inspired by both eastern and western myths and legends. Just like other gacha games, you can upgrade your characters and enhance their tier which will change their appearance as well. You can collect and craft powerful weapons to further boost your character's strength giving you another step forward into solving the mystery of the island. If the game sounds interesting to you, Island Exorcism is available now for both Android and iOS.
---
Goddess MUA
Goddess MUA is an anime-style RPG with cute female characters as your avatars. You will take on the role of a Soul Lord in the game that has powers to summon goddesses and cultivate them. This means you'll learn to take care of them by creating a soul link and do everything to "arouse and intensify" them, make them stronger by defeating various enemies, and making sure they are happy and loved. You'll be witness to their growth, from just a tiny soul into powerful goddesses in their own right. Collect all of them from the charming fox girl, elegant phoenix, majestic unicorn, and many many more. Explore the world in full 360-degree view, tame monsters and make them your pets to help you in battle, stand out from the rest with beautiful costumes and accessories, and even find a romantic interest in the game. Sounds good? Then head on over to the Google Play Store and download the game now.