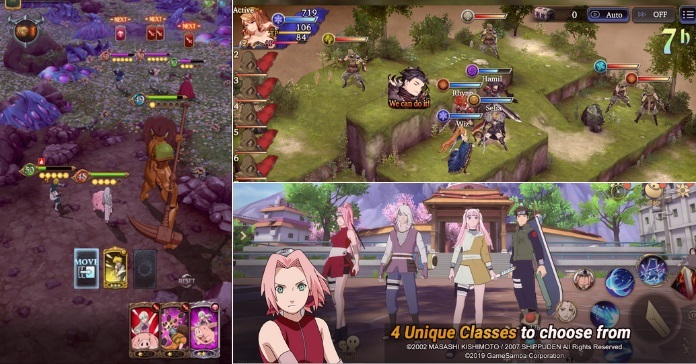 As most of the world is effectively on quarantine, more and more people are trying to find things to do while at home. Even us gamers would be bored if we're going to play the same games again and again. Luckily, we have several new games that are available now to pass the time while we try to get through this pandemic!
New mobile Games (March 2020)
Before we dive into the detail, here are some of the best new mobile games for March 2020:
War of The Visions: Final Fantasy Brave Exvius
Megaman X Dive
Tom Clancy's Elite Squad
Disney Sorcerer Arena
Gwent: The Witcher Card Game
The Seven Deadly Sins: Grand Cross
Naruto: Slugfest
Disorder
Eternal Sword M
Evil Hunter Tycoon
War of The Visions: Final Fantasy Brave Exvius
A new entry to the Final Fantasy series of mobile games, WoTV is set in the same world as Brave Exvius albeit in a different continent whose many kingdoms are currently at war with each other. The game is a tile-based RPG similar to Final Fantasy Tactics and as usual, graphics and gameplay are top-notch as expected from a Square Enix game. WoTV is out now for Android and iOS.
---
Megaman X Dive
Capcom recently released X Dive for mobile devices much to the delight of Megaman fans. It's basically a Megaman game with added online RPG Element. Fully rendered in 3D, the game stays true to the side-scrolling shooter gameplay of the franchise. You can collect various characters from the X series up to the latest entries in the franchise. Fan favorites like X, Zero and AXL are playable as well as various armor and skill upgrades can be unlockable in the game, along with a PvP mode. The game is out now for Android.
---
Tom Clancy's Elite Squad
Soft launched by Ubisoft in the Philippines, this is a 5v5 turn-based strategy game featuring heavily stylized characters from Tom Clancy Ubisoft titles like Ghost Recon, Splinter Cell, Rainbow Six Siege, and The Division. There's a single-player campaign, PvP mode, and guild versus guild to help you pass time while having fun. If you are a fan of the books and the video games, give this one a try. Elite Squad is available now for Android.
---
Disney Sorcerer Arena
Ever wondered what Disney characters fighting each other would look like? Disney Sorcerer Arena is your answer. It's a turn-based, 3D hero collectible RPG composed of all your favorite Disney franchises. You'll compose a team of Disney villains and heroes and battle through hundreds of campaign stages. There's also a PvP mode where you can test your team's strength against other Disney fans, as well as a guild versus guild mode. Huge Disney fans will love this game so if you're one of them, you can download it on Android and iOS.
---
Gwent: The Witcher Card Game
Finally out for Android, Gwent is a full-fledged collectible card game based on the popular Witcher games by Projekt Red. Blending the CCG and TCG genres, players will clash in fast-paced online PvP duels that combine bluffing, on-the-fly decision making and careful deck construction. Iconic characters like Geralt, Yennefer, and Ciri are all available in the game. You can create your own deck and pack it with spells and special abilities to defeat your opponent. There are various game modes available like seasonal and Arena modes, so there are lots to do in the game.
---
The Seven Deadly Sins: Grand Cross
Based on the popular anime/manga, the game utilizes different skill and synthesis combos all neatly wrapped in a classic turn-based combat system that is truly unique. Just like in the anime, characters can combine their special skills and unleash ultimate moves that can decimate opponents in an instant. The world and characters from the series are all faithfully recreated so fans of the series will definitely love the overall aesthetics of the game. There's also an AR mode you can play around with. The Seven Deadly Sins: Grand Cross is available now for Android and iOS.
---
Naruto: Slugfest
Cubinet's Naruto Slugfest is the first truly open-world mobile MMORPG based on the popular anime/manga. Players will take on the role of a shinobi, choose a class, and venture off into the shinobi world to become a legendary ninja. Iconic characters from the series can be recruited to become allies who will help during combat. There's a lot to do in the game and a lot more to explore since the ninja world is vast and full of different maps. There's a bunch of PvE and PvP modes too, as well as different features to unlock and allies to collect. You won't get bored at all. If you're a Naruto fan, check this game out ASAP. It's out now for Android and iOS.
[Related] Naruto: Slugfest, A Basic Beginner's Guide On Your Road To Becoming A True Shinobi!
---
Disorder
Published by Netease, Disorder is a third-person shooter set in a post-apocalyptic world inhabited by different factions vying for limited survival resources. There are multiple characters to choose from and master in the game, each having its own unique set of skills that help them overcome the trials of the wasteland. There's a bunch of game modes to tackle as well including ULF, Base Battle, Multi-Base Battle, and more modes are coming according to the developers. Disorder is a bit complex and the controls still need a bit of polishing, but it's well worth playing if you're looking for a new shooter game. It's out now for Android and iOS.
---
Eternal Sword M
Published by Neocraft, the game is a 3D MMO that focuses on action-packed combat. You'll assume the role of a time-traveling hero, going back seven days before the destruction of the world. It's basically your generic mobile MMO consisting of the usual mounts, wings, costumes, PvE, PvP and so on. Nevertheless, if you're itching for a new fantasy mobile MMO, Eternal Sword M worth checking out. The game is out now for Android.
---
Evil Hunter Tycoon
Published by Super Planet, this pixelated idle RPG game puts you in the shoes of a chief who's on a quest to repair his dilapidated town. Evil Hunter Tycoon will see you take care of the town's inhabitants, recruit adventurers, and basically make your place prosperous. Since it's an idle game, it will play on its own, but other responsibilities like building new establishments, managing the economy, and taking care of your adventurers will all fall on you. It's a bite-sized game you can enjoy at your own leisure. Evil hunter Tycoon is out now for Android.
And there you have it, a bunch of casual to hardcore titles that will surely help you beat boredom and pass the time while you're stuck in quarantine. As the Corona Virus is still seriously enveloping our areas, let's do our part and stay indoors, play some games, and stay safe.
[RELATED]
Top New Mobile Games Released For February 2020 You Need To Try Out
Best Upcoming Mobile Games With Pre-Registration, New Trailers & Expected Launch Date