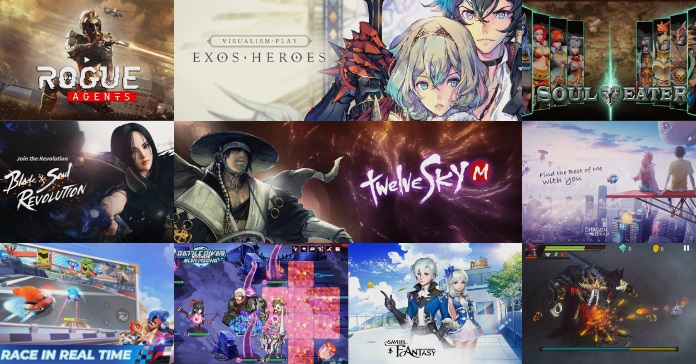 Every month, a lot of new mobile games come out and it's kind of hard to decide which ones are worth trying out and which ones to skip. But don't worry, Enduins is here at your service. We put out lists regularly to help you choose! The lockdown has been rough on all of us. Boredom is always a challenge but luckily May brought some good games with it. Let's check them out!
---
---
New Mobile Games (MAY 2020)
Before we dive into the detail, here are some of the best new mobile games for May 2020:
Dragon Raja SEA
Rogue Agents
Blade and Soul: Revolution
Twelve Sky M
Exos Heroes
Kart Rider Rush+
Savior Fantasy
Soul Eater
Dark Raider
Battle Divas: Slay Mecha
Dragon Raja SEA
Dragon Raja is a next-generation open world mobile MMORPG set in a cyber punk-ish world where ancient myths, magic, and advanced technology collide. Peace has set across the land but catastrophic events have triggered in the near future and the revival of the Dragon Lord is becoming inevitable. Now, heroes are gathering to prepare for the coming battle. The game is made with Unreal Engine 4 and will offer you a gigantic, immersive world through the use of cutting-edge technology and stunning graphics. You can create one-of-a-kind characters to play, explore, and fight alongside your friends from all over the world. It's full of vivid details, a weather system, day and night cycle, and a huge open world that you can explore freely. If all that sounds good to you, Dragon Raja SEA is now available for Android.
---
Rogue Agents
In Rogue Agents, players can go head to head in various exciting maps full of objects strategically designed for the game's dodge and take-cover tactics. Rogue Agents have a complex control system, yet the HUD is as typical as any mobile shooter with the addition of various buttons that will make your character jump, somersault, aim your weapon, shoot, reload, or switch weapons. On top of all that, you can also double jump off walls, parkour your way through the map, and even do a wall-run. There are over a dozen different types of agents to play as, and loads of different firearms to unlock. There's shotguns, assault rifles, pistols, grenades, and many more to master. Rogue Agents may very well be the closest game will ever get to GunZ for mobile. Sound interesting? Head on over to Android and download Rogue Agents now.
---
Blade and Soul: Revolution
One of the highly anticipated released last month, B&S: Revo follows the story of your character and your epic quest for vengeance and saving the world from utter ruin. Jin So Yun, a former student of the school, attacks Heaven's Reach, killing your master and fellow students. As the last survivor of the Hongmoon School, you must retrieve the Twilight's Blade and put a stop to So Yun's plans. The game's content heavily borrows from its PC game origins with gameplay focusing on skill combinations that feel almost like a fighting game. Each class has special skills with their own combinations. Additionally, a system called Joint-Attack allows you to deliver powerful attack combos with your teammates. You can even move while you use your skills, dodge, parry, or even maneuver behind your enemy for a counter-attack. Action-packed to the core, Blade, and Soul: Revolution is now available for Android.
---
Twelve Sky M
TwelveSky M is a combat mobile MMORPG. Take part in the long-standing ancient war between three prestigious factions of the continent: The Dragons, Tiger, and Serpent. With bad blood running deep between all three, you must choose one over the other two and fight to keep your faction's dominance. Master a variety of martial arts skills and weapon techniques that will help you overcome the trials of war and prepare for the grand event of the game: the faction wars. There's also a guild system where you can assemble an army for your clan's great cause, build its reputation with numerous triumphs throughout relentless guild wars and sieges, and become the most revered team of your domain. If you're thirsty for some good old PvP oriented games, try out 12 Sky M, out now for Android and iOS.
---
Exos Heroes
One of the most anticipated gacha RPG games this month, Exos Heroes by LINE Games blends stunning graphics and animation with the traditional turn-based RPG. Join Zeon, a bounty hunter and his ragtag group of friends aboard your airship, and set off to retrieve all the relics of the now ancient Dragon Clan and put a stop to an evil force that threatens all the kingdoms of the continent Unlike other Gacha RPG games, Exos has put an emphasis on aesthetics as every single character you meet has a unique design, feature, skills, and even attitude. The game is well polished and is a definite must-play for RPG fans. Exos Heroes is available now for Android and iOS.
---
Kart Rider Rush+
Based on the popular online gaming racing franchise, Kart Rider, Kart Rider Rush+ is a free to play kart racing mobile game delivering all the racing action of its origins for iOS and Android devices. With gorgeous 3D graphics, Kart Rider Rush+ offers players a variety of different and exciting race tracks, customizable characters and karts, and various game modes like ranked, story, and time trial. Work your way up from a newbie in the bronze league to a living racing legend. Kart Rider Rush+ is available now for Android and iOS.
---
Savior Fantasy
Eyougame's brand new mobile MMORPG set in the Waltzie Academy. Savior Fantasy is an epic 3D fantasy RPG rich in various content. You'll take the role of an adventurer set to defeat the Devil King and his army. There are several classes to choose from that are fully customizable with various costumes and accessories. Savior Fantasy brings all the usual mobile MMO tropes like guilds, quests, mounts, wings, instances, boss raids, and many more. Additionally, a tutor system is included that allows you to bring an apprentice and share your experiences in battle, giving you a faster leveling experience. Savior Fantasy is available for Android and iOS.
---
Soul Eater
Soul Eater is a brand new side-scrolling 3D button masher mobile game by SuperGY. The game boasts that you can do infinite combos with the right chain skills and attacks. You'll follow the adventure of the soul predators and find the hidden secrets scattered around the world through numerous stages and quests. Mix and match melee attacks and long-range shooting with a roster of different colorful characters. It's a well-polished game that revives the old school button mashers of the golden days with a modern twist applied. If you like games with real-time input, try Soul Eater now, available for Android.
---
Dark Raider
Dark Raider is a new retro pixelated Action game brought to you by the same team that gave you Tribemen. Raid hundreds of dungeons, hack through waves of enemies, and defeat powerful bosses in this new take to the Hack & Slash action genre. The game uses random maps. Players will need to explore new areas and fight against different monsters every time. But be careful, the dungeon will reset if you die. But since it has roguelike elements, you will never do the same run twice. Dark Raider has its unique art style. It uses the modern way to create a retro feeling. It also uses TFR-ISO (your environment will change according to your actions) to make the dungeon more immerse. The player will have a chance to explore this great fantasy world and enjoy their adventure. If love roguelike games and retro aesthetics, download Dark Raider now, available for Android.
---
Battle Divas: Slay Mecha
Battle Divas is set in the future where Earth has been polluted by the aftermath of nuclear war, with the last of human civilization moving to inhabit the massive space station. Decades later, the first group of students from the Hero Academy onboard Icarus VI was sent back to Earth on a recon mission. What they found was not a recovering paradise, but one inhabited with unimaginable monstrosities. Now your mission has changed. Eliminate the monsters and save the Earth. The game is a tactical RPG, but rather than just standing still and casting skills, players can actively move their heroes on the battlefield grids. All units in the game can be obtained just by playing, so if you're the type who doesn't like Gacha games because of RNG, Battle Divas fits right into that section, so download it now on Android.
There you have it! The games worth mentioning in the list are short, but most of them pack a punch and have been highly anticipated by gamers. As always, we didn't include premium/paid games on the list. See any games you want to try out? Which games were you anxious to launch last month? Let us know and don't forget to follow Enduins for more gaming news and info!