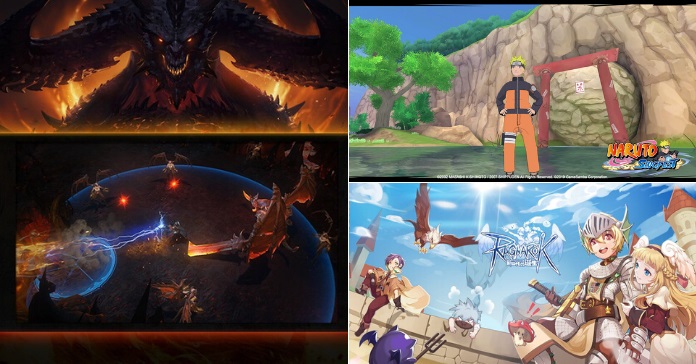 2020 is here! The new year brings along new and upcoming mobile games to look forward to! The platform of mobile gaming is getting stronger and stronger, blurring the lines between PC/console titles and what a pocket device can actually run. Indeed so, last year we've seen so many games that blew our minds, and with new mobile tech constantly popping up every year, there will surely be new games as well that will take advantage of this and will push the boundaries of what mobile gaming is.
🖐 Best Upcoming Mobile Games 2020
🖐 Best MMORPG Mobile Games With An Active Community
Here we look at the upcoming mobile MMORPG titles that are expected to launch in 2020. This list includes some of the most anticipated titles of the gaming community.
The controversial Diablo Immortal has a mix bag of haters and people who are absolutely on the edge to play the game, waiting for it to launch, although the hate it received was due to the high expectation that Diablo IV was going to be announced at the previous Blizzcon 2018 event, and the fact that western regions haven't fully embraced mobile gaming as Asia does. After its announcement, the updates on the game went radio silent until it resurfaced back in Blizzcon 2019 with a crap ton of updates that includes more previous playable characters, dungeons and maps, skill set previews and many more.
Co-developed by Blizzard Entertainment and Netease Games, Diablo Immortal is the mobile adaptation of the highly acclaimed Diablo PC RPG franchise. Set between the events of Diablo 2 and 3, players will embark on a dark and epic journey through a ravaged world deprived of the World Stone. The denizens of hell are still at large and a new threat that commands their legion has surfaced. It's up to you to choose your class and keep the evil at bay. In essence, Diablo immortal will stay true to its dungeon-crawling origins but will have more focus on teaming up and conquering stages with your friends and other players. A Netease representative has said that the game is pretty much finished and that Blizzard is the only one who is still hesitating to release it. Probably because they want to polish the game more as much as they can. Blizzard, after all, is notorious for perfecting their games before release.
There is no date yet as to when Diablo Immortal will launch but it's expected to release some time in 2020.
There have been many games released based on the popular Naruto franchise, but this one takes the cake of being the first truly open-world 3D mobile MMORPG based on Masashi Kishimoto's hit manga/anime, Naruto and its sequel Naruto Shippuden. Published by Cubinet, the game in the Shinobi world where players can live their dreams of becoming a ninja. Unlike other anime-based mobile games, Naruto: Slugfest will let you create your very own character and profession including Berserker, Geisha, Archer, and Assassin. You can also choose an elemental attribute to master and even summon your favorite characters from the series to help you through your multiple tasks.
Naruto: Slugfest's graphics and aesthetics are made with state-of-the-art cartoon rendering technology giving the game a truly unique gaming experience. It also includes light and shadow effects, day and night cycle and weather change that allows players to experience a dynamic open world. The game offers various modes ranging from solo quests, trial challenges, one on one ninja competitions, clan versus clan battles, multiplayer instances, and many more. There's also the clan/guild system where you can make friends and a master-disciple system that lets you take your own apprentice to teach, and find your own master to learn from.
Naruto: Slugfest is currently running its Closed Beta Testing period, but the participants are currently limited to those who were able to get access codes. No worries though as the game is scheduled to launch in early 2020, so you won't need to wait that long. Pre-registration for the OBT is still ongoing so be sure to sign up now to game awesome goodies when it officially launches.
Dragon Nest's jump from a dungeon-crawling genre to an open world MMO setting was received with mixed reviews, however, there's no doubt that a lot of players are waiting for it to launch and are eager to come back to the world of Lagendia.
Just like we mentioned above, WoDN is now a full-fledged semi-open world MMO, a first in the franchise. Players will be able to choose a class and finally, the gender as there is no more gender lock in the game. A new addition to DN is the dual system where you can switch between 2 professions. Want to be an offensive warrior as well as a support in times of need? Now you can. Just switch your weapon and skills with a press of a button. This gives the game more flexibility and opens up new doors for players to experiment on.
World of Dragon Nest will still retain much of its original DN features like PvE monsters, dungeon raids, Nest hunts, PvP arena, and guild wars. The only difference now is that players will be able to explore more, see more and discover the world of Lagendia instead of being stuck inside a dungeon, not seeing what's beyond those walls.
World of Dragon Nest will be published by Nexon and is set to launch on January 8, 2020.
If you've been following mobile gaming news as of late, then you'd know by now that, Gravity, Ragnarok Online's mother company has several Ragnarok themed games coming out, some directly from them, and others that are licensed titles from other publishers. And there several of them. The market is actually now oversaturated by too many RO games for one gamer's taste. We'll take a look at 3 upcoming MMOs that are actually worth looking forward to.
Ragnarok M: First Love (CN) – Tencent's own version of Ragnarok Online and one that is highly anticipated by RO fans since, one its Tencent, and two it's supposed to be leagues better than the current Eternal Love in terms of overall graphics, aesthetics, gameplay, performance, and player support. Characters are more chibi than the original RO but it doesn't lose the iconic designs everyone came to know. It will also have a 360° open world, dynamic lighting effects, and weather system. The game has already undergone several CBTs in China and is currently slated to launch in 2020 albeit no specific date.
Ragnarok Origin (KR) – Another mobile MMO from Gravity that is touted as the real revival of RO Online, now made with newer technology the company has at their disposal. Aside from the newer 3D graphics, Origins will have a bigger and wider map as well as the addition of the Life system that includes fishing, mining, gardening, and many more. Ragnarok Origin was revealed during G-Star 2019 but a release date was never announced. Hopefully, we'll get to see it launch by 2020.
Ragnarok New Generation (CN) – Published by Dream, it is yet another RO mobile MMO which basically is the same as the other two but leans closely to resemble Tencent's version more in terms of aesthetics. ROM: New Gen will retain the classic core elements of the PC Ragnarok MMO, and will have the original features such as the job class system, party system, marketplace, items and many more. No news on a global version yet but we might hear something about it in 2020.
5
Eternal – "Project Eternal"
Previously known by its codename Project Eternal, this mobile MMO is said to be the ultimate culmination of Asobimo's life work on creating the best mobile MMO titles we've seen in the last decade. The beloved Japanese game developers are responsible for hit titles like Avabel, Iruna, Toram, Isanagi, Stellacept, and many many more. If you've played at least one or two of their well-known titles, you'll know just how good they are.
Just like its predecessors, Eternal will be a high fantasy mobile MMO now, it seems, to be made with Unreal Engine 4, a first for Asobimo games. The legendary Yoshitaka Amano, the artist behind the beloved Final Fantasy Artwork is overseeing the game's visual design from character sprites right down to the different monsters you'll encounter in Eternal.
Eternal is currently available in Japan. Asobimo is well known to release the majority of their games globally and we're pretty sure Eternal will be a massive success once it does. The only question now is when.
Warhammer: Odyssey is a 3D mobile MMORPG that is scheduled to arrive on Android and iOS devices, supposedly sometime in 2020. Players will be able to explore iconic locations of the Warhammer Fantasy World. The plot of the game revolves around Morrslieb, the Chaos Moon that is growing larger in the skies above the Old World. Under its influence, the doomsayers haunt the city streets and those evil creatures who would see the race of men fall are becoming bolder. But all is not lost! Those mighty heroes that stand against the darkness and Chaos which threatens the world have come together once again, honoring pacts and you, as the player, is one of them.
Warhammer fans are used to seeing the franchise tackle a futuristic world but this game will explore a time before all those science mumbo jumbo. The game has no official release date yet but their official social media page is really active in posting updates and previews about what's been going on on the development side of things, something fans and eager players highly appreciate. Right now they're showing previews for playable classes like the high mage, warrior priest, engineer, shadow warrior, slayer, witch, and hunter. The developers promised that Warhammer: Odyssey will have constant developments and expand over regular episodic updates.
7
Dragon Nest 2 (Tencent Games)
Touted as a direct sequel to the original Dragon Nest, DN2 will be published by the ever-reliable Tencent. Despite being a sequel, the game will stay true to the original formula that made DN successful but with new improvements and additional game features that fit the current mobile gaming trends. Just like World of Dragon Nest, the game will be open world, instead of being a dungeon crawler.
Characters and classes in the game will retain their original designs while the combat system will get a new twist that will be optimized for mobile. Tencent boasts that it will have a very snappy input response. The familiar bosses will also make a return in the sequel including the Hell Dog, Griffin, Apocalypse Lair, and Dragon Cave. And in the aesthetics department, there will be dynamic lighting effects, weather systems, and a day and night cycle, and many more.
Currently, Dragon Nest 2 had no official schedule launch but it is expected to be released for both Android and iOS sometime in 2020.
ReEvolve is a new sandbox mobile MMORPG game from Tencent Games and Perfect World Games. The game will take players back in time to save a future where humanity has fallen due to their own greed, coupled with demons and other terrible threats emerging at the same time, the world has almost been destroyed.
ReEvolve will see players create their own characters, customize their looks, starting a profession, stats, and then go back in time to fix the past, create a new world, and help the other surviving humans along the way. The game is set in a world ravaged by a lethal virus and paranormal demons that emerged to feed on the world. In the game, you can choose one of two factions: The Shepherd, an organization that aims to fix the past and create a new, brighter history, or the Piper, whose goal is to destroy everything with the M.P.D. gun, a weapon that can absorb things and shape the past. Players will be able to craft their own gear, create their own base, collect pets and mounts, build a farm, make new friends, and explore the world. ReEvolve basically plays like a cartoon version of Rust. If you truly like sandbox crafting MMOs, definitely check this one out when it launches.
Publisher ThumbAge, the people behind DC: Unchained announced last year that the classic PC MMORPG, Dekaron will be getting a mobile adaptation. Set in the world of Trieste, it is inhabited by numerous sentient beings who were once, in constant war with each other until an evil threat engulfed the world and destroyed everything regardless of race. This an alliance formed to tackle the threat. An alliance that players will become a part of.
The original PC Dekaron had nothing much going on for it admittedly. It was a generic open-world MMORPG where you'll choose your class, finish quests, and hit endgame level, at the same time hunting for better and stronger equipment. But the lack of features back then isn't bad at all since the game compensated by adding a plethora of different and highly unique playable classes that can be customized to your own playstyle, a mounting system, pets you can tame, a unique upgrade system, and various PvP modes like the colosseum, DK square, and Siege mode. The biggest take here is that it's going mobile. This means mobile-centric game features will most likely be added to the game to make it more entertaining and interesting.
Dekaron Mobile may be released in 2020, but no additional info or update has been given since it was first announced.
Tera Origin is the 4th mobile game IP released under the Tera franchise (the other 3, is Tera Origin, Tera M, and Tera Classic). It is a direct successor to Netmarble's Tera M which was released in South Korea and was later forced to stop its service due to a massive backlash from players mainly because it was very heavy on microtransactions. Absurdly heavy that many players quit on the first few months with only heavy spenders left playing which, to no one's surprise made the game's community die. Suffice to say, it became one of those cautionary tales to game publishers, to not follow in their footsteps and heavily monetize a mobile game. Tera Origin seeks to correct those mistakes, removing some of those heavy monetizations, and making the game more F2P friendly. The game is currently released in Japan. If all goes well, we might see it getting a global release.
Much like any MMORPG, you'll choose a class and venture off into the world of Tera. The main draw of the game is the Raven system where you can form contracts with guardians who serve as your partners on your adventures. These guardians will give you special buffs that increase your stats as well as giving you access to different features much like how the Black Spirit operates from Black Desert Mobile.
There are no updates as to when the game will see a global release but we might get an update sometime in 2020.
Genshin Impact is an action-adventure video game developed by miHoYo, the same people who gave us the very popular Honkai Impact 3rd. It is the second game from miHoYo to feature original IP, the first being Gun GirlZ. The plot is set in the world of Teyvat. Players will take the role of a chosen, individuals picked by the gods and are given magical gemstones that give the ability to control an element called Visions. Players can choose between a male or female version so no worries, there's gender lock in the game. As you progress through the game, you'll encounter several characters that players will be able to control, each with unique personalities and special abilities. These newly found companions of yours will help you on your quest to understand the truth about the primordial gods of Teyvat.
Genshin Impact is set in a diverse open world. The game is pretty unique as you can interact with different environments by climbing, walking, and even gliding. Currently, there are a total of 30 characters you can collect, 4 of which including yourself, can be controlled at any given time. Meanwhile, the combat system is hack and slash, while your attacks will be separated between 2 major types: normal skills, and special skills. The game was met with heavy backlash at a previous gaming event accusing it of copying the aesthetics of The Legend of Zelda: Breath of The Wild but it didn't stop MiHoYo from launching the game for PC, and consoles. The mobile version was said to be coming soon so hopefully, we get an update in 2020.
12
Tree of Savior M (Remake)
Tree of Savior: Mobile by IMC Games serves as the mobile MMORPG adaptation and a remake of the popular MMORPG Tree of Savior. Many gamers consider it as the spiritual successor to Ragnarok Mobile, drawing similarities with its cute chibi characters and isometric world view. The game will not deviate much to the original PC version but will have a few modifications and tweaks to fit the mobile gaming platform. Just like the original, you can play as one of four base classes which are the Archer, Cleric, Wizard, and Swordsman to complete quests and venture in various dungeons.
The game became very popular in South Korea because of the stunning visual aesthetics of the environment of TOS. The South Korean release was published by Nexon. There's currently little information given out about TOSM and a global release date has yet to be announced.
Hardcore gamers will always know about NCSoft since it's one of the developers/ publishers of several beloved MMO titles such as Aion, Blade and Soul and the Lineage franchise. But they never had a stronghold in the mobile gaming platform by themselves. Lineage 2 Revolution was a huge success but it was published by Netmarble. NCSoft has tried to publish a mobile game in the past but found no success. But now it looks like a vast majority of their resources are now focused on getting a piece of the lucrative mobile gaming market by developing several titles aimed at the global market. That's right, NCSoft has decided to focus more globally since they have stated that they are more successful outside South Korea. So there's a good chance we might see these heavy-hitting titles pop up in 2020 moving forward.
Aion 2 – It will serve as a sequel to the original PC MMO, but this time, it'll be released for mobile. Set 900 years before the two races of Asmodians and Elyos raged war with each other, the game will retain much of Aion's game features, especially the free flight system where you can fly wherever you want in the game.
Blade and Soul 2 – Another official sequel to the original PC title. The events of the first Blade and Soul has now become myths, tales of legend from a past long gone. But the journey still continues. A brand new uncharted territory never before seen by anyone has been discovered and new adventurers have risen to take on these new lands. The game will continue the stylish action and aesthetics of the original BnS and will have modern features that will feat the mobile gaming platform.
Blade and Soul S – If BnS2 is the sequel then this one is the prequel. BnSS will explore the events that happened before the original PC Blade and Soul. The game will be an open-world mobile MMO with cute chibi character designs while the gameplay will focus more on team play and PvP. There will be several story plots that will be explored in the BnSS especially about the familiar characters players once encountered in the original game.
Blade and Soul M – Blade and Soul M aims to port the original PC version on mobile but this time, players can forge their own path in the game and become legends in their own right. It will be set in an open world based on the original continent where BnS takes place. Team Bloodlust, the original developers of the PC version will be creating the game and the legendary Hyung-Tae Kim, the visual artist behind Blade and Soul's aesthetics will be returning as well.
14
Sword Art Online Black Swordsman: Ace
Announced at Chinajoy 2019, Bandai Namco revealed that they are working on a brand new Sword Art Online mobile game. Based on the Aincrad arc of the light novel/anime, Sword Art Online Black Swordsman Ace will be a pure mobile MMORPG experience compared to its predecessor, Integral Factor. There will be no more AI partner accompanying you meaning you'll finally play solo deepening the MMO experience. Players will become one of the participants of SAO who got trapped inside the game. Your goal is to reach the final 100th floor of Aincrad and free all the people who got trapped.
The game will feature many MMO elements intertwined with SAO's unique sword skills only and no magic setting, the different floor levels, and of course the no weapon lock system where you can freely switch your preferred combat style.
The game is still currently in development and is expected to be released in China first. No new updates about a global version just yet.
Granado Espada is the latest classic PC MMORPG that announced that it will be jumping into the mobile bandwagon. A fairly new announcement, not much info has been revealed about the mobile adaptation of the game. But of course, there's a high chance it will be just the same as the original. Developed by IMC Games and published by Hanbisoft, players will be controlling 3 characters instead of the traditional one. A first in MMORPG in its time Granado Espada won numerous awards because of its unique setting. Instead of the usual fantasy world, the game's event happens at the height of its great exploration of the uncharted world.
Granado Espada mobile is still in development so all we can do now is wait for new updates and hope we can get our hands on as early as 2020.
---
You might have noticed that we didn't include some major titles like Cabal Mobile, Nexon's V4, Lineage 2M, Traha, Rohan Mobile and many others. Granted some of them are already out and available now but they're still only playable in South Korea. Additionally, there's no definite information for these titles if they're launching in 2020 or even if they're getting a global version at all. Worry not though, as we are monitoring these games and are on the constant lookout for updates on their development status. For now, stay tuned to our upcoming posts and follow Enduins for more gaming news and information.