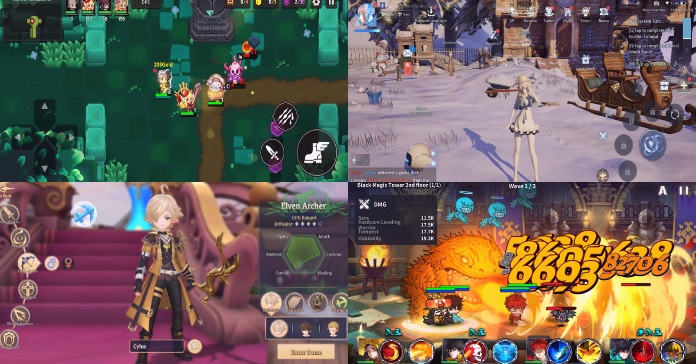 There are so many new mobile games constantly coming out, it's almost hard to keep up! But have no fear, every single month we are going to skim through everything and bring you the best titles we can recommend for you to check out and play! February of 2020 didn't see many game titles released, but the ones that did launch are heavy hitters in their own specific genres. Some are highly awaited titles and some came as a big surprise! So for those who are looking to find new mobile games to download, look no further! Let's check them out now!
Arknights
From the team that gave you the highly popular waifu RPG Azure Lane, Arknights is Yostar's next big global hit. The game is an anime-style tower defense RPG, packed to the brim with very challenging gameplay and beautifully drawn digital art, specifically the characters you'll meet in the game. You'll take on the role of the main protagonist, a Doctor from the Rhodes Island Pharmaceuticals who is suffering from amnesia. You'll take command of the various Operators in the game throughout multiple tower defense-like stages. Key positioning of your units is the key to victory! If you're a fan of anime and very challenging gameplay, Arknights is a must for you to try out! The game is available for Android and iOS.
---
Guardian Tales
If you love retro style pixel graphics with awesome visual aesthetics, Guardian Tales by Kakao Games is right up your alley! This brand new RPG blends puzzle-solving and hack & slash gameplay into one ball of a wacky title. Humor is plenty abound in this game, you'll never skip any story related segments. Guardian Tales is also a nerd's den for all gaming related spoofs and easter eggs. But don't let your guard down. Despite its cute demeanor, this game is really challenging. The characters are amazingly designed and the 2D platform gives you that nostalgic retro feel. If all that sounds good to you, definitely check this one out! Guardian Tales is available for Android.
---
Light of Thel: Glory of Cepheus
Light of Thel, of as we like to call it, Laplace M version 2.0 is an epic action-adventure game set in an open, expansive world. It features gorgeous cartoon-style animation, slick visuals, a cute and colorful cast of characters and a rich variety of game modes to satisfy all your fantasy cravings! Choose between 5 unique classes, warrior, mage, archer, assassin, and priest and start your journey to save the world. Even though Light of Thel brings nothing new to the genre, it's still a welcome addition since we haven't seen any new mobile MMORPG that is this good in a while. If your craving for a brand new mobile MMO that you can sink your hours into, better check the game out. Light of Thel: Glory of Cepheus is available for Android.
---
Dragon Raja
Created with Unreal Engine 4, Dragon Raja by Archosaur and Tencent Games is a next-generation open world mobile game that offers a gigantic, immersive world through the use of cutting-edge technology and stunning graphics. In Dragon Raja, players are able to create one-of-a-kind characters to play, explore, and fight alongside their friends from all over the world. Set in a futuristic cyberpunk world, the game throws you in the middle of the evil Dragon Lord's awakening who was once sealed away by a group of humans known as hybrids. The hybrids, humans gifted with superpowers, are gathering once again to prepare for the coming battle which is sure to be an epic showdown. The game is absolutely gorgeous but this one demands a lot of device power and memory space so above mid to high tier phones are recommended to run this game. Dragon Raja is available for Android and iOS in the US/NA region. A SEA version was confirmed but no release date has been announced yet.
---
Dragon Quest of the Stars
Published by Square Enix, Dragon Quest of the Stars is a spinoff multiplayer mobile RPG where you can make your own hero and set off in a grand adventure in the world of Dragon Quest. The game takes on the traditional turn-based RPG setup but instead of focusing on collecting characters, you'll be matched with 3 other players to work together and defeat your enemies. The battle system focuses more on the multiplayer aspect so if you love making new friends, this game will definitely help you on that regard. Of course, the real pull of the game is the visual designs by Akira Toriyama, the creator of Dragon Ball. DQOTS is a huge hit in Japan, but it remains to be seen if it is going to be as successful outside the region. The game is available on Android and iOS.
---
Plants VS Zombies 3
Ahh, good old Plants versus Zombies makes its return, on smartphones! Protect your town and brains from Dr. Zomboss's latest plot in Plants vs. Zombies 3! This new title from PopCap Games and Electronic Arts brings even more action, more strategy, and way more tacos, with the same tower-defense-style gameplay you know and love from other PvZ titles. Collect a team of freshly picked plants, defend your town from zombie attacks, puzzle your way through tricky boss challenges, and connect with others online to show off your lawn-inspiring skills. Sounds good? Then check it out now! Fair warning tho. This is published by EA so expect heavy monetization. PvZ 3 is soft-launched for Android in the Philippines.
---
Kick Flight
Kick Flight is a real-time 4v4 aerial battler where players can collect and master different Kickers. Each Kicker has their own unique skills. Learning your way around each Kicker and working together with your friends is the main core of the game. The anime-style 3D graphics, as well as the rendered quality, is top-notch. Gameplay-wise, matches are just 3 minutes long, enough to squeeze a few matches when taking a break from work or school. Kick Flight has its own unique charm. It's well polished, easy to learn, but at the same time, challenging. You can grab Kick Flight now in the Google Play Store.
---
Hearts War
Hearts War by Play Park is the role-playing game revival of the classic MMO now on mobile. It comes with a unique Mercenary system, town creation, NPC relationships and much more. Players will see themselves joining the prestigious "Hearts" forces to protect the world from demons. The game boasts 15 different classes to choose from, each with a unique skillset and aesthetics. It has a lot of improved features to offer like its open-world setting, PvP and PvE elements, multi-job options, autoplay for busy people, and collectible costumes. Hearts War is available for Android and iOS.
---
Shadowgun: War Games
Shadowgun War Games is the latest installment to Madfinger Games' successful mobile shooter franchise. It reached one million downloads in just 2 weeks! It's a tactical multiplayer FPS (First Person Shooter) with console-level graphics and intense 5v5 PvP battles. There's a lot of game modes being offered like the classic Capture the Flag, Team Deathmatch, and many more. They took a page out of Apex Legends and made unique characters with different skills for players to master. Madfinger also promised that it will release regular updates for the game. Maybe there'll be a battle royale mode in the future? Shadowgun: War Games is available for Android.
---
Might and Magic: Chess Royale
Touted as the first 1 versus 100 real-time auto battler games (auto chess), Might and Magic: Chess Royale by Ubisoft is a spinoff game based on the high fantasy universe of the M&M franchise. It's your typical auto chess set up only that you're up against 99 other players in a massive elimination match. The graphics and unit designs are really good, but the 100 players all battling in real-time is quite iffy since half of them were bots during the beta testing phase. Now that the game is fully launched, there's a high chance that the player base would have increased by now. Ubisoft promises it will be getting regular updates so that's a plus. You can download Chess Royale now through Android and iOS.
---
Lucid adventure
Com2uS is still alive and kicking despite having outlived its glory days when the Inotia series was at its height of popularity. These days the company is delving into AFK games which seem to be rather doing well. The latest addition is Lucid Adventure. An AFK RPG game based on a popular Korean Webtoon. The premise is easy enough to understand. Start your adventure, upgrade your gear and characters, and that's about it. The game plays itself when offline freeing you from all the grinding and giving you time to go about your day. Just check from time to time to upgrade stuff. If you're a fan of the Webtoon it was based on and have a busy schedule, you might wanna check this one out. Lucid Adventure is out for Android.
---
There you have it! Granted, there are more games launched that's worth mentioning, but we opted for the ones that you can download right now for free. We didn't include titles like Disgaea since they are premium games. Seen anything you like on the list? Which games do you wanna try out? Let us know and don't forget to follow Enduins for more gaming news and info!