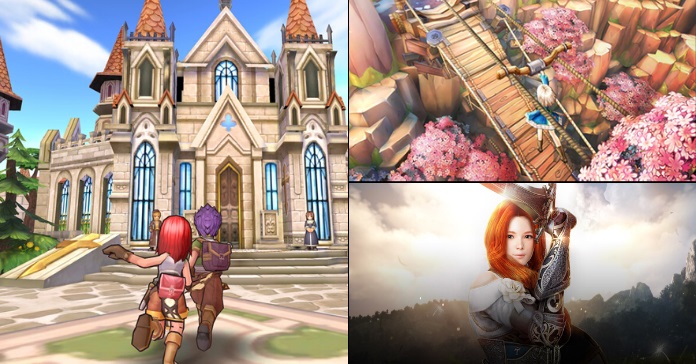 Over the past years, the mobile gaming platform has seen a rise in MMORPG titles. So much so that even big game companies like Gravity, Pearl Abyss, and Blizzard Entertainment jumped the wagon to get a piece of the lucrative mobile gaming market. 2019 was arguably the year of mobile MMO. Multiple announcements of PC titles gone mobile, with some of them already released. This transition from PC to mobile comes to a lot of changes. A UI that is dominated by buttons, touch screen controls, microtransactions, autoplay, auto path, a linear quest system, and many more. With so many titles to choose from in the app stores, which ones had more success with an active community, a good amount of player base, and still active on updates, promotions, and events? Which ones are worth giving a try?
Frankly, it's hard to find the "perfect" mobile MMO since it all comes down to a gamer's preference. Each mobile game offers different features playstyle; open world, linear storylines, dungeon crawler, autoplay, gachas, non-target (no auto-lock). There are also the instances (modes) like the PK system, Guild Wars, boss hunting, and many many more. Some titles have it, some don't. Here, we analyzed what is the most popular and still very active on the market in terms of monthly acquisition and high retention for the last quarter of this year 2019.
18
Warspear Online: 2D MMORPG
Warspear Online has been around for a very long time. It's almost nearing a decade! It's a classic 2D cross-platform MMORPG that's available for Android, iOS, and Steam. Developed by Russian studio, AIGRIND, the game features retro pixel graphics and UI similar to the classic Zelda games which pulled players that absolutely love retro aesthetics. The story revolves around the Divine Spear which kept balance in the world Arinar. But a powerful serpent Garahan once decided to seize the Spear to get more power to rule the whole world. And so, the War for the Spear began. Even though nearing a decade, the game has a huge player base, on both mobile and PC and still active on updates as well with the latest "Chernobog" event released in December 2019.
Initial Release date: June 2008
Most Popular Country: Brazil
Published by Century Game, Lumia Saga skyrocketed to fame when it launched first in South Korea. It had cute and adorable chibi characters, multiple classes, and a unique sandbox-style core system where you can create numerous equipment. It has recently launched outside of its home turf and is now currently available globally including SEA which saw the same success it has seen in KR. Lumia Saga also boasts a large active community thanks to its core systems where teaming up with other players gives you better game benefits, thus making it a party-based mobile MMORPG.
Release Date:

SEA: August 6, 2019
Global: December 11, 2019

Most Popular Country: Thailand
Most gamers by now would have probably tried and played Dragon Nest at some point in their lives. Created by Eyedentity Games, this dungeon crawler hack and slash title took the world by storm. Back when it was still on PC, the game enjoyed a long list of updates and events which transitioned fairly well when it came to mobile. Dragon Nest has garnered an armada of loyal fans from day one of the PC launch up to now, with the mobile version, armed with a huge thriving community, thanks to the Nest mode where players will need to team up together to defeat gigantic bosses. There are also multiple modes including PVP and Guild Wars. Despite being a linear dungeon crawler, DNM found success by sticking to its original formula and changing very little about the game, a move that fans of the original PC version loved which in turn made it easy for players old and new to jump back into the game.
Release Date:
Most Popular Country: Brazil, Indonesia, and the Philippines
15
Sword Art Online: Integral Factor
Love it or hate it, you can't deny the allure of Sword Art Online thanks to the hit anime series as well as its setting of an online VR MMORPG which made it easy to make a real game out of. When it was first announced, anime and SAO fans eagerly waited for the game to launch and it did not disappoint when it did. Integral factors follow the story of the anime, climbing up the different stages of the floating world of Aincrad, players will create their own characters and will have an NPC sidekick which was a unique feature the game had. Fan-favorite characters like Kirito and Asuna makes an appearance in the game, helping you throughout your struggle to climb Aincrad. The community of Integral Factor is huge largely thanks to its anime-based fans, and being a game made by Bandai Namco meant it was a well-polished mobile title that gamers will absolutely play.
Release Date:
Most Popular Country: US
14
AxE: Alliance vs Empire
Touted as a next-generation mobile MMORPG, Alliance X Empire or AxE for short gave the mobile MMOs something it lacked: pure unrestricted player versus player action. Published by Nexon and made with Unreal Engine 4, the game boasted polished graphics, unique aesthetics, and intense gameplay. Players will have to choose a faction to join which automatically makes the latter your enemies. Arguably, the factor that pulled their big player base, (especially the ones that love PVP) in the game is the PK system. It has the usual MMO trope, questing, guilds, etc., but the open world of AxE is a dangerous place. Step outside of your faction zone and the PK begins. Players can hunt down opposing factions in these areas regardless if you're doing a quest or just passing by. So if you're the type of gamer that likes PVP, definitely give AxE a try.
Release Date:

Soft launch: January 3, 2019
Global: February 21, 2019

Most Popular Country: Thailand
Asobimo is regarded by many mobile gamers as the best developers of mobile MMOs. Every time they release a game, it's usually a big hit, and Toram Online is no exception. The game is an indirect sequel to their previous MMO, Iruna Online. Toram boasted better aesthetics, graphics and game mechanics, plus it had an anime-style design so fans of anime-themed games were pretty much in the bag. Set in a magical open world, players can create and customize their characters, choose a weapon, and start their journey. There's no actual class-lock in the game. You can pick whatever weapon you like and switch to something else at your own leisure. The community of Toram is rich and lively when it came out and it still is to this day. You can easily make new friends in Toram so why not give it a go.
Release Date:
Most Popular Country: Japan
12
Avabel Online [AMMORPG]
Another Asobimo game, Avabel was one of the first mobile MMO games they made available in the global market, despite its age, Avabel Online is still widely popular for its easy to understand game mechanics and pretty good graphics that still hold up against other modern mobile MMOs that recently came up. It has also been ported to Windows and Playstation 4. It's that good. It boasts a fast-paced combat system, a persistent semi-open world and thousands of online players at any given time. Avabel currently boasts multiple game classes and a new awakening system that was introduced in 2018. The fourth batch of awakening classes has recently been introduced in April 2019.
Release Date:
Most Popular Country: Japan
Published by GAMEVIL, Talion Online is pretty much the same as AxE albeit more simplified in terms of graphics and gameplay, and controversially, in the game designs. The developers of the game, UT Plus were deemed lazy by eagle-eyed gamers as the majority of the assets used in Talion came from their older game, Shadowblood. Nevertheless, if you want a game similar to AxE but don't demand much from your phone specs, this is the game that is right for you. It's a semi-open world, 2 rival factions to choose from, with faction-neutral areas where players can PK each other to their heart's content. It also has a bunch of multiplayer features including Arena, guild wars, boss raids, a lot of quests to partake in, auto-combat for busy gamers, and many more.
Release Date:

Global: September 12, 2018

Most Popular Country: Thailand and Japan
Publisher GTArcade is famous for one thing: the VIP System. Granted some people love the infamous system, and some absolutely despise it since it's a guarantee that a game is pay 2 win. Still, that doesn't stop mobile gamers from playing Era of Celestials. The game is set in the usual trope of good versus evil and that you, the player, is one of the many chosen heroes to fight against the evil army that wants to take hold of the world. Veteran gamers will surely argue that Era of Celestials is your typical Chinese mobile MMO clone that you've seen a thousand times over in the app stores. This is true, no denying. But this one falls under the few good mobile MMO clones out there, equipped with some pretty spectacular graphics, and easy to understand UI. It has the usual MMO modes you'll ever need like PVP, boss hunts, sprites/pets, costumes to collect, and of course, the staple equipment of all Chinese MMO clones, the wings system.
Release Date:

Soft launch: June 1, 2018
Global: August 8, 2018

Most Popular Country: Brazil and US
Darkness Rises is a spinoff addition to the long-running Dark Avenger game series. It's a hack and slash dungeon crawler published by Nexon. It boasts top-notch graphics made with Unreal Engine 4, innovative gameplay, and intense boss battles. The game broke the norm for dungeon crawlers with the addition of quick-time events that happens during random intervals in stages. This gives you a chance to take control of a dragon and ride it, force an enemy to strike down its own ally, and even grabbing foes and dishing them some cool moves coupled with sweet animations. Darkness Rises also has real-time PVP where you can test out your prowess with combos and timing. The game is still active with new content, particularly additional playable classes.
Release Date:
Most Popular Country: India
8
World of Kings – also known as King of Kings in SEA
King of Kings by Zulong Game is an epic fantasy RPG, that resembles World of Warcraft a lot but not that much that it can be called a clone. The game has a huge seamless 26-kilometer wide-open world packed so much content to discover and explore. Players won't be disgruntled with choosing a class as World of Kings has 9 playable classes and races with 27 advanced classes to choose from. There's a bunch of multiplayer modes as well like the guild system, and epic dungeons. And for PVP lovers, there are the massive 100 players guild wars for you, and traditional PVP arena modes as well. The brand latest update called "New Era of Nightbornes" introduces a new race to the game which further bolsters the game's playable class roster. If you like fantasy MMOs with multi-cultural background and different race intermingling, this World of Kings is definitely up there with the must-play titles.
Release Date:

SEA: July 3, 2019
Global: May 30, 2019

Most Popular Country: US and Thailand
MU is without a doubt one of the great MMO titles of the past decade. Developed and published by Webzen, it was first released on PC. It quickly gained traction in such a short time and became one of the most popular MMORPG titles to booth, garnering a massive fan base around the globe. But like so many other classic MMOs looking for a second life in these modern times, MU went mobile which successfully revived the game with the first mobile adaptation, MU Origin and then the follow-up, MU Origin 2 which skyrocketed the franchise in a whole new level. It conquered China and South Korea first, quickly snatching the top spots in the app stores and continued its conquest in Southeast Asia which was also successful, thus prompting Webzen to publish the game in western countries in 2019. MU Origin 2 greatly improves upon its predecessor with better graphics, a friendlier interface, and overall better performance.
Release Date:

SEA: January 3, 2019
Global: May 28, 2019

Most Popular Country: Philippines and Thailand
Spiritwish, published by Nexon, is a fairly new entry for the global market. The game greatly resembles Tree of Savior, which is no surprise since the people involved in this game previously worked on TOS. Instead of a single character, players will control 3, each with different classes, similar to Granado Espada. The graphics are a mix of 2D and 3D rendering, with an isometric view of the beautiful and lush world of Spiritwish. Your team's goal is to take control of ancient relics with the power to save your crumbling world, but you alone cannot achieve this goal. Luckily, Spiritwish offers players to befriend anyone around the globe since its servers allow you to add a friend from any region. As you progress through the game, more classes will be unlocked, making your party more diverse and flexible. There's also a one-handed mode where you can freely switch from landscape and portrait mode for easier handling. The game's community is still budding, so it's a great time to jump into the game and be one of the veterans of the game down the road.
Release Date:
Most Popular Country: Thailand
Back when Lineage 2 Revo first came out, the game exploded for 3 main reasons: first, the game was absolutely gorgeous, second, the publisher of the game, Netmarble did an awesome campaign to promote it (even involving late-night talk show host, Conan o Brien), and third, it was one of the first major PC titles that transitioned to mobile with huge success. And we mean really huge. The game garnered over 30 million users with a whopping 9 digit revenues to date. NCSoft's Lineage franchise has been beloved by millions of players worldwide ever since the first title release with Lineage 2 becoming the most successful in the bunch. Published by Netmarble, the game takes players into this huge fantasy world inhabited by different races, each one oozing with deep lore and stories. Using Unreal Engine 4, L2R was further bolstered by its graphics and aesthetics, perfectly capturing what the original L2 would have looked like if it was remade with the modern tech we have now. Players can choose from different races, each with different classes. As of 2019, L2R has introduced the Orc and Kamael class further bolstering its roster of playable classes. And with its long history, updates and content for the game won't be short on supply any time soon. The community is also very active, albeit the majority of them leans on the competitive side. So if you're after great graphics, epic adventures, and some PVP oriented features on the side, give this game a go.
Release Date:

ASIA: June 14, 2017
Western: November 15, 2017

Most Popular Country: US and Russia
4
Perfect World Mobile (New)
Another old school PC MMO who found a second life through mobile, Perfect World Entertainment's namesake game, Perfect World is inspired by Chinese myths and legends. Back then, it was one of the few games that offered a full-fledged character customization system, huge seamless open world, and aerial combat. When a mobile version was announced, fans of the franchise were eager to get a hold of the game as soon as possible. There are 3 playable races in the game, each with different play styles, and gameplay mechanics. The aerial combat was a major feature that lets you do combat in the skies astride on your mount or soaring with the use of your wings. The game had so many features as well that kept players entertained. The mobile version kept the original version unchanged with the exception of the UI that was tweaked to fit touchscreen controls. There are a bunch of PvE and PvP modes included like the huge boss hunts and the massive 80 vs 80 PvP. The game is currently out for selected western countries. There's no update yet as to when it will be released in Asia.
Release Date:

SEA: TBA
Global: September 4, 2019

Most Popular Country: US
3
Tales of Wind – also known as Laplace M in SEA
Published by Zlong Games, Tales of Wind's official Asia launch (named Laplace M) was nothing short as perfect timing right when people were experiencing burnout from Ragnarok Mobile. Touting it as the next big mobile MMO title, it proved to be a formidable competitor against other games currently out in the market. The game is a high fantasy MMO with a rich and colorful environment. Players will get to choose their class and gender, and customize the look of their avatar. Tales of Wind focuses more on community activities with multiple game modes and features that require the player to team up with others to accomplish goals. Additionally, it also offered a marriage and family system that made the game all the more community-driven. Tales of Wind's popularity gradually dwindled in Asia, but it has seen bigger success when it came out in western countries with a surprisingly high player acquisition every month.
Release Date:

SEA: March 5, 2019
Global: April 30, 2019

Most Popular Country: Brazil, US, Thailand, and Vietnam
Arguably the most highly anticipated mobile MMO of 2019, Pearl Abyss' Black Desert Mobile is another addition to PC titles going mobile, and just like L2R, the game is highly successful in taking hold of the mobile gaming platform. It has seen great success in South Korea, which prompted the developers to create a global version as soon as possible. But it was since delayed for almost a year. Nevertheless, the enthusiasm of fans and players eager to play the game never dwindled and now that BDM is out for merely just a week, it is now currently sitting in the top spot in the app stores both Android and iOS. Black Desert Mobile is an epic fantasy MMO set in a continent inhabited by various mythical creatures, in a time when great change is happening where various races are either coexisting together or at war. Made with Unreal Engine 4, the game boasts high-quality graphics, a full-fledged character customization system, and various different character classes to choose from. BDM's community is bustling. You'll see players dart here and there, guilds partaking in boss hunts and guild wars or working together to defeat the world boss. There's a lot of things to do in BDM, so if you like a game rich in activities and lore, this game is it.
Release Date:

Soft launch: October 24, 2019
Global: December 11, 2019

Most Popular Country: US, Indonesia, Singapore, and Thailand
1
Ragnarok M: Eternal Love
Despite having poor ratings in the app store due to poor customer support, Ragnarok M: Eternal Love is still hovering above all other current game titles since its still currently the top-grossing mobile MMO and has a large and active player base. Published by Gravity, it swept the platform when it first launched. Everybody was playing it, and who could blame them? The nostalgia factor of RO is still strong and the chance to play it again on the go with upgraded 3D graphics was just enough to hook veteran and new players into the game. Inspired by Norse mythology, ROM is set in the world of Midgard. Players will assume the role of an adventurer who is seeking to stop Ragnarok, the event that will end the world. Just like its original PC version, there are multiple classes to choose from, a large world to explore, various quirky hats to collect, and many more. The game's graphics are now 3D for the mobile version with additional features that makes it more entertaining like the new costumes system. If you're a diehard Ragnarok Online fan, ROM Eternal Love is still well worth giving a shot.
Release Date:

SEA: October 31, 2018
Global: January 9, 2019

Most Popular Country: Brazil, Thailand, Malaysia, and Philippines
Choosing the right game for you is quite the endeavor but it all comes down to you, your own tastes and more importantly if you're enjoying it. Of course, there are also ways for you to make a decision. You can check the publisher's reputation by checking their ratings and user feedback in the app store or ask a friend who played one of their games, research gameplay videos on youtube, or visit their official websites to learn additional information about a game. You can also join forums and community groups so you can ask people who played the games you're interested in first hand. And of course, don't forget to check if you're phone can handle the required specs needed to run the app.
Granted there's still a lot of games out there we haven't mentioned. We didn't include them on the list for a number of reasons. Either their community isn't active anymore, there's no more PR activity or support, a low and dwindling player base, and there's little to no revenue coming in anymore for the game to even survive.
No worries though, as we plan to update the list and ranks of these games on a regular basis. Remember that this list was based on popularity and net gross. This also serves as a guide of sorts to check if a game is doing well so don't forget to check the list every once in a while. We'll also make a separate list about the underrated mobile MMORPGs soon, so look forward to that. If you have a game in mind that deserves to be included, feel free to leave a comment about it!
If you're looking for new MMORPGs instead, check out our Best Upcoming mobile MMORPG Games for 2020.