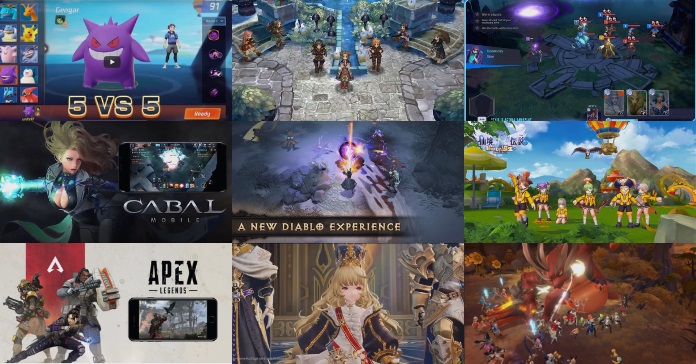 New year, new games! Despite 2020 being a literal hell, we've seen a lot of awesome games come out, from the casual to triple-A titles! All the while, new game announcements just kept popping up like daisies and previously known games in development made their presence known. Will they finally come out this year? Here are the most hyped mobile games expected to debut in 2021!
Diablo Immortal
We can't start this list without Diablo Immortal. Finally, the game launched its first limited alpha test in Australia, and a lot of people are giving it high praise cause it's that good. So good in fact that so far no game-centric reviewers and websites have given it any bad opinions. Diablo Immortal is an isometric hack and slash dungeon crawler and is an official entry in Blizzard's Diablo franchise having it set between the events of Diablo 2 and 3. The limited alpha test gave players the chance to try out 4 classes: the Barbarian, Wizard, Monk, and Demon Hunter. It was announced that the Paladin and Necromancer will join the roster once the game officially launches with more classes coming in future updates. Diablo Immortal is set to launch more limited alpha tests in the coming months, but no official launch date has been set just yet.
---
Pokémon Unite
This game was inevitable to happen since the franchise is perfect for a MOBA game. Pokémon Unite is a real-time team-based strategy MOBA for mobile currently being developed by Tencent's Timi Studios, the same studio behind Honor of Kings and Call of Duty: Mobile. In Pokémon Unite, players will form a team of five to battle against each other in MOBA fashion albeit there's a bunch of differences to your traditional MOBA setup. You'll be leveling up throughout a match while completing various objectives. The multi-lane map is quite different as well. Instead of the traditional square-shaped terrain that MOBA players are familiar with, Pokémon Unite's map is shaped like an oval. There's no official release date for Pokémon Unite just yet but what we do know is that the game will be cross-platformed with Nintendo Switch devices and for both Android and iOS.
---
Cabal M (SEA)
Now this one has been hyped for quite some time and we know a lot of gamers have been waiting for. Cabal M is the mobile adaptation of the highly popular classic PC MMORPG of the same name which is developed by South Korea's ESTSoft. The game was a massive hit thanks to its fluid graphics, unique game aesthetics, skill combo system, and its huge PVP raid events. The game has been in service in South Korea and has since been launched in Thailand with Electronics Extreme as publisher. The mobile version has been tweaked for the small screen with the addition of various new systems such as the Auto-Battle system, 3 different battle modes, the transformation system, PVP modes, and the WAR system, but everything else will be like the original PC version. Due to the game's success in Thailand, the devs are planning to launch the game in SEA but the exact date is yet to be announced nor who the publisher will be, since Electronics Extreme is exclusive for Thailand. Hopefully, we'll get an announcement this year for the SEA version.
---
Apex Legends Mobile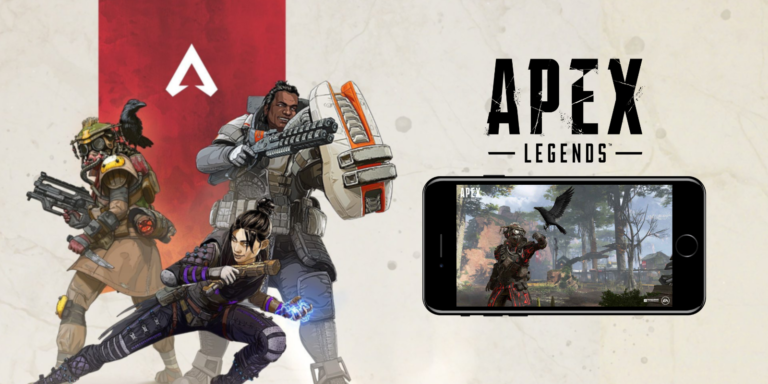 One of the most highly anticipated titles for mobile right now, Apex Legends Mobile will be a direct port of its PC origins. The game is a first-person shooter battle royale set in the future where individuals from all walks of life enter a 3-man team tournament to win some much-needed resources for them to survive in a dystopian world. Others join for fame and recognition, and others just love to bask in the mayhem. Players can master different characters, each with their own unique set of skills ranging from requesting a care package for their team to reigning down bombardments against their opponents. Respawn Entertainment, the company behind Apex said the mobile version was aimed for a 2020 release but due to the COVID-19 pandemic, it has been rescheduled for a later date. Maybe we'll be able to finally play it this year?
---
Re: Tree of Savior
First named as Tree of Savior mobile, the game is now renamed as Re: Tree of Savior and will be the mobile adaptation of the highly popular TOS PC MMORPG. TOS became popular with its Ragnarok-ish gameplay even touting the game as the successor to RO, as well as with the game's whole aesthetics which is absolutely gorgeous. Re: TOS will carry the core gameplay of the original, and hopefully, will have its other features as well like team battle league, gemstone feud, guild wars, and territory wars. Additionally, the game will also have a fluid and simple UI that will accommodate touch screen controls. The plethora of classes will be included, of course. IMC Games is the current developer of Re: TOS while Nexon Thailand will handle the publishing. There's no definite release date yet, sadly. But what we do know is that the game will launch globally and will support multiple languages.
---
Nier Reincarnation
Nier Reincarnation is an upcoming role-playing video game based on the highly popular Nier series by Yoko Taro. The game is developed by Applibot and Square Enix for Android and iOS while publishing will be handled by the latter. Nier Reincarnation takes place in the same universe of the Nier series and its sequel Nier: Automata, which are in turn spin-offs and sequels to the Drakengard series, making the mobile game a spin-off within a spin-off. Set in a realm called the Cage, players will take on the role of a girl dubbed as "the girl in white" who is guided by a mysterious ghost-like being only known to the player as Mama. The gameplay revolves around unlocking the memories of the past all the while avoiding the "dark monsters" that are after you. Nier Reincarnation has a gacha system where you can acquire new characters to form your 3-man party. Combat is automated while skills can be used by tapping buttons. Nier Reincarnation may sound simple but as per usual with Yoko Taro's style of creating games, everything will confuse you with its deep and dark hidden meanings. The game will be released in Japan this year with a global launch later down the road.
---
Blade and Soul 2
Blade and Soul 2 is an upcoming cross-platform MMORPG for PC and mobile. It's touted as a direct sequel to Blade and Soul. Nothing much is known about the game other than when and where it fits in the Blade and Soul timeline. According to NCSoft, the game is set after the events of the original PC MMO where the heroes of the first installment have now become legends. NCSoft promises a thrilling main storyline, more unsolved mysteries to discover, and a bigger open world to explore. The action-packed combat system makes its return with a better fighting experience thanks to a new feature where there's more freedom of movement for the player. Additionally, enemies will now have adaptive mannerisms in combat where they will change their pattern of movement according to the player's actions in combat which gives the whole experience more tension. Blade and Soul 2 is scheduled to launch in South Korea this year.
---
Summoners War: Lost Centuria
Summoners War: Lost Centuria is a spin-off mobile game based on Com2uS' popular Summoners War: Sky Arena. The game will provide players a thrilling real-time 8 on 8 battle where it's hard to predict the winner until the last moment through various strategic elements such as a counter system that, well, counterattacks against an opponent's skill and a summoner spell that can turn the tide of the battle at once. Lost Centuria at its core is a strategy game. There's also a feature where you will grow your territory and try to conquer other player's territory as well. Of course you need to defend your own turf from others. The game just finished a successful CBT and is now scheduled for 2021 release during the first quarter.
---
The Witcher: Monster Slayer
While Pokémon GO wants you to capture monsters and treat them as pets, love them, and train them to be your partners in battle, CD Projekt Red's The Witcher Monster Slayer went into a complete 180 and encourages you to hunt down and slay monsters instead. But it is based on the world of The Witcher so its a fight or die situation in this upcoming augmented reality game. Set long before Geralt of Rivia's timeline, Witchers were still plenty in the world. And that is what your role will be in the game, a monster-slaying Witcher. The battle system will see you train your character, brew potions, craft bombs, and use the right weapon for the right type of monster. Killing monsters will earn you rewards and trophies, level you up, and many more. Since this is a location-based AR game, you will have to roam around in the real world and find those monsters to slay. The developers, Spokko has yet to reveal the release date but there's a chance we might see it launch this year.
---
Summoner's War Chronicles
Summoner's War Chronicles is another spin-off MMORPG for mobile based on Com2uS popular IP. The game is set as a sequel to the events of the original Summoner's War: Sky Arena where it continues the story of the Rift of the Worlds and expands it with a plethora of never before seen celestial islands in a vast and dense universe. Players can battle each other in PvP, Arena World, or Arena 2v2. Guild Battles and the Ascension Tribunal will regularly offer new challenges for those thirsty for it. Players can also level up their character by fishing, mining, or just lounging in a spa! The game is scheduled for a Closed Beta Test this year while an official launch is targeted around the 2nd quarter of 2021.
---
Ragnarok X Next Generation
Wether you love or hate what Gravity has done to the Ragnarok Online IP, they are still full steam ahead on releasing multiple games and reiterations of your childhood MMORPG. Ragnarok X Next Generation is yet another mobile RPG title based on the RO franchise that will be handled by ByteDance, the same company behind TikTok. Just like its other countless iterations, ROX is another MMORPG based on mordic mythology. The game will be in full 3D and will feature all the RO tropes from the familiar areas, the card system, and its various classes, with some tweaks here and there with additional new features to make it look just a tad bit different from other RO titles already in service. Ragnarok X Next Generation is already in service and Taiwan since October 2020 and is scheduled to launch next in Macau, Hong Kong, and the rest of Southeast Asia.
---
Gran Saga
Gran Saga is a cross-platform RPG for mobile and PC developed by NPIXEL, a new game company that is made up with the team behind the smash hit mobile game, Seven Knights. The game will let you become a knight on a quest to undo a curse set by an evil dragon. Gran Saga's gameplay will focus on action-centric combat where a unique feature called the Gran system will be introduced. The Grans serves as a catalyst for different types of weapons. Each weapon has different playstyles. So far, there are 20 different weapons revealed that players can learn, and master. These can be in the form of hammers, turrets, staffs, claws, and many more. NPIXEL promised that they will polish the game as much as possible, not just the game and overall aesthetics, but with the storyline as well. Gran Saga is expected to launch in South Korea on January 26 with a possible global version down the road.
---
Bonus Game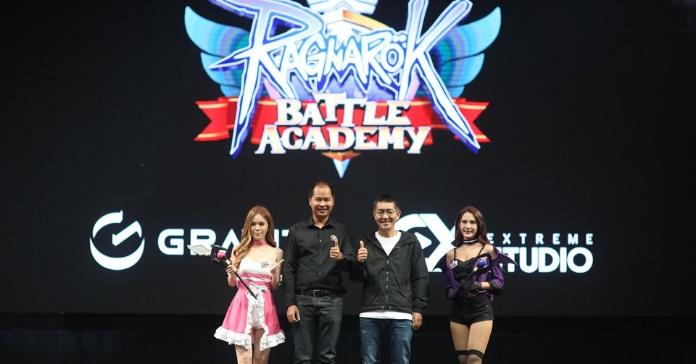 Ragnarok Battle Academy is Gravity's contribution to the ever growing battle royale genre with a mix of RPG thrown in it. The game's setting is that of a school where up and coming adventurers in the world of Midgard do their survival training before setting forth to their eventual grand journey. Just like any BR game, you'll do battle on a shrinking field, pick up items, and elimite opposing players by using your skills and tactical know-how. Your goal is to be the last person or team standing. You can also change into traditional RO classes and gain their talents to further bolster your arsenal and achieve victory. ROBA was set to have a Closed Beta Testing phase around the fourth quarter of last year but has since been delayed. Hopefully, everything will be back on track and we'll see the CBT this year or even an official launch if everything goes well.
There's a lot more mobile games coming this year and this list is just the tip of the iceberg. Which game are you most hyped about and which one do you think should be included? Let us know! We've barely scratched the surface of what's to come so if you wanna discover more upcoming games this year, don't forget to follow Enduins for more gaming news and information!