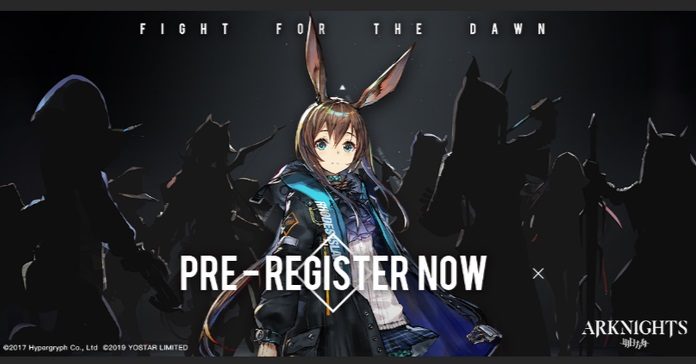 Yostar, the popular game developer of the waifu ship mobile RPG, Azure Lane announces that the English version for their brand new title, Arknights is coming soon! Collect different waifus and defend the world against a deadly virus that threatens to eradicate life as we know it.
Arknights is a hybrid tower defense RPG mobile game developed by HyperGryph and Yostar Inc. If the latter sounds familiar, it's because they're the very same studio who made the massively popular Azure Lane which has swept China, Japan and the rest of Southeast Asia by storm, so much so that it already has an anime adaptation on the way. And it seems that Arknights is also heading in the same successful direction as the game is already massively popular in China.
The plot of Arknights revolves around the group of special operatives of Rhodes Island who mainly consists of beautiful anime girls, all trained to combat the mysterious Originium, a viral disease that transforms living organisms into zombie-like mutant creatures. Luckily, the remaining factions were able to reverse-engineer the disease and use it as a countermeasure to fight against the Originium. But not all factions have the same goals. Some are using this newfound weapon for good and some will take advantage of it and aim for world dominance. You as the player will assume the role of commander and lead your team of Waifus to combat the threat of Originium and those who seek to abuse it for their own goals.
The game at its core is a tower defense game. Players will need to form a team and, in traditional tower defense gameplay, will strategically position them on certain points of the stage. The goal is to defeat the waves of enemies that spawn out of gates and prevent them from reaching the exit, or in the game's case, what you're trying to defend. Characters can be collected, leveled up, and upgraded. You can also equip them with gears and powerful weapons. Each Waifu has a specific type of talent and skills. It's up to you to figure out which ones work best with each other and unlock certain combos and synergies between your units.
As for game content, there's a bunch you can participate in including the resource and material gathering, quest system, raid mode, annihilation mode, the main campaign, social system, achievements, headhunting, and many more. Additionally, since this is a waifu game, you can "court" your favorite character, upgrade infrastructures for them, buy them gifts, collect skins, gain their trust, and ultimately marry them if you wish.
Arknights' pre-registration period has started! Visit their official website to sign up. Once you register, be sure to check your email for the code and input them back at the pre-reg page to finish signing up. The game will be available for both Android and iOS. No specific date for the launch has been announced yet but the game is expected to be released before this year ends. Don't forget to follow Enduins for more gaming news and information!