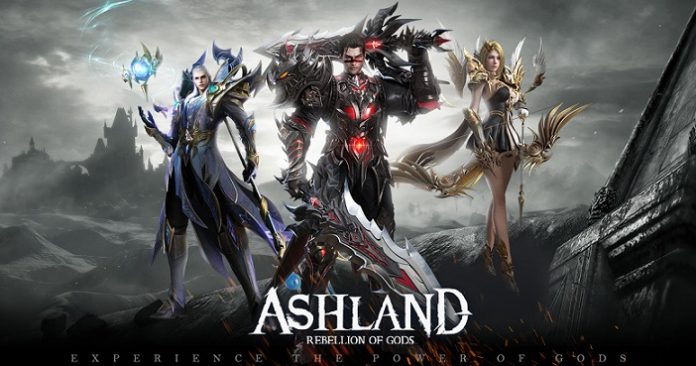 Ashland: Rebellion of Gods is a new RPG that mixes idle gaming with RPG elements all wrapped up in next-gen Unreal Engine 4 graphics. The game has soft-launched in the Philippines so we took a detour within the land of the Gods to see what makes it different from other games and if it's really worth playing. Link: https://bit.ly/2YYoxxH
Before we proceed, Ashland is giving away a free gift code to start your journey right: ashland888
The gift contains 500 diamonds and 2 courage trial pass. These resources will definitely give you a proper send-off to the epic journey that awaits you in Ashland: Rebellion of Gods!
THE STORY OF ASHLAND: REBELLION OF GODS
During the Eternal War of the Gods eons ago, Nidhogg, Dragon of Ruin, broke the seal in the depth of the Dark Abyss and released Chaos God Azathoth from the control of the Primal God! After centuries of fighting, high gods Zeus and Odin finally threw the Demon God Azathoth into the Void Stream. Before the Demon God disappeared, its blood fell down into Asgard and the mortal realm, creating countless contaminated zones. Demons surged forth in waves, pouring into the world and destroying all life in their path! Now, Athens Parthenon is the only place where divine power remains, the last bastion of hope in the world.
THE DIFFERENT GAME FEATURES YOU CAN EXPECT IN ASHLAND
EXPERIENCE THE POWER OF GOD – Athena Goddess of Wisdom, Thor God of Thunder, and Loki God of Mischief are all here. And you, the Chosen One, will find the power to achieve divinity! The Eternal War of the Gods is about to begin!

NEXT-GEN GRAPHIC BY UNREAL ENGINE – Built on Unreal Engine 4, the game demonstrates an epic clash between gods in multiple dimensions! Beautiful effects and graphics that exceed mobile game standards will bring you an immersive experience beyond your wildest dreams!

A TEAM WITH MULTIPLE CHARACTERS – Experience all three classes (warrior, mage, and archer) at once – no need to level up from the jump after the class change. Each character can be upgraded for different specialties like damage, tank, and control, allowing you to fully customize your team!
ENJOY AFK RPG WITH SINGLE HAND – Casual and engrossing, you can explore a fantasy world with only one hand! Sit back and relax while Auto AFK gets you tons of XP to send your Power skyrocketing overnight!
ASHLAND CHARACTER CREATION AND TUTORIAL
You'll start the game by choosing one of the three available classes as your main character. The three available classes are melee type Berserker, magic type Mage, and the long-range Archer. Don't worry about missing out on experiencing the other two classes as you can eventually unlock them down the road. Each character will be presented to you fully equipped with high-tier gears and weapons which serves as a preview of what your character can look like in the future. But for now, you'll start off with some basic equipment.
As with any other mobile RPG game, Ashland will throw you in a tutorial session first to get you familiarized with the game controls. The game has a top-down screen that can easily be played with just one hand. Moving your character is done by sliding the Dpad while attacking enemies is automated. You can use your skills by tapping their icons located on the bottom of the screen where the game interfaces, chatbox, and menus are all located.
Playing through the tutorial will eventually set the main storyline of the game and will let you experience the different skills and even the god transformation during some epic boss fights. Once done, you'll be transported to Athens where your journey begins. Athens is the home of those who worship Athena such as yourself. With her blessing, you'll be granted her power. But you'd soon find out that her artifacts are missing and so your quest to retrieve them begins.
ASHLAND'S GAMEPLAY AND RPG ELEMENTS
From here on, the game will now assume its main theme as an idle game. Your character will automatically attack enemies, cast skills, collect loot, and so on. Eventually, you'll gather enough items to give your character better stats and equipment. Once you feel like you're fully equipped, you can challenge the boss to progress further on your journey and travel through different settings. It's only a matter of grinding, making your characters stronger, and then challenging bosses to progress through the stages.
The RPG elements kick in when you unlock the various game features although these are fairly common to see in other recent mobile RPG games. It may look familiar but at least it gives the game some degree of depth not usually seen in these types of games.
Idle games target a different demographic, usually people who are fans of RPG games but don't have enough time or the attention to grind to make their characters stronger. This is what idle games offer and Ashland goes beyond that by offering great graphics, good character designs, and deep RPG mechanics.
ASHLAND VARIOUS MENU FUNCTIONS
Ashland: Rebellion of Gods offers a ton of various functions and knick-knacks that players can enhance and customize to make their characters stronger.
Character – This is the menu where you can check the various status of your characters, skills previews and upgrades, titles collected, equipment, and decorations or costumes (skins).
Forge – This is where you can upgrade your gear and cards. Cards are items you can slot into your gear to give them bonus stats. You can also enhance them in the forge.
Companion – This is where you can enhance and upgrade your companion God, your mounts, and your guardian pet.
Archive – The Ichor upgrades can increase the stats of all characters in your party. Upgrading Ichors to a certain level will give you access to various skills as well.
Guild – A guild is a vital part of your adventure. Once you unlock the guild system, hurry and join one as soon as possible as they give various rewards when you're actively playing the game. You will also gain access to guild functions that will not be available if you're not in one.
Backpack – you can check your equipment and loots here. This is also where you can craft new items, and consume unwanted ones and convert them into resources and crafting materials.
ASHLAND ADVANCED GAME FEATURES
Ashland offers a ton of different game features, enough to drown the most hard-core RPG players out there. With so many features in the game to dive into, we went ahead and picked what we believe are the most important advanced features players should know in the game.
Daily Quests – the daily events are a culmination of different features you can try to accomplish within the day. Daily quests are reset every 24 hours. The different modes within the daily quests can give you various rewards such as supplies, materials, and EXP. additionally, when you do daily quests, you can gain activity points. Save up enough points and you can exchange them for diamonds.
World Boss – Once you reach a certain level, you can go on to hunt world bosses. There are many different kinds of world bosses in the game, each of them can rewards you with many great items once defeated.
Dungeons – Dungeons have a variety of different challenges to offer players. Each dungeon has a different prize whether it be materials, gold, or EXP.
Auction – The auction section is where you can buy and sell items for Diamonds. You can only sell items of Tier 3 rank or better, skill tomes, companion chests, and Aesir Statues.
Arena – The arena is where you can challenge and defeat other players in the game. By defeating a higher-ranked player, you can take their place and climb up the arena leaderboard. If you're powerful enough to break into the top 3, you can get an amazing title with powerful stats.
Blitz – The Blitz feature is a handy one. It will give you a 60 minute AFK loot instantly. The more stages you clear, the more loot you can receive. Additionally, you can gain more EXP with a greater AFK bonus.

Ashland: Rebellion of Gods hits the right spots for a good RPG with plenty of features for newbie and veteran players to enjoy at their own leisure without the hassle or the headache that comes along with grinding for resources and materials. It's also a good game if you wanna kill time whether when you're commuting or in between breaks since you won't need to invest a lot of time on the hard and mundane elements of an RPG game.
If you're on the opposite side of the spectrum and want a hardcore RPG experience with plenty of stuff to do, Ashland offers that as well. There are tons of game modes to experience, challenges to overcome, giant bosses to slay, titles to collect, and heaps of treasure to hoard. And with the number of rewards Ashland gives for every achievement you reach, you're gonna feel pretty accomplished by the end of the day.
The game is now in Open Beta for the Philippines. There will be no data deletion so enjoy the game to your heart's content! Android and iOS users can download the game by following this link: https://bit.ly/2YYoxxH. Don't forget to claim your free gift code once you log into the game!