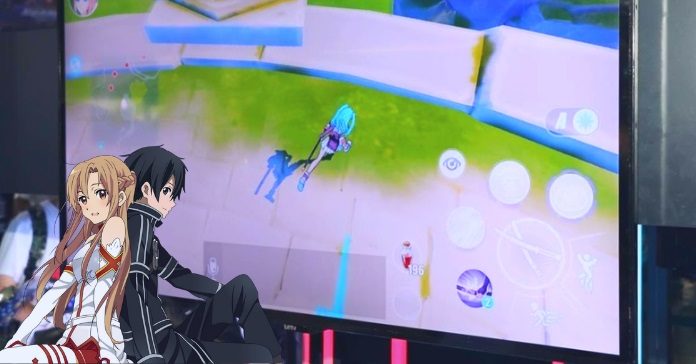 Chinajoy 2019 just happened. The annual gaming convention in China focused more on updates about previously revealed titles this year, but that didn't stop some companies to announce new games that they are currently working on. One of these companies is Bandai Namco who revealed that they're working on a new Sword Art Online mobile game called Sword Art Online Black Swordsman: Ace!
Sword Art Online Black Swordsman: Ace (域 域 黑衣 剑士 : 王牌) is a brand new mobile MMORPG based on the highly popular Sword Art Online anime/light novel from Japan. It is officially licensed by A1-Pictures while Bandai Namco will be the publisher of the game which already has another SAO mobile game title under their belt, SAO: Integral Factor.
SAOBS: Ace is described as a true MMORPG which is wholly based on the SAO virtual MMO. It will follow the plot of the anime, particularly the Aincrad Arc, where players are trapped inside the game where if you die inside SAO, you also die for real, and the only way to exit the game and survive is to defeat the infamous 100 floors of the sky fortress, Aincrad. The game will feature an open-world setting where players can fully explore different areas, complete missions, clear and climb the 100 floors, and find a way to escape.
The game also features character customization where you can choose your gender, hairstyle, skin color, and many more. You can also pick a career in-game which wasn't fully explained but this may either be about your combat styles like dual wielder, fencer, tamer or it may be a profession like a blacksmith or a cook since SAO doesn't really have a class system. Meanwhile, the User Interface (UI) looks like your typical mobile where the attack and skill buttons are on the right, your movement is on the left, and a drop-down menu tucked away neatly on the sides of the screen.
That's about every info Bandai Namco has currently revealed about Sword Art Online Black Swordsman: Ace. The game is still in development and a release date has not been revealed yet. We'll be sure to update you once more info is available! Tune in to Enduins for more gaming news and information!