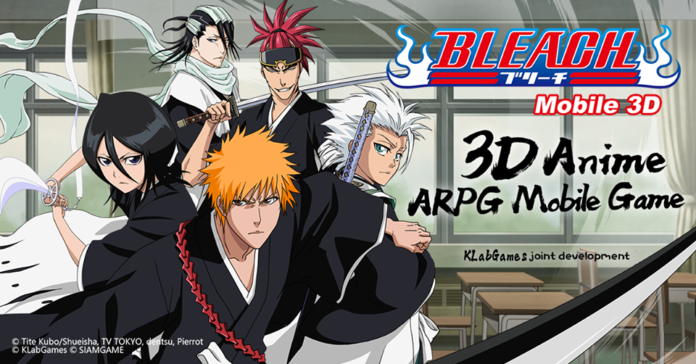 Bankai! Time to celebrate, Bleach fans! The officially licensed English version of the Bleach mobile game has finally entered CBT phase! Titled "Bleach Mobile 3D", the game is based on the popular manga by Tite Kubo, considered as one of the big three animes of Shounen Jump (the other two are Naruto and One Piece).

Published by Siam Games and developed by KLabGames, Bleach Mobile 3D will follow the adventures of Kurosaki Ichigo, a normal student turned part-time Shikigami (Death God), and the conflict between Soul Society (the spiritual world which governs the afterlife) and Hueco Mundo (more or less the Purgatory.) There will also be new storylines for players to explore, but Bleach fans will be glad to know that the original voice actors from the anime will reprise their roles for the game.

The game is an action-packed hack and Slash RPG. Players can freely explore with a full 360° camera view the various Bleach worlds such as the aforementioned Soul Society, Hueco Mundo, the human world, Las Noches, and many more iconic locations from the anime. You'll also have the chance to form a team composed of the most powerful Shinigamis like Zaraki Kenpachi, Kukichi Byakuya, Hitsugaya Toushiro, Kukichi Rukia, and Abarai Renji, and release their iconic skills and powerful Bankai transformations.

There's a bunch of multiplayer modes as well with real-time solo and team PvP modes, Aizen boss raids, and Hueco Mundo Brawl.

You'll need to download and install their APK to enter the CBT. Download it here.

The CBT opened on March 15 at 10AM (GMT+7) and will last until March 21 at 2PM (GMT+7). The testing period is open for Android users only. All game progress will be wiped out after the CBT ends.

Recommended device specs:

Android version 6.0
At least 1.5 ram
With 3GB of free internal memory
Pre-registration for Bleach Mobile 3D is also already up for both Android (Google Play Store) and iOS users (App Store.)

The manga and the anime might have ended but Bleach still lives through the games! Will you jump into Soul Society and try out Bleach Mobile 3D as well? Let us know! And don't forget to follow Enduins for more gaming news and updates!