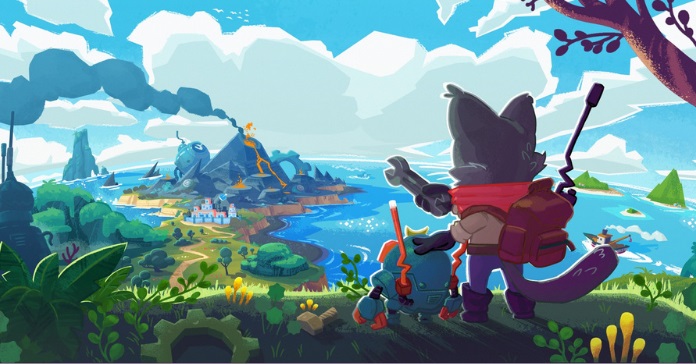 Featherweight Studios, the company behind the popular game Rodeo Stampede has recently confirmed that their upcoming open-world mobile RPG, Botworld Adventure now has a confirmed release date for both Android and iOS devices. The game has already been soft-launched in selected countries with generally favorable reviews.
Botworld is a huge, beautiful, and varied world which you can explore as you venture out to collect rare scraps and discover new bots. Players can enter new environments, meet a variety of characters, collect rare treasures and uncover the many secrets hidden in Botworld. Explore freely the many lush forests and arid deserts but make sure you have a strong team of bots because you never know what's around the corner.
Build your own team of charming bots, each with different abilities and roles in your team whether it be a tanker that can take a lot of hits or an all-out terminator that deals huge amounts of damage to opponents you find in the world or in the arena, NPC or real players alike. There are currently 12 unique zones players can explore right now and we can expect the game to get more zones in future updates.
Game features:
Battle – Outsmart your foes in a unique strategic battle system. Your bots will leap, charge stun, or blast around the arena with advanced AI while you plan the perfect abilities to stomp your foes. Each bot has unique abilities and a powerful ultimate, combine these with the powerful player abilities for maximum effect.
Collect & Customize – You will discover build and collect rare and powerful bots to create the ultimate team. Search the world to discover new bot recipes and collect the rare scrap to build and upgrade your favorites. Customize their powers and abilities as they level up and get stronger.
Choose your Character – Play as one of 4 races: cats, dogs, buffalo, and lizards. Choose a unique look to add your own personality to the character.
Botworld Adventure is set to globally launch on October 13, 2021. The game has already been soft-launched in certain lucky countries like Australia and The Philippines. You can check if your region is also available through the Google Play Store and iOS App Store. If not, then pre-register now to get notified when the game becomes available.