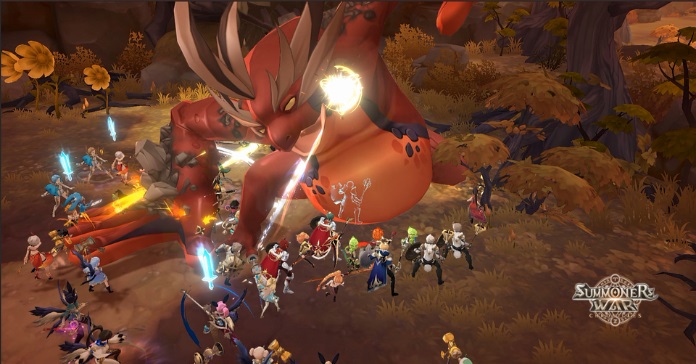 South Korean publisher Com2uS has released the first official gameplay trailer for Summoners War: Chronicles during Gamescom 2020! This new video lifts the veil on many details about the upcoming mobile MMORPG. The game aims to further develop the origins of the universe of the hugely successful Summoners War: Sky Arena with a new storyline and brand new and engaging gameplay mechanics.
With Summoners War: Chronicles, Com2uS is developing a whole new epic MMORPG on Android and iOS. It continues the story of the Rift of the Worlds, which started in Summoners War: Sky Arena, and expands its world with a plethora of never before seen celestial islands in a vast and dense universe. Players can battle each other in PvP, Arena World, or Arena 2v2. Guild Battles and the Ascension Tribunal will regularly offer new challenges for those thirsty for it. Players can also level up their character by fishing, mining, or just lounging in a spa!
Summoners War: Chronicles is scheduled for a CBT phase in the first quarter of 2021 and a target official launch date hopefully by the second quarter. The game will be free to download and play for iOS and Android devices with expected microtransactions. Visit their official social media page for more information!