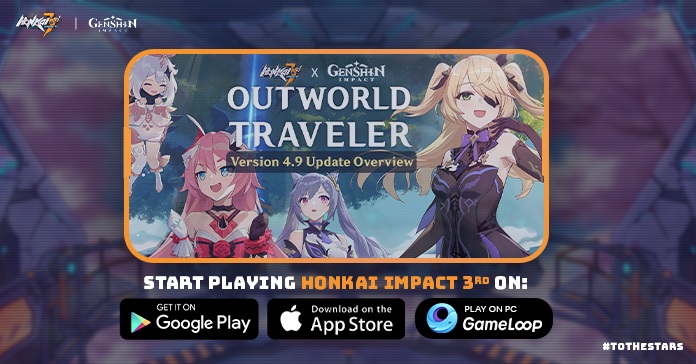 Honkai Impact 3rd and Genshin Impact's epic crossover event has officially launched! And who better to represent Teyvat than the Adventurer's Guild's royalty and everybody's favorite Chuunibyou – Fischl! She's now a permanent character in Honkai, joining the Valkyrie in their epic campaign!
With Fischl's arrival, specific missions and challenges have been added during the Outworld Traveler event to obtain Celestial Hymn's newest outfit, the [Heat of Trifolium], 3★ Stigma [Outworld Traveler (T)], [Prinzessin der Verurteilung] Fragments, and the crossover memento, [Outworld Quest Emblem].
But wait, there's more! Fischl isn't the only character who will travel between worlds in the crossover. Rozaliya Olenyeza is coming to the continent of Teyvat as well! Players can explore the cube-platform land of Teyvat to complete missions and receive event-exclusive rewards!
Roza will be teleported to Teyvat arenas and get to fight monsters, Genshin Honkai-style. She'll also meet two of the most beloved characters in Genshin: the game's mascot Paimon and one of the Knights of Favonius, Klee the Spark Knight!
But wait! The crossover doesn't stop there! If Klee is representing Mondstadt, then Keqing will represent Liyue! The Yuheng of the Liyue Qixing will also be playable while you explore Teyvat as Roza!
Well, what are you waiting for? There are tons of new features and a boatload of rewards waiting for you in this amazing crossover event! Download Honkai Impact 3rd and journey together with the Valkyries and the Outworld Travelers now!