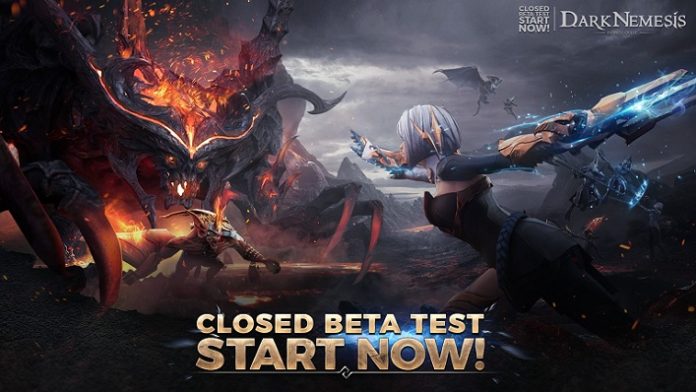 Game publisher Nuverse has recently released the Closed Beta Test phase for their brand new mobile MMORPG, Dark Nemesis: Infinite Quest for the Southeast Asian region. Begin an epic dark fantasy adventure with stunning special effects, smooth controls, and a storyline packed with adventure and combat.
The Crystal of Light, an all-powerful artifact has fallen into the world of the Dark Nemesis resulting in the rise of the dark forces and giving way to a massive power struggle to obtain the Crystal for themselves. You the player will take on the role of one of the Peacekeepers and embark on an unknown journey to find the Crystal before it falls into the wrong hands.
Game Features:
First-rate graphics & 3D models create an immersive dark fantasy world. Innovative scenes & demons unlock a mystery MMO world at your fingertips.
Infinite character upgrades & endless new skills to unlock. Abundant equipment and weapons waiting to be collected, activate sets to gain unrealized glory. Spirits are your closest companions and most dangerous weapons. They are by your side through thick and thin.
Slash through atrocious demons with epic special effects and 3D graphics on the battlefield. Seamless MMORPG gameplay & smooth control create action never experienced before. Combo attacks lash out ultimate damage that crushes epic demons.
Hundreds of players join guild battles to bring you the most action-packed gameplay you have ever experienced. The core gameplay "Treasure Dungeon" incorporates socialization to the max. Chat with your friends and make new teammates achieve glory.
Dark Nemesis provides multiple parallel worlds where good and evil collide in an epic adventure
Immerse yourself in this journey filled with twists and turns. Master your destiny!
Dark Nemesis: Infinite Quest is currently in its Closed Beta Testing phase that begins on August 17 and will last until September 11, 2021. Players can download the game now in the Google Play Store and iOS App Store. Dark Nemesis is available for SEA including Indonesia, Thailand, Malaysia, and the Philippines. For more information, visit their official social media page. Do remember that this is a beta test so all data will be wiped to prepare for its official launch.