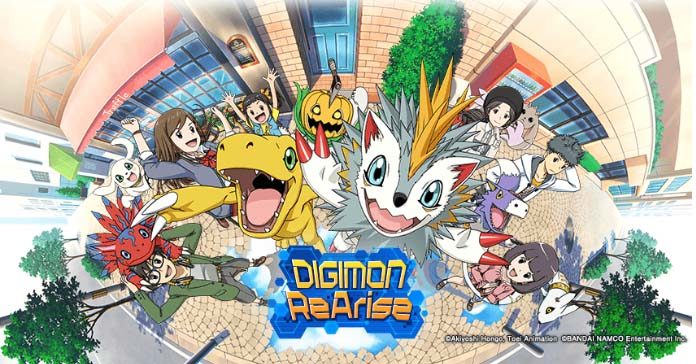 Digimon has long been considered as the top rival to Pokémon and a definite part of most gamer's childhood. Who could forget these adorable little anime monsters who "digivolves" into powerful beings strapped with every possible weapon imaginable from head to foot? That's why Digimon ReArise, a turn-based 3D mobile RPG published by Bandai Namco, has built up a solid fanbase in Japan. And now, everyone around the world will soon share the fun with the game's imminent global release!
The game's story starts with an unknown Digimon calling itself Herissmon has appeared, and an unknown malicious force only known as "Spirals" has suddenly attacked! You get to survive but you also find out that these attacks are happening all over the world!
It's up to you then to form a team comprising of five Digimons and save not just the physical world, but the Digital world as well. The game will focus on the friendship Digimon Tamers and Digimons share and solidify throughout your campaign. The combat is turn-based with the usual JRPG elements like type weakness, counters, special skills and so on. You'll also be juggling between growing your Digimon and forming a relationship with them. Of course, you can also Digivolve them to create more powerful and advanced Digimons.
Game features:
A story connecting Digimon and Tamers. A completely original story that follows Tamers and Digimon as they grow and deepen their friendships. Brand new characters designed and illustrated by Katsuyoshi Nakatsuru, one of the original character designers from the Digimon animated series!
Nurturing Digimon-Tamer friendships through shared moments. Watch your Digimon interact and play together in your custom DigiTown. Connect with other Tamers and work toward common goals.
Test the strength of your bonds in battle. Build a personalized Digimon team and prove the power of your friendship in real-time battles of up to 5v5! Go head-to-head in the Battle Park or team up with fellow Tamers against powerful Digimon in Clash Battles.
Train and care for your Digimon. Help your Digimon workout, listen to their unique requests, and unlock the path to Digivolution. If you grow close and strong enough, they might even Mega Digivolve!
Pre-registration is now live for the Google Play Store and the iOS App Store. There's no official date yet as to when the game will officially release, but with all indications, it might be really soon. Are you a Digimon fan? Who's your favorite? Let us know! And don't forget to follow Enduins for more gaming news and information!