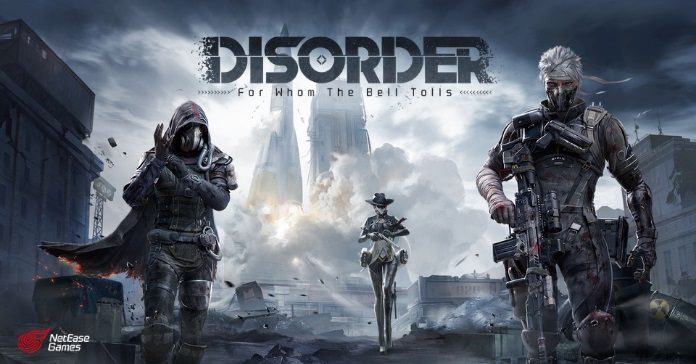 NetEase has an impressive list of shooter games for mobile. Back before PUBG Mobile and Fortnite landed on mobile, they offered some pretty awesome titles like Knives Out and Rules of Survival. Now, they have another shooter on the horizon called Disorder. The game has been tested in China and it's finally opening its servers for another Closed Beta Testing that will be available for certain countries in Southeast Asia.
Disorder takes place in the not-so-distant future of 2030, when humans have waged an endless war with each other bringing the rise of private military groups and mercenaries-for-hire. Becoming a soldier for income became the most sought after job. This has lead to the splitting of the population into different factions that are constantly fighting each other for money and nuclear weaponry. The Pale Knights (protectors of nuclear debris,) the Ghost Puppets (believed to be the ones who started the war,) and the Cadaver Units (society's forgotten soldiers who now seek vengeance.) The game will transport you inside the rich and well-crafted story giving you the chance to discover how these different members from different factions ended up joining together and fighting for one cause. 
Disorder is basically a team shooter where players can form a team of five. The CBT period will see a roster of 14 playable heroes, each with his/her own unique background story, special abilities, and exclusive talents. The game offers different types of matches, from mission modes to player versus player. Even though there's an already established roster of characters, you can still customize them. This includes weapons and skill load-outs and their looks as well. Other game features include:
Choose from a cast of characters with different roles in the battlefield: detect, maneuver, enhance, support, and stealth. Each character carries two custom-made guns and three unique abilities that can be enhanced. Choosing the right weapon and abilities in certain situations will raise the chances of success of the mission.
Gain currency from killing other players and pilfer their items to upgrade your gear. Upgrades are diverse and you can customize both weapons and abilities to adapt to the changing battlefield.
Team up with four more players and compete against 19 enemy groups to rule the battlefield. Work with your squad to establish a plan of action to occupy and secure the area's missile silo.
Discover the deep back story of each member of the armed factions.
The new Closed Beta Testing period will start on August 1
Indonesia / Thailand: Opens at 10 A.M. (GMT +7)
Malaysia / Philippines: Opens at 11A.M. (GMT +8)
Disorder Closed Beta Test will be available for both Android and iOS devices. The official service launch of the game is yet to be announced but based on Netease's track record, it will probably be about a month or two after the CBT. Visit their official website for more information about the game. What do you think about Disorder? With so many shooter games right now in the market, do you think they can rise to the top spot and compete with PUBG and Fortnite?