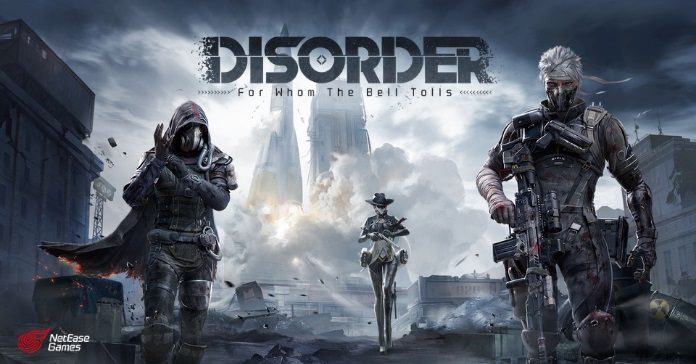 Netease has been on a roll since this year started, releasing mobile games left and right! Today, they have announced yet another one will be entering closed beta testing period soon: Disorder.
Disorder is a third-person mobile shooter first announced at the Game Developers Conference. Players will be forming squads that will traverse a post-apocalyptic world that has become a playground for mercenaries, thieves, and gangs. Their main goal is to gather nuclear weapons, money, and resources. The people of the wasteland are divided into different factions. The ones currently revealed are the following:
Cadaver Unit
"Apart from the Plague doctor, who maintains the physical condition of the reanimated soldiers of the Cadaver Unit, a special biochemical unit, and the commander Nightingale, no one in the unit knows who they are. The Cadaver Unit has stolen numerous nuclear suitcases from the Pale Knights and has become quite a nuisance."
Pale Knights
"The ultimate objective of the Pale Knights is to collect all nuclear weapons in circulation. The faction's leader has declared that the organization's only objective is to protect the spark of social order. They attack any faction with nuclear weapons indiscriminately."
Ghost puppets
"Ghost Puppet is a private military company that profits from the war. They were the first to practice war economy during the war, and align themselves with multiple belligerent factions like a chameleon. Most agents from Ghost Puppets regard war as business and are more businessmen than soldiers prone to repeatedly changing their allegiance. "
New factions will be introduced as the game progresses. Disorder has already finished a closed beta testing phase in China last April, and this time, they will conduct the CBT for Australia, New Zealand, Indonesia, Malaysia, and the Philippines. Here are the schedules below:
Opening Date of CBT: June 27
Time:
Indonesia: Opens at 10 A.M. (GMT +7)
Malaysia / Philippines: Opens at 11 A.M. (GMT +8)
Australia : Opens at 13 P.M. (GMT +10)
New Zealand: Opens at 15 P.M. (GMT +12)
The CBT will be available for both Android and iOS users. Netease did not mention how long the CBT will last, so remember to mark your calendars on June 27 and invite your friends to prepare for battle and join the war!