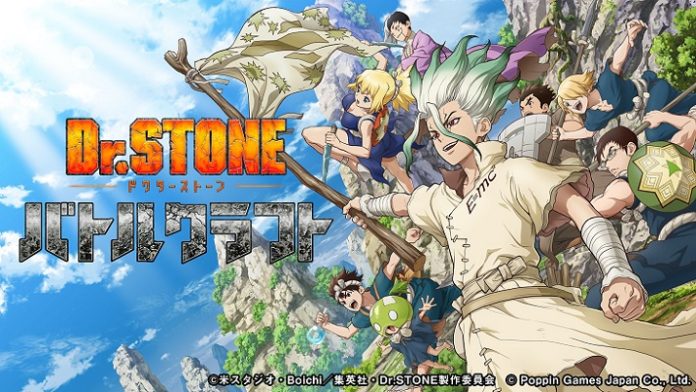 The official title for the first mobile game based on the popular manga/anime, Dr. Stone has been revealed earlier this day. Officially titled Dr. Stone Battle Craft, the game will see players collect materials and craft their own items to be used in "fierce" player versus player battles.
If you're not familiar with the series, Dr. Stone is a Japanese manga/anime written by Riichiro Inagaki and follows the story of Senku Ishigami, an 18 year old genius who was suddenly revived from being petrified 3700 years in the future. A future where all traces of humankind has been destroyed and the rest of the human race were petrified into stone by an unknown event. Discovering that he can revive others by using nitric acid, he immediately revives his friends and classmates with the goal of creating a new civilization that will be built from the ground up by science. But not everyone agrees to this. A splinter group emerges, factions are formed, and a great battle for the future of humankind begins!
Dr. Stone Battle Craft has quite a unique gameplay. Players will command popular characters from the series with the goal of destroying your opponent's base while at the same time, protecting your own lands. To do this, you'll need to collect different materials and use them to craft items that will provide you advantages during battle. You can collect materials by doing "Searching Quests" through different areas. Different materials will be available in different locations. As you proceed through the game, your kingdom will start to grow. Gather more materials and craft more items to make your base level up and prosper. There's also a main storyline to follow so players need not worry about the lack of content cause there's plenty to do in the game.
Players in Japan can pre-register now and get these awesome goodies when they reach certain milestones:
100,000: Gems for 2 times Gacha
200,000: Gems for 4 times Gacha
300,000: SR Kohaku + Gems for 3 times Gacha
Dr. Stone Battle Craft is set to launch in Japan first later this year. Interested players can pre-register now through their official website. You can also follow their official Twitter to get news and updates about the game. No official news as to when the game will get an English/Global version but if the game becomes successful with its local launch, we might see it go global sooner than expected.