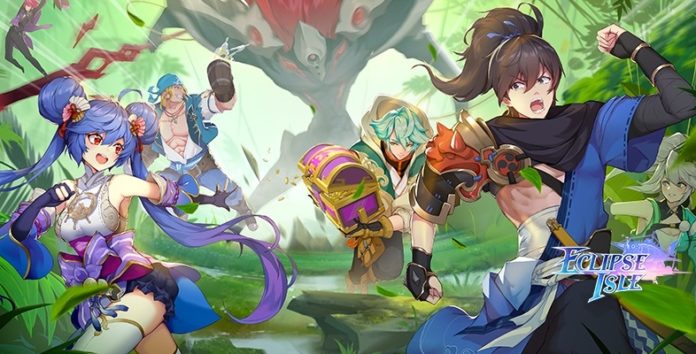 After a successful pre-registration period that garnered over 50,000 signups, Netease's 3D anime-style mobile battle royale game Eclipse Isle has finally entered soft launch!
Eclipse isle is a battle royale / MOBA hybrid for mobile developed and published by Netease. Players can select from an ever-growing roster of heroes, each with a different set of skills to participate in a battle royale match that consists of 60 players. You can go solo, form a duo, or create a squad that consists of four players. Just like any other battle royale, you'll start off by landing on a map that is divided into different areas. You'll then proceed to loot gear and items to help you survive, and engage in combat with other players while your map gradually shrinks. The last one standing wins.
Sounds like any other battle royale game, right? But that's where the similarity ends. Eclipse Isle is part MOBA, meaning each character has a set of unique skills. You can choose a hero who takes enemies head-on using explosive power, a tank that can take a lot of punishment and still deal pretty decent damage, or a ranged hero that excels in hit and run tactics. Additionally, heroes can be leveled up to gain more power. Defeating NPC monsters scattered around the map can give you experience and also allows access to whatever they are guarding, whether it be a treasure chest or a cooking station where you can upgrade your food for gaining buffs and healing.
There's also a bunch of special items scattered around the map that, when used, will give players a rather quirky upper hand against their opponents. This includes becoming a tree as a disguise, hiding inside a cardboard box and sneaking around to avoid detection, and many more.
Game features:
Multiple heroes with a variety of talents are available in the game.
Release special skills in the Battle Royale match. Each decision you make can help you reverse the situation and become the last one standing on the Isle.
Experience four seasons throughout the battle in this Big World. Collect, camouflage, sneak in, track, and cook! Various strategies can be used on the Isle!
A wealth of equipment and supplies to be scavenged. Riding horses will bring you better battle experience. You can also use a Bow and Arrow to shoot your enemies.
Eclipse Isle is now available to download for Android while the iOS version will follow soon.  The game currently soft-launched in the Philippines and will support multiple languages including traditional Chinese, English and Bahasa. You can visit their official website for more info. What do you think about this new hybrid battle royale? Let us know and hit the comments section!