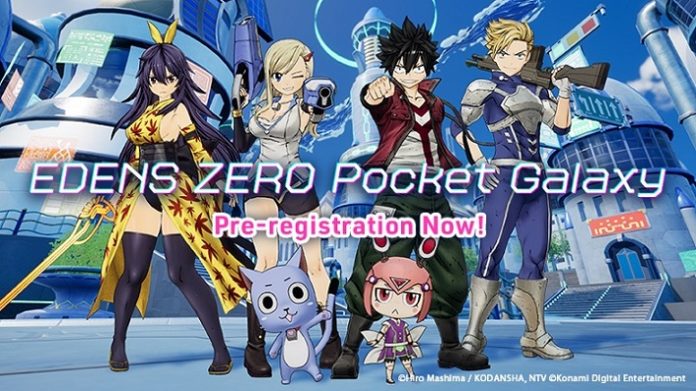 Konami has recently announced that Edens Zero: Pocket Galaxy, the mobile RPG game based on the popular manga and anime by Hiro Mashima (Fairy Tail, Rave Master) is opening the pre-registration phase for the game's global version which is set to launch later this year!
Edens Zero is set in a futuristic fictional world where countless people are able to travel in space. A B-Cuber streamer, Rebecca gets her life turned upside down when she meets Shiki, a boy from the machine planet of Granbell who has the ability to manipulate gravity. Together with their friends, they travel together and get into wild adventures in space, meet new people, and discover unknown worlds. Of course, there's Hiro Mashima's signature Power of friendship subplots in the series as well.
Made with Unreal Engine 4, Edens Zero: Pocket Galaxy will see players create their own team consisting of their favorite characters from the series while the gameplay will be a mix of action and RPG mechanics. Some of the confirmed playable characters include Shiki Granbell, Rebecca Blue Garden, Weisz Steiner, and Homura Kogetsu. There will be plenty of character equipment and abilities customization in the game plus over 100 available costumes designed by Hiro Mashima himself.
Some of the adventures and quests in the game will be directly pulled from the manga while new and alternative story routes including side quests will also be available.
Pre-registration rewards so far:
Over 100,000 registrations: Three skip tickets (item to skip and clear quests).
Over 200,000 registrations: One Iridescent Material (item to use for Cosmetics Crafting).
Over 300,000 registrations: 100 Ether Drive (ED) (100 ED is used for "Item Drop Reward +10x" boost at event dungeon).
Additionally, every player who pre-registers will get the Cyber Costume skin as a free gift.
As of this writing, these are the currently unveiled rewards for those who sign up for the game. More pre-registration rewards will be revealed when the game reaches more pre-reg milestones. Android users will need at least version 9.0 with 4GB of ram with a Snapdragon 845 for optimal gameplay experience, while iOS users will need version 10.0 or later.
Edens Zero: Pocket Galaxy is set to launch globally later this year. You can pre-register now by going to their official Konami pre-registration page. Simply fill up the required information on the form and you're good.