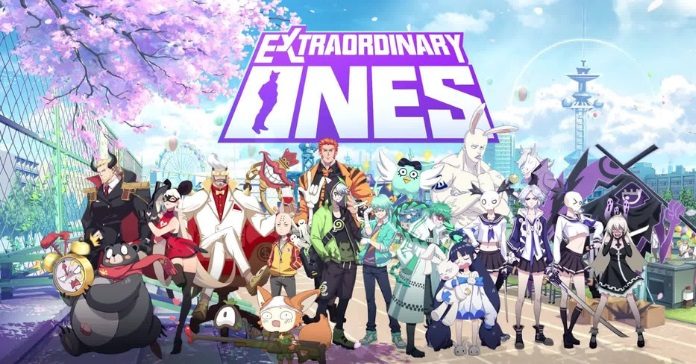 Publisher HERO Game officially launched the anime-themed Extraordinary Ones for Android and iOS devices! Formerly known as Inhuman Academy, the game is a brand new MOBA set in a fictional high school attended by people with superpowers.
Extraordinary Ones is still your classic three-lane 5v5 MOBA, but with a twist. A bunch of unique features in the map can be found such as treasure chests that give random items, more jungle monsters then your traditional MOBA, and teleport pads that can instantly place you on the other side of the map. There's even a catapult in your home base to fling you for faster travel. The most intriguing features are the jungle monsters that don't just give you a buff, but also fuse with your hero, giving them unique new skills. There's also the "awakening" system where heroes that reach level 12 will have their strength and skills enhanced, making them more formidable on the field. Jungle monsters also become awakened as long as any hero reaches level 12.
Game features:
Classic 5V5 Battle – Team up with your friends and achieve victory as a team. Choose from different types of heroes like Assassin, Support, Ability Power, Tank and so on. Try various play styles and powerful heroic skills. Crush your enemies in real-time 5vs5 combat.
Over 56 Legendary Heroes – Master a roster of over 56 amazing heroes combining eastern myths and modern art.
Innovative Hero Awakening Mode – After reaching level 12, Heroes will be awakened with strengthened skills and items. Even the monster and minions get into stronger awakened stage.
All-star Japanese Voice Cast – 48 top-level Japanese voice actors including Aki Toyosaki and Koyasu Takehito present distinctive voices to each hero.
Academy-Style 3-Lane Map – Beautiful academy-style design is combined with the classic 3-lane layout. Beat monsters in a library or basketball court, get additional buffs or even a mount by beating specified monsters, and open the Treasure Box for unexpected items like Curse Eggs or Angels.
Hero Intimacy System – Want to build a closer relationship with your hero? Set them on your homepage and interact with them by shaking or sending a gift! Unlock more skin, CV, and facial expressions with higher intimacy.
Extraordinary Ones is developed by Netease and is published by HERO Games. A global version is yet to be announced, but we'll update you as soon as we have more information. What's your take on this new MOBA? Will the anime-styled visuals win you over?