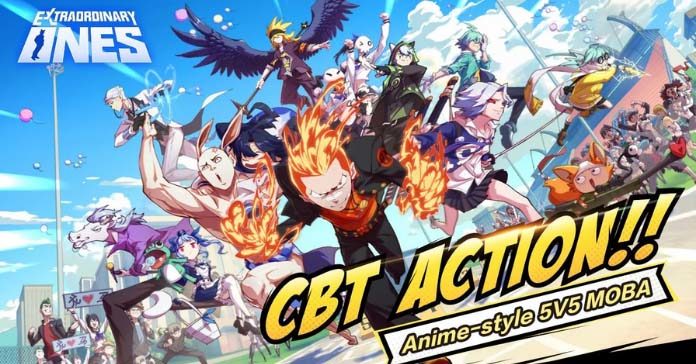 Hero Entertainment has confirmed that they have signed up a deal to be the publisher for Netease's brand new self-developed 5v5 anime-style MOBA for mobile – Extraordinary Ones. They'll be distributing the game for Southeast Asia.

Extraordinary Ones is a classic 5v5 MOBA with a twist. The map is still the traditional 3-lane setup but made to look like a school academy. There's a track and field lane, basketball court, a football field, library, and many more. The map also has a bunch of new features you can interact with such as treasure chests, a gold loot that will give you a random item, more jungle monsters, and teleport pads. There's even a catapult in your home base to fling you for faster travel. The jungle monsters don't just give you a buff, they also fuse with your hero giving them unique new skills.

The heroes are stylized in a cell-shaded anime design. From students, to janitors, and even the teachers and school principal, each hero has their own classic role, like ADR, tank, assassin, melee, AP, and support. There are currently over 56 heroes in the game's roster inspired by eastern myths and modern art with a unique take, giving them some crazy and quirky visuals. The game has a unique feature called "awakening" where heroes that reach level 12 will have their strength and skills awakened, making them more formidable in the field. Even the jungle monsters become stronger as long as it reaches level 12. There's also a hero intimacy system where you can increase your bond with a hero by sending gifts, allowing you to unlock new skins, facial expressions, and new CVs.

And speaking of CVs, there are over 48 top-level Japanese voice actors who gave their talents to the game including Aki Toyosaki and Koyasu Takehito, to name a few. You can change the voice from Japanese to Chinese and vice versa.
Extraordinary Ones 5v5 MOBA is currently in CBT phase for Android that will last until April 29 10:00 (GMT+8). All data will be wiped before the official launch happens. Log in for 7 days straight during the CBT and you can get Tamago's "Little Red" skin unlocked permanently. Additionally, if your account reaches level 10, you can win Hadenna's limited Dye. Both items will be received during OBT. Official launch date has yet to be announced. For those who want to try it, you can download the game now in the Google Play Store.