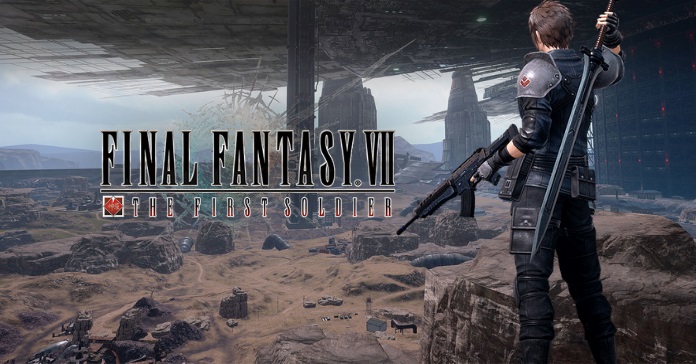 1997 was the groundbreaking year when Square Enix (known before as Squaresoft) introduced Final Fantasy VII to the world and changed how we saw games and what they're capable of. Fast Forward to the present, FFVII is still as popular as the day it was first released, maybe even more, with a remake for consoles already out, tons of spin-off titles, a movie, and another episodic remake coming to mobile. Now it's tackling a new game genre, no Final Fantasy title has before: Battle Royale.
Final Fantasy VII The First Soldiers is the newest addition to the FFVV sub-franchise. Players will join to fight in the ranks of Shinra's elite SOLDIER units in a high-octane battle royale shooter combined with Final Fantasy's signature fantasy RPG elements. Choose a combat style, such as Warrior or Sorcerer, and eliminate your rivals by any means necessary, be it gun, sword, or magic.
Players are thrown into a battlefield where the goal is to be the last one standing. Level up by defeating monsters scattered throughout the map and call upon the mighty Summons that will include fan favorites like Ifrit and Shiva to fight for you. You can even catch a Chocobo and dash around the map to reach your destination faster or place yourself quickly in a more advantageous position.
Game features:
Fight Using a Combination of Melee, Magic, and Firearms. Use all the options at your disposal to overwhelm your enemies in highly varied and strategic combat.
Level Up and Upgrade Your Arsenal During Battle. Fight monsters on the battlefield to gain experience points, power up your skills and raise your max HP. Use Gil you pick up to upgrade your equipment and purchase items.
Choose from Varied Styles, Each with Different Strengths. Will you be a Warrior and take the fight to the enemy with powerful melee attacks? Or do you prefer the ability to cast augmented spells as a Sorcerer? Perhaps sneaking in and out of combat as a Ninja is more suited to you? Choose from these styles and more before every battle to determine your playstyle!
Visit and Play in Iconic Locations from FFVII. Seventh Heaven, Corneo's mansion, the train graveyard, and even a familiar house surrounded by flowers are just some of the iconic locations you can visit on each expansive map.
Fully Customize Your Character! Choose a look that fits your unique personality with a huge variety of costumes, emotes, and more.
To celebrate the pre-registration phase, Square Enix will be giving away a Shinra Helicopter Skin if the game reaches 2 million sign-ups so be sure to invite your friends to pre-reg now and form your own squad when the game finally arrives. You can do so by going to the games Google Play Store and iOS App Store page. You can check out their official website for more information.