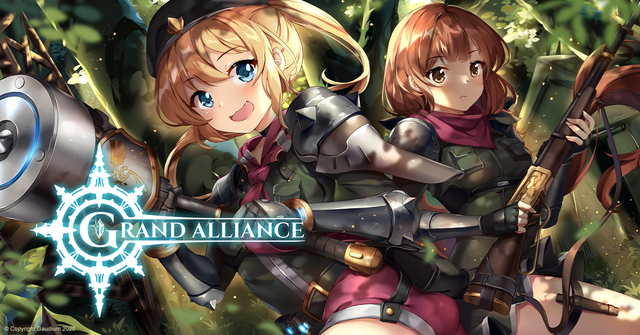 Crunchyroll's newest mobile game, Grand Alliance finally opens its pre-registration period with the exclusive hero, Clarissa is up for grabs!
Grand Alliance is an anime-style mobile RPG that takes place in a fantasy world on the brink of war. The Imperial family has been assassinated and a tyrant has taken over the Alcyon Empire, giving rise to power struggles between five noble houses who conspire against each other to gain dominance over the kingdom and the world. Players will follow the story of Amelia Revensburg, the last surviving heir to the throne, as she aims to reunite a country divided by war and strife and reclaim her rightful throne.
Control a team of three heroes in a squad-based RPG to clear dungeons and battles in real-time action combat. Customize your heroes with a variety of powerful equipment and mix-and-match your play styles with interchangeable skills that you collect throughout the game.
You will fight legions of enemy forces in real-time action combat, with a fully customizable squad of heroes. Develop their natural talents, equip powerful skills, and battle with finesse. Travel across a shattered empire to gather new allies and reunite the 5 noble houses under your banner.
Game features:
Experience the campaign with fully animated character portraits for every playable character and NPC in the game.
Control a customizable squad of heroes in real-time action combat in locations that take you across the world of Alcyon.
Mix and match your play styles with interchangeable skills and classes.
Strengthen your heroes with procedurally generated equipment and enhancement.
Test your skill against other players in the Grand Arena, a PvP arena with glorious rewards and bragging rights.
Follow the story of Amelia, the last surviving heir to the Imperial throne as she seeks to reclaim her birthright while recruiting new allies to her cause.
Navigate a shattered empire, torn apart by power struggles amongst the five noble houses.
Grand alliance is now open for pre-reg. Visit their official website to sign up. Android users in few selected countries can already download the game via The Google Play Store since it has been in Early Access for quite some time. If you do decide to play now, don't worry, your game progress will not be deleted and can be continued once the game officially launches. Journey across the continent to gather new allies, uncover hidden mysteries of the world, and unite the nation under your banner.