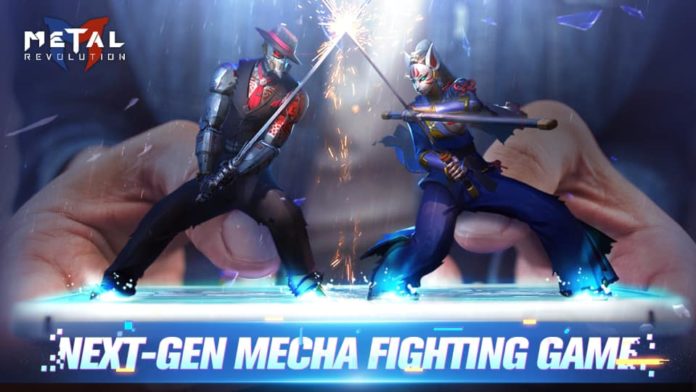 GTarcade, a subsidiary of YOOZOO Games, has announced that the action fighting game Metal Revolution is coming soon to mobile devices. Developed by NExT Studios and published by Gtarcade, the game is a next-gen mecha fighting game that brings the classic feel of arcade fighting into the age of cyberpunk and enhanced cybernetic combat.
Players will be able to take control of a wide range of fighters with their own fighting styles and customizable aesthetics in order to climb through the ranks and advance through an authentic arcade game experience. Features of Metal Revolution include:
14 cyberpunk fighters at launch, each with a different playstyle, aesthetics and fast head-to-head action gameplay at up to 60fps.
Basic moves and combos that players can combine into advanced techniques, mix-ups, cross-ups and guard breaks.
Authentic fighting game experience based on the roots of the genre on the backdrop of an atmospheric cyberpunk reality.
Competitive ladder with divisions and rank up rewards as well as a replay function, advanced netcode and custom lobby options.
A complete fair play where players can unlock new fighters or even skins just by playing the game.
"We're excited to be publishing Metal Revolution on mobile. With its stunning graphics, deep gameplay mechanics and accessible controls, Metal Revolution is apparently the best of its kind. Since the game was first announced in 2018, it has already been a highly anticipated and acclaimed title in the fighting game community. It's a pleasure to work with NExT Studios, who are a group of passionate game lovers and diligent developers, to present this ambitious and highly creative title to gamers worldwide."

Qin Liu, Vice President of YOOZOO Games
"As we have been building Metal Revolution, we have spent a great deal of time thinking about ways to improve the online fighting game experience, from motion capturing the moves of professional martial artists to creating a new network recovery system that will help keep gamers engaged even when internet connections drop. We're so passionate about Metal Revolution that we would like to invite you to take our team on directly in a special developer arena once the game launches. Come show us your best moves!"

Jensen Hu, Metal Revolution Game Producer
Metal Revolution is currently set to enter pre-registration soon and release in the second half of 2021. The mobile version of the game will be available to download on iOS and Android globally and will offer language support in English, French, German, Spanish, Portuguese, Russian, Indonesian, Thai, and Simplified Chinese. For more info, stay tuned by visiting the game's Facebook or official teaser page.