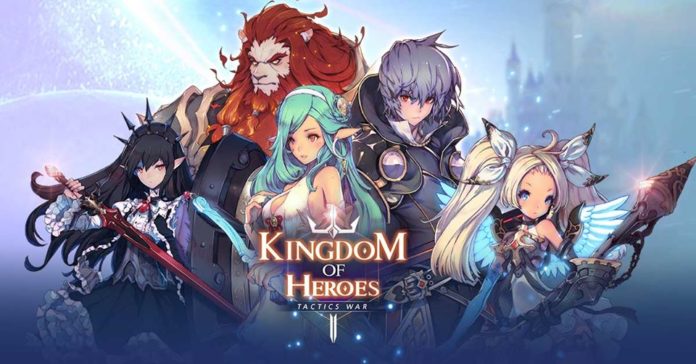 Game publisher NEOWIZ has announced that the global version of Kingdom of Heroes: Tactics War is launching for Android and iOS soon.
The game is based on the English Arthurian legend, where you must help the main protagonist, Arthur to build a team of unique characters as well as an army to repel the forces of evil that seek to take control of the land.
Since this is touted as a strategic RPG, the gameplay will run similar to titles like Final Fantasy Tactics and Disgaea where instead of tiles as your means of traversing the battlefield, hexagons will be used instead. There will be over 180 characters available to collect upon launch categorized between 5 different classes. Each of them can be equipped with gears, runes, and skills. Additionally, they can be enhanced and upgraded to give them more power. Game modes include your standard adventure campaign, the PVP arena, rune dungeons, guild and guild raids, and the staple tower challenge.
Other game features:
Turn-based tactical battle on a hexagon battlefield!
Form your best party by creating various Hero line-ups with Heroes of specialized skills.
Test the limits of your Heroes in the Tower of Arrogance.
Acquire the best Runes for your Heroes inside the Rune Dungeon.
Dominate your opponents with your very own Hero line-up in the PVP Arena.
Awaken the hidden powers of your Heroes inside the Awakening Valley.
Collect Hero Pieces to summon Heroes in the rift Rift Dungeon.
Join a Guild and participate in Guild Raids to fight daily bosses and triumph in Guild Wars with comrades.
Defeat the all-powerful conquistador from a different realm in the Alter Realm.
Kingdom of Heroes: Tactics War is scheduled to launch in August 2020 but there's no specific date was given as of this writing. Android users can already pre-register by going to the Google Play Store while iOS users will need to wait a little longer for the game. Kingdom of Heroes has already proven to be quite popular in South Korea. Hopefully, the global version will be successful as well.