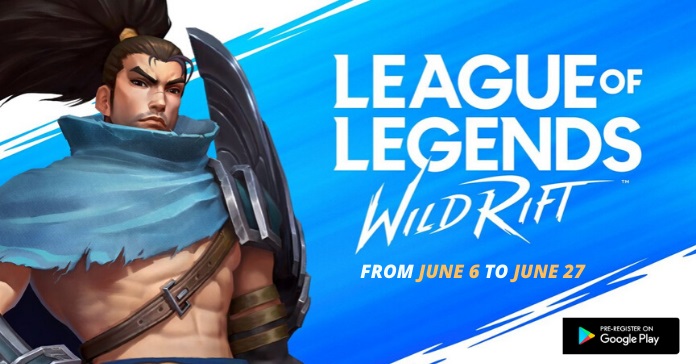 Riot Games has finally confirmed the date of the much awaited limited Alpha Test for League of Legends: Wild Rift, and lo and behold, it will happen at the very first week of June!
The announcement came right after the League of Legends: Wild Rift gameplay reveal was live-streamed on Summer Game Fest, the online gaming convention. This was followed by an interview with Bryan "FeralPony" Feeney, the lead designer for LOL: Wild Rift. In the interview, he answered some questions about the game regarding the decisions they made on developing the game, the push for the mobile version first before console, and why those 36 champions were chosen to be the first to be added in the roster. It was a fairly short interview, but it was full to the brim with fresh details about Wild Rift. 
If you haven't checked out Wild Rift's recent gameplay reveal, go do that first by watching the video below:
Riot has compiled the top 10 questions that they think players and fans like you might have and put some much-needed answers to them. Let's dig in:
Q: What is the Wild Rift Regional Android Alpha?
From June 6 to June 27 (Manila time), Wild Rift will be available to a limited group of players in Brazil and the Philippines on Android phones. This test will be pretty small, and much of the game is still very work-in-progress, but we're collecting feedback on a few important things.
Q: What are you testing?
Wild Rift's core gameplay, because we have to know if Wild Rift lives up to your standards for a genuine League experience.
Game systems, so we can figure out if it's easy to get your friends onto Wild Rift if our progression systems feel rewarding, and that getting champs feels fair.
Infrastructure and service stability, to make sure we're upholding a high quality of service for your matches.
Q: How do I get in?
The test will be pretty small this time around, but we're going to be randomly selected from players who have pre-registered for Wild Rift on Google Play! We'll be inviting more players as the test goes on, so keep an eye on your email if you don't get in on day one. We're also raising the minimum device specs for this test, but there's more on that below. Reminder: Once invited, you'll need to log in with the same Google account you pre-registered with.
Q: What if I don't get in?
We won't be able to fit the majority of you in, but we still want to show you what we've been up to.
Q: Why Brazil and the Philippines?
Well, for one, we really love churrasco and chicken adobo. But we also wanna start in just a couple of regions where players aren't super similar in the way they play games. This way, we get a range of feedback and data to make sure we're hitting the mark among different groups of players!
Q: My skills are top tier, but my phone isn't—what are the minimum device specs?
We're temporarily raising the minimum device spec for this test, as we're testing a few things mostly unrelated to performance. We are committing to making the game accessible to as many devices as we can without compromising Wild Rift's core gameplay, and we'll be working more on this as we approach launch.
Regional Alpha minimum specs:
(Android phones only)
CPU: 8 Core, 1.5 GHz, and above, 64-bit processors only
RAM: 3GB and above
Resolution: 1280 × 720 and above
Launch minimum spec targets:
(Android phones)
CPU: 4-core, 1.5 GHz and above, 32-bit or 64-bit processors
RAM: 1.5GB and above
Resolution: 1280 × 720 and above
(iOS phones)
iPhone 6 and above
Q: If I get in, can I talk about the game? Can I record or stream stuff?
Yup! There's no NDA on this one. Make sure to show us what you make!
Q: Will anything carry over to the full launch?
Nope. Unless you count building up your sweet skills a bit before everyone else.
Q: What about if I encounter bugs or need to contact Player Support for something?
As Wild Rift is still in the alpha phase, and also due to the constraints that are currently impacting a lot of game companies across the world, Player Support for the Wild Rift Alpha will be a bit lighter than Riot's other titles for now.
Q: Where can I find more info?
Keep in touch with us, we really want to hear from you via our social media accounts, support site, and the official website.
Q: I have so many more questions!
A: We'll be running a Q&A for BR and PH players (whether you're in the alpha or not) when the test has been live for a little while, so get your spiciest questions ready and we'll answer them in another post.
Again, if you haven't watched the video yet, scroll back up again and do it cause you're gonna miss a LOT of information.
Riot has stated that all this is just a first step on Wild Rift's journey, but it's an important one. And we totally agree with that. They also encouraged fans to submit feedback regardless if they were able to play or not since these are very important data on their side to make the game as best as it can possibly be. One phrase came to our attention tho.
"As we approach launch and beyond"
Is this some kind of a sneaky hint? Is the official launch coming sooner than we expected? Whether we're just making our own conspiracy theories here because of the hype, or just pretty darn excited that Alpha Test is just a few more days away, League of Legends: Wild Rift will surely change mobile gaming history! More updates soon so don't forget to follow Enduins for more gaming news and information!