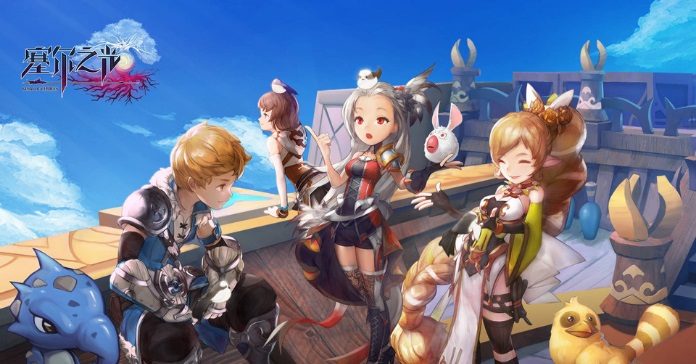 Chinese game publisher LR Games has recently launched their social media page for their upcoming 3D mobile MMORPG, Light of Zelda. The game looks awfully like another mobile MMO, Laplace M in terms of visual and gameplay. But that's just on the surface so let's check out what this game seems to be about.
Light of Zelda, also known as Glory of Cepheus (之 光) in China, is a 3D MMORPG mobile game. Judging by its trailer, the graphics are popping and very eye-catching. What we know so far about the game's story is that players will take on the role of a hero and that you'll be enlisting to join the resistance; a group of other warriors who are currently waging war to save the world against invading demons. The game also has plenty of content to engage in.  There's also a mention of a system where the playstyle of your character will vary according to the player. We don't fully understand this yet but it probably means you can customize your character according to your own style of gaming.
Besides having a variety of careers to choose from a magician, archer, Healer, etc., you can also organize a party with your friends and go out into dungeons, collecting treasure, leveling up and doing other activities at the same time such as fishing. The game also has a pet system and riding mounts which you can train to help you in combat. Additionally, a fashion system is present for your character as well as for your mounts.
Other game features to expect from Light of Zelda:
A huge world to explore and different continents to discover.
Amazingly designed mounts and pets that you can also train for battle.
Various dungeons and boss raids to participate in.
Player versus player arena modes.
Various "life" skills like cooking, mining, and fishing.
Tons of awesome and beautiful costumes to collect.
Marriage system. Propose to your special someone and invite your friends to the wedding.
The game looks promising. It's hard not to compare it with Laplace M, but we can't deny the graphics and visuals is uncannily similar. We currently don't have any updates on who will publish Light of Zelda and when will the Global/SEA version be announced, but the game has since been beta-tested in China and is currently available for Thailand. In the meantime, you can check out their official website to know more. Hopefully, we can get more info in the months to come so better stay tuned to Enduins to get the latest news and updates!