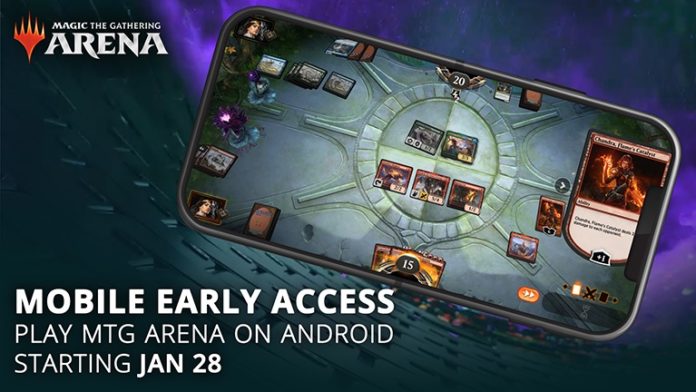 Great news for fans of Magic: The Gathering CCG! MTG Arena by Wizards of The Coast will soon be available for Android as early access with additional Android device, tablet, and iOS support coming later this year.
Magic: The Gathering has been around for 25 years and is still going strong with millions of devout fans playing the collectible card game all around the world. In 2018 a digital version of MTG was released for PC called Magic: The Gathering Arena or MTG Arena for short. The upcoming mobile version will be similar to its PC counterpart with minor tweaks to fit touchscreen devices. It will be free-to-play and will restore most of the original rules, cards, and core gameplay of the PC version. Additionally, cross-play with the PC version will be available as well so you can play with your friends regardless if you play on mobile or on a computer.
Players can access the game as long as their device hits the recommended specs. The early access will include cross-platform support with all cards and formats available in MTG Arena, including the upcoming release of Kaldheim.
Required device specs:
Android Version: 6.0 (Marshmallow)
RAM: 4GB
Graphics API: OpenGL ES 3.0
Texture Compression: ETC2
Kirin 970 chipset or Snapdragon 845 or Exynos 9810
Wizards promise an enjoyable experience with the long-awaited mobile version of Magic, pledging that they will try to make sure their releases are polished and ready to play. Magic: The Gathering Arena will be arriving on Android on January 28!