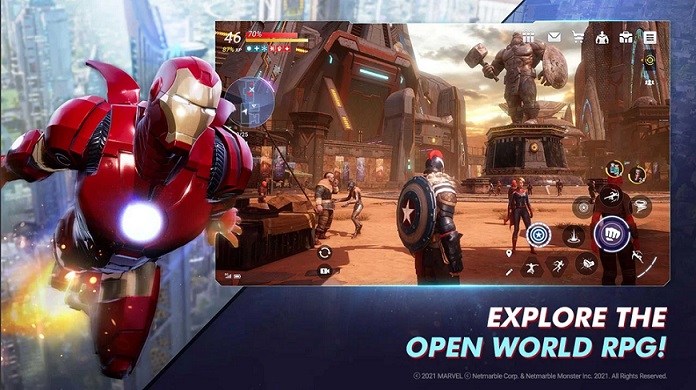 Marvel Future Revolution, the open-world mobile RPG based on the Marvel Comic Books franchise has opened its pre-registration phase on the Google Play Store. The game is touted as the sequel to Netmarble's highly successful Marvel Future Fight and another addition to their Revolution lineup of games.
What is Marvel Future Revolution?
Just a bit of a recap, the game was announced back in March 2020. This is Marvel's first open-world action RPG on mobile which makes it quite a big deal. Marvel Future Revolution will feature an all-new original storyline written by Marvel Comics writer Marc Sumerak and will star fan-favorite Marvel Super Heroes and Super-Villains. The game takes place in Primary Earth, a brand new addition to the multiverse which formed as a result of numerous different versions of Earth converging across all dimensions. Since Primary Earth is more or less a culmination of all Multiverses, the different versions of all Super Heroes and Super-Villains exist in this world.
Your role will be an agent working for Omega Flight, a newly formed organization of Super Hero teams based on New Stark City that seeks to put a stop to the relentless onslaught of Super-Villains, confront their suspicious behaviors, defend the multiverse.
Who are the playable characters in Marvel Future Revolution?
There will be a sizable batch of playable superheroes at launch, fan favorites as well. They include The Amazing Spider-Man, Captain America, Doctor Strange, Black Widow, The Invincible Iron Man, Captain Marvel, X-Men's Storm, and Star Lord from The Guardians of The Galaxy.
As for enemies, we'll get the various Super-Villains from Marvel including the Red Skull, Green Goblin, Baron Mordo, and many more. Additionally, since this is happening in the Multiverse, the different versions of Super Heroes and Super-Villains from different worlds will be included in the game. That means we can expect to see Spider Gwen, Miles Morales Spider-Man, and maybe even Doctor Doom Iron Man, Amadeus Cho Hulk, or Jane Foster Thor in the mix.
What are the game features of Marvel Future Revolution?
Marvel Future Revolution will offer tons of different game features including:
Open World – Marvel's First Open World Action RPG on Mobile! Discover an original story while exploring a vast, open world!
Costume Customization – Mix and Match Costumes by each part and complete your unique Super Hero!
A Colossal Clash Of Marvel Heroes And Villains – Exhilarating Action-Packed Gameplay Control each Super Hero's superpowers. Defeat villains with cinematic combat actions!
Real-Time Co-Op Content – Work with your friends to defeat iconic villains! Experience an array of game modes including Omega War and Dark Zone!
When will Marvel Future Revolution launch?
As of this writing, the game has already soft-launched in Canada. The pre-registration for Marvel Future Revolution has opened for the Google Play Store and iOS App Store. Despite this, there's still no official release date for the game yet, but Netmarble plans to launch the game before 2021 ends.
For more information about Marvel Future Revolution, visit their official websit.