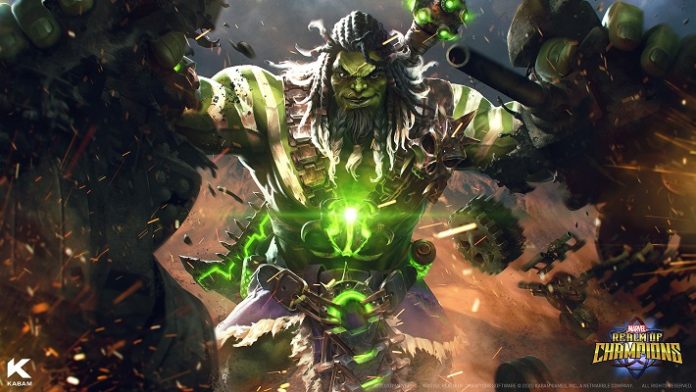 Game publisher Kabam, after months of teasing, finally releases the official gameplay trailer for Marvel Realm of Champions, and it's not what everyone was expecting. Turns out the game will be a three on three MOBA RPG.
The game will explore a new apocalyptic Marvel Universe. Various locations were introduced before where we initially thought these were the areas each faction is based at but the gameplay trailer revealed that these are actually stages where players will fight on. Locations include the Astral Plane, the tundras of the Asgardian Republic, the barbarian wastelands of the Hulk Gamma Horde, the high-tech cityscapes of Stark Tech, and many more! Players can customize their Marvel Champion with weapons and gear, and then team up with friends in real-time PVP brawls. Basically, it's a 3v3 MOBA brawler.
You'll begin by selecting a Champion. Gear and upgrades can be earned by fighting in matches. These items will add to your Champions' abilities and strength. The more powerful your Champion becomes, the more successful you will be. Every gear has a variety of attributes so the customization potential is only limited by your imagination. Champions can also have access to a diverse set of weapons that can completely change their move sets.
For example, if you equip Hulk Gauntlets, you'll get knockback abilities, stun, and jump attacks. If you equip the Hulk Hammer, you'll get Area of Effect abilities (AoE) and whirlwind strikes. You get the gist.
Marvel offers a PVE mode where you can select 3 champions and try to defend and defeat waves of enemies called "Adaptoids". Their primary goal is to destroy your ISO Core. Defend the core from everything including fast-moving Adaptoid Grunts to colossal Adaptoid Guardians in different sets of maps set across the battle world.
Finally, there's the PVP mode. You'll team up with friends to face off against other players from across the globe in fast, action-packed real-time PvP. Cooperate with your teammates to knock out enemy players in the Arena, capture the control point in the center of the map and use the limited power-up you gain to do heavy damage to the enemy's Baron. The first team to destroy the enemy Baron wins.
Despite mixed reactions to the gameplay reveal, Marvel Realm of Champions sounds very promising. Adding the gear mechanics is a good twist in a MOBA setup and customizing your champion's appearance and skill set will bring some very deep strategic gameplay, enough to get you hooked, hopefully. There's no official release date yet for the game but you can visit their official website for more information. Stay tuned for more updates!