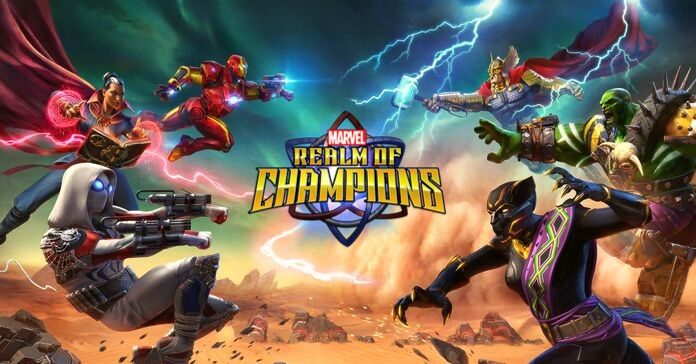 Game developer and publisher Kabam revealed their newest Marvel mobile game called Marvel Realm of Champions during the New York Comic-Con convention. The reveal garnered some big buzz with fans as the game is pretty much a Game of Thrones set in the Marvel universe.
About Marvel Realm of Champions
Marvel Realm of Champions is a real-time strategic mobile RPG based loosely on the Secret Wars storyline. The game is developed and will be published by Kabam, the same people behind another highly successful Marvel mobile game, Marvel Contest of Champions. In this brand new title, players will be transported to the alternate universe of the planet Battleworld, located behind the space-time barrier, where its uneasy peace is disturpted by the death of Maestro and Superheroes have made their own "Houses" or factions, very similar to how Game of Thrones is set up with each house has their own territory in the planet.
There are multiple Houses to choose from: The House of Iron (Iron Man), The Spider Guild (Spider-Man), The Patriot Garrison (Captain America), and Pyramid X (X-Men), and so on. As the newest recruit, you'll be tasked with choosing which faction you must ally yourself with. Remember that each faction is at war with each other, occasionally working together but at the end of the day, they are still rivals for global domination, so picking the right faction for yourself and your friends will ultimately decide your fate in the game.
Once that's all said and done, you'll be fitting your character with superhero-inspired gear, explore amazing territories inspired by Marvel superheroes like the technology inspired realm of the Starks, beautiful Asgardian environments, and many many more. All the realms can be conquered by your faction and of course, that includes your own. It's an all-out brawl between players to dominate as many territories as possible, with your House sitting at the top as the strongest faction in Battleworld. The teaser trailer hinted that the gameplay will be more on exploring, territory claiming, and solo and team battles all in real-time.
Marvel Realm of Champions is set to release for Android and iOS next year (2020). No specific date has been revealed just yet. We can expect more information will be revealed about the game in the coming months, so better stay tuned to Enduins for more updates about the Realm of Champions as well as awesome gaming news and information.