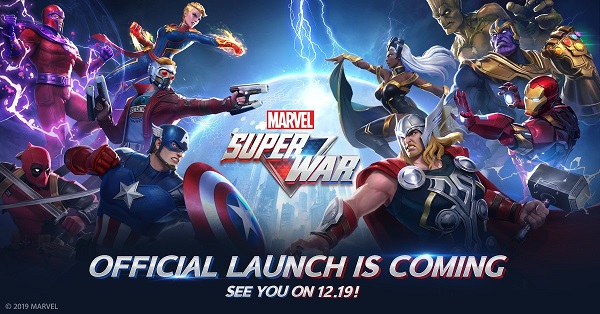 Die-hard Marvel fans, this is it. The long-awaited Open Beta of Marvel Super War has finally been revealed and guess what, it's just a few weeks away!
If you haven't heard of Marvel Super War, let's do a short recap. The game is Marvel's first real-time 5v5 MOBA title for mobile. The giant comic book company has teamed up with NetEase Games to deliver a faithful recreation of the Marvel Universe in MOBA form for the small screen. Superheroes and Supervillains from the vast multiverse will clash together in epic proportions! Just like the traditional MOBA setup, the game is played in the three-laned map, in this game, the map is set in Black Panther's country, Wakanda, with the goal of destroying the opposing team's base. Each team will consist of five players, all have different but very important roles: energy (magic), jungler, tank, support, and marksman. Heal your allies as Mantis, battle your opponent's head on as the God of Thunder, Thor, throw in some firepower as Iron Man, and ambush your prey as Black Panther, and help your team become the ultimate champion.
Different Marvel franchises will clash and all your favorite characters will gradually be added in the hero roster. X-Men, the Avengers, The Guardians of The Galaxy, the mighty warriors of Valhalla, and even Deadpool with his signature 4th wall breaking!
Game features:
MARVEL Super War features Superheroes from across all the Marvel franchises. Play as your favorite character or choose from a huge cast of Heroes and Villains, each with unique styles and skills and join the ultimate all-star brawl.
No pay-to-win rune system! Balanced heroes mean balanced combat. Reputation and achievements must be earned through skill and perseverance. Enjoy the thrill of beating your opponents in fully fair fights.
The stage is yours! Battle it out with responsive and simple controls. Show your strength with special attack combinations, dynamic effect and movement abilities.
Experience the action, anytime, anywhere. Team up with your friends, assemble your dream team and journey together into the unknown Marvel MOBA-verse.
Marvel Super War will officially launch on December 19 for both Android and iOS. The pre-registration event is still ongoing, so better sign up now while you still can through their official website. Stoked for a brand new mobile MOBA? Cause we sure are! See you in the Wakandan battlefield!