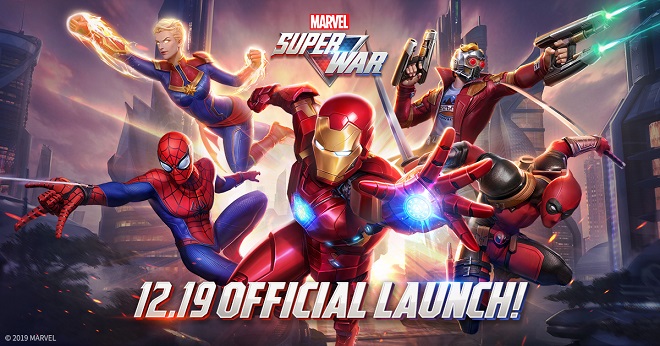 GUANGZHOU, China – Dec. 19, 2019 – NetEase Games and Marvel Entertainment today announced the LAUNCH of the first-ever joint MOBA for mobile, MARVEL Super War, available for iOS and Android devices in Thailand, Indonesia, the Philippines, Singapore, Malaysia and India. Players in these regions who have been looking forward to it can DOWNLOAD it right away from the both App Store and Google Play Store:
In MARVEL Super War, players will take on the role of their favorite, iconic Super Heroes and Super Villains from the Marvel Universe, creating spectacular highlight moments on the battlefield and bringing honor and victory to their squad.
Since being announced on May 20th this year, MARVEL Super War has run two regional beta tests, receiving overwhelming interest and feedback from players. The team has been busy polishing MARVEL Super War throughout the year, and now this free MOBA for mobile featuring the Marvel Universe is finally available and fully playable today!
MARVEL Super War is full of features and characters for Marvel fans. All the popular heroes such as Thor, Hawkeye, Scarlet Witch, Black Widow and The Hulk are present, and even highly anticipated heroes Captain America and Spider-Man have now made their official debut! The star-spangled Super Soldier will join the Wakanda battlefield, battling against foes with his famous shield. Meanwhile, the wise-cracking wall-crawler Spider-Man is leaping into the MARVEL Super War, ready to help his teammates claim victory with his web-shooters.
See Captain America and Spider-Man's skills in action here:
Brand new game modes are also now open. Players can enjoy thrilling and chaotic battles in the narrow battlefield of "Free-for-All," or strive to collect the most Vibranium for the victory of their own team in the original game mode, "Battle for Vibranium."
There will be more hidden surprises for players to discover, so the question now is: Are you ready to kickstart your journey in the Wakanda battlefields?
Join MARVEL Super War Right NOW!
For more information about MARVEL Super War, visit: