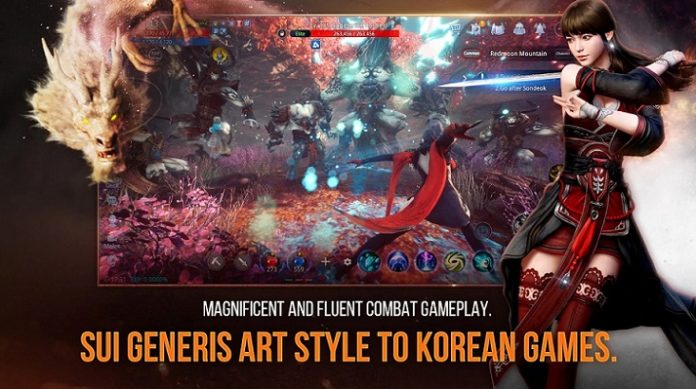 Game developer and publisher Wemade has announced that the global version for the triple-A cross-platform MMORPG, MIR4 has begun its pre-registration phase. Yield your power against 500 million players and conquer the land in this epic oriental inspired RPG.
The game was supposed to be a revival of Legend of Mir but it never came into fruition due to some conflicting issues with Shengqu Games, the original creators of Mir. But everything has since been worked out and the game has been reworked to what we know now as MIR4. It made huge waves in South Korea last year where it garnered over 1 million pre-registrations with the help of popular actress Seo Ye-Ji and Kakao Games where it became the local publisher.
Mir 4 follows the story of Cheonpa, a young princess who had lost everything in the downfall of Bicheon Dynasty. Sondeok, the warden of Bicheon Castle, had captured Cheonpa in a scheme to marry her for the succession to the throne. However, Arch-mage Sarmati and his disciples plan to rescue the princess and so the journey begins.
Dubbed as a K-fantasy MMORPG, MIR4 is heavily inspired by South Korean mythology, legends, and aesthetics. Wrap these concepts with Unreal Engine 4 and you can expect some pretty top-notch graphics and high quality world building. It also supports cross-platform play between Android, iOS, and PC allowing players to freely explore and play the game whatever platform they are on. Additionally, MIR4 has a unique AI system to counter bot farmers in the game. This translates into a more healthy and safe trading economy.
Game features:
Experience the elegant style of oriental martial arts combined with real-time fluid combat motions.
Every trade has its master! Tired of hunting? Try gathering or mining. All of your activities in Mir4 will ultimately reward you with character growth.
Sophisticated AI system identifies and prevents bot farmers and abnormal transactions, providing a healthy and safe trading environment for all Warriors in Mir4.
Unprecedented Free-for-All looting system where anyone has the right to claim loot.
Be aware of others when attempting to loot!
Your time and effort in Mir4 yields great rewards! Various adventures and contents in Mir4 will handsomely reward you with Blue Dragon Statues and Tokens of the Ancient Dragon! Collect these rewards to trade in for heroic items
Endless adventures to overcome my limitations, Facing the challenges of life and death alongside clanmates. Compose an epic story through countless glorious battles. At the end of your conquest, the strongest Clan will be born!
There is no word as to when MIR4 will launch but pre-registration for Android and iOS is now available. You can head over to the Google Play Store and iOS App Store right now to sign up. As for the PC version, we don't seem to see any pre-reg for it but it will probably launch at the same time with the mobile version since it is cross-platform. Which path will you choose in the land of Mir? Sign up now and forge your legacy!